Quick Drive: 2013 Ford Escape SE 1.6 EcoBoost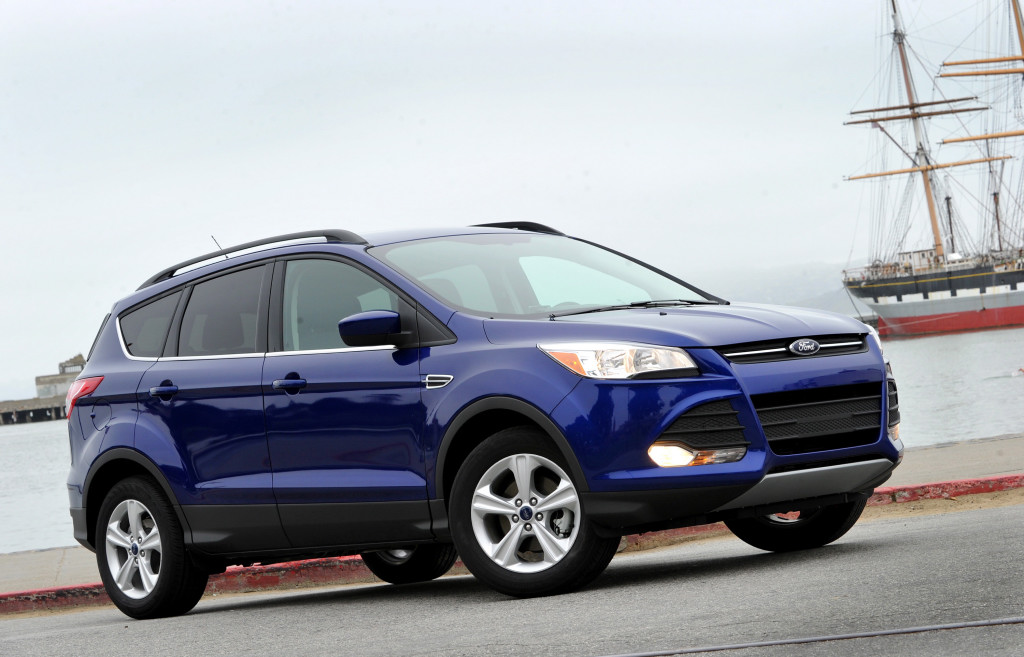 —Lake Orion, Michigan
Ford's EcoBoost engines have become something of a known quantity, their combination of performance and fuel economy making them a tremendous success for Ford.
The 3.5-liter EcoBoost is a great V-8 replacement under the hood of the F-150, Flex, and Taurus SHO, while the new 2.0-liter EcoBoost is set to make a splash in the performance-oriented Focus ST, along with the more mundane Taurus, Escape, Edge, and Explorer. We've even sampled a new, 1.0-liter, three-cylinder EcoBoost that should arrive Stateside soon.
What we hadn't driven yet (aside from
a short drive in a Euro-spec C-Max
) was Ford's 1.6-liter EcoBoost. This four-cylinder fuel-sipper is an extremely intriguing proposition from a numbers standpoint: 178 horsepower at 5700 rpm, 184 pound-feet of torque at 2500 rpm, and a 33-mile-per-gallon highway rating. In this particular example, we're using the economy rating for today's tester, a front-wheel-drive 2013 Escape, the only North American Ford product to currently carry this engine.
To put its blend of power and efficiency in perspective, in the small CUV class the only vehicle that'll get better fuel economy is Mazda's CX-5 with 35 mpg in front-wheel-drive/manual-transmission form. If you want the extra two mpg, it's going to cost you 23 horsepower and 34 pound-feet of torque, which, as we found out during our
test of the CX-5
several months back, is too big of a price.
So yes, the paper argument for the 1.6 EcoBoost is extremely compelling. But what's it like on the road? Well, quite good, actually. The charm of Ford's EcoBoost engines is how they perform at the low end of the spectrum, where most drivers spend most of their time. With a torque peak of just 2500 rpm, the Escape gives the illusion of a much more substantial powerplant under its hood.
This thing pulls really nicely off the line, with little in the way of turbo lag or torque steer. The torque peak comes on suddenly, with more than enough giddy-up to pull the car around for highway passing maneuvers or on-ramp assaults. The throttle response is odd, in that to a certain point it feels spongy. Get past that point, though, and it's assertive and fast to rev. Our theory on this is that the sponginess is to keep drivers from giving the car too much pedal, and to aid fuel economy. That's well and good, but as we found out when we really aimed for economy, it's not always practical. (More on that shortly.)
It's a quiet engine as well, with only a slight buzziness when it reaches the higher parts of the rev range. In normal freeway cruising, it was quiet, composed, and unintrusive.
The sole transmission choice is a six-speed automatic with SelectShift. A toggle switch mounted on the left of the shifter allows manual control, although to be honest, we didn't find much need to take matters into our own hands.
This gearbox did a good job picking gears and keeping the 1.6 in the meatiest part of the torque curve. Upshifts were quick and predictable, while downshifts occurred with a minimum of hunting through the cogs. It held the gears up to redline when we chose to run hard, as well.
While Ford claims 33 mpg highway for the 1.6, our real-world numbers were slightly lower. We generally observed averages of around 25 mpg for most of our driving (a distribution of about 30 percent city and 70 percent highway. On our last full day with the car, we reset the computers for a 120-mile trip (this one was almost exclusively highway) and saw a week's best 29 mpg. While we're sure there was some overexuberance on our part, we have to place some of the blame on the on-off throttle response. It's tough to modulate, making it difficult to dial in just the right amount of gas to get up to speed without being wasteful. Do we think 33 mpg is possible? Sure. It's not going to be an effort-free activity, though.
Perhaps our biggest issue with the Escape was price. At $25,070 for an option-free SE 1.6 FWD (our tester), there are certainly more affordable small CUVs out there. The aforementioned CX-5 can be had in either Sport or Touring for less money, for example. Still, the Ford does come very well equipped, with the primary extras being different varieties of the Sync/MyFord Touch system. Availability is certainly in the favor of the Escape, with 2013 models popping up at dealers nationwide.
There's a lot to like about the Escape with this small turbo. It delivers a surprising amount of power and still seems capable of nearly class-leading mileage. Perhaps the only caveat is the effort it takes to get that mileage and the price of entry. If you can get over those two things, then this may just be the small SUV for you.
2013 Ford Escape SE 1.6 EcoBoost
Engine: Turbocharged inline-4, 1.6 liters, 16v
Output: 178 hp/184 lb-ft
Weight: 3502 lb
Fuel Economy, City/Hwy: 23/33 mpg
Cargo Capacity: 34.3 cu ft
Base Price: $25,070