Quick Drive: 2013 Acura ILX 2.4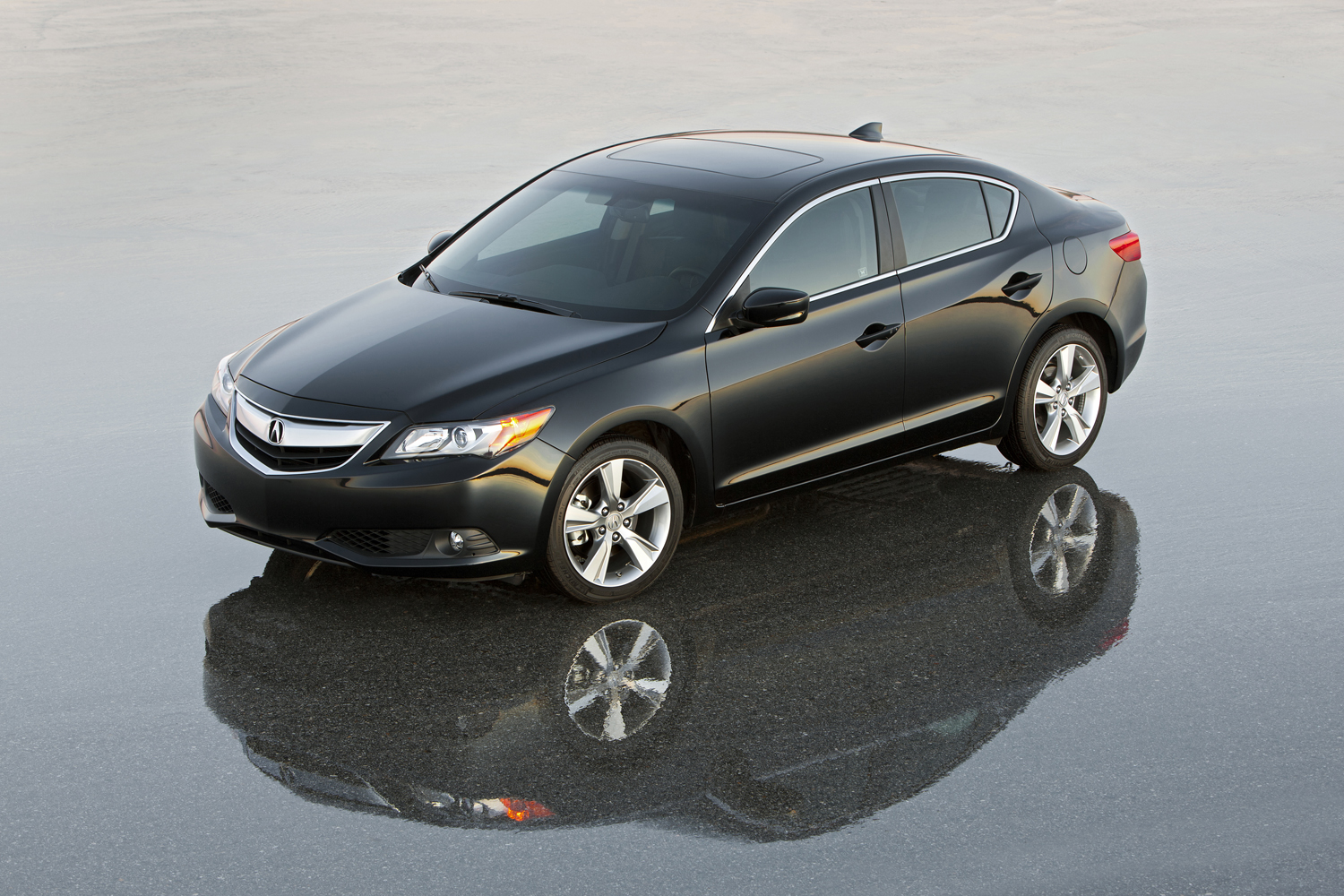 —Ann Arbor, Michigan
The Acura ILX's 2.4-liter four-cylinder engine is a hoot to use. It pulls nice and hard, but doesn't ever feel rough. It's just slightly peaky, and changes in both physical and aural sensation as it climbs the rev ladder. The sound is usually pretty mild, but it will come to life when running it flat-out to the redline. Its tone is almost vocal as the pitch increases, and can really evoke a bit of emotion from the occupants. When driven civilly, though, it is easy to be smooth, and the noise, though always present, doesn't intrude too much into the interior.
The 2.4 comes with a six speed manual transmission, and it's the only one to feature this gearbox—the 2.0 is only available with a five-speed automatic, and the Hybrid features a continuously variable transmission. This stick shift is very familiar to us; it's very similar to the one we've heaped much praise upon in the
Acura TL SH-AWD
,
Honda Civic Si
, and
Honda CR-Z
. It is very short of throw, and travels very smoothly and easily from gear to gear. When it lands in a gate, you can feel it sort of click into place in a way that allows you to confidently feed in power as you let out the clutch. The leftmost pedal itself does feel a bit springy, though, and can be a bit fatiguing if you haven't dialed in just the right seating position. Perfect that, and using the clutch can be very quick and natural-feeling.
Also included in the 2.4 is the ILX's Premium Package. This means 17-inch alloy wheels, a pair of comfortable, heated sport seats, perforated leather-trimmed interior, upgraded audio system, eight-way power seat with adjustable lumbar for the driver, rear-view camera, HID headlights, and fog lights. This comes on top of standard Bluetooth connectivity, keyless entry and push-button ignition, auto dual-zone climate control, and a power sunroof. It all adds up to a comfortable, intuitive interior with a lot of included content. Not a bad value, if you ask us.
Right away, the tendency for a lot of drivers is to compare this car to the Honda Civic Si. This is natural, but one shouldn't expect the similarities to go much further than the powertrain. The ILX is less visceral, to start, with a lot of the physical sensations dialed out. The Acura is softer, not feeling quite as crisp in its reactions to inputs. It is, therefore, probably more comfortable for most people, offering a lot of the same speed without the same level of engagement (or, as a luxury buyer might call it, distraction). The song of the motor is similar inside the cabin, especially when pushing the 2.4-liter to redline. The transmission feels great to use, but the clutch isn't quite as easy to slap to the floor when clicking through the gears.
In general, the ILX 2.4 comes together well as a package. Especially because of that motor/gearbox combination, it's easy to find it a bit addictive. Don't be surprised, as an owner, if you find yourself offering to drive to dinner more than your fair share. Your passengers, if they have any sense of adventure, won't mind either. The 2.4 is an entertaining vehicle, which also offers a lot in the way of comfort, convenience, smoothness and style. Plus, starting around $30,000 when one includes destination charges, it's a really valuable way to find yourself positioned firmly and confidently behind an Acura-badged grille with an excellent shifter in the palm of your right hand. We don't think many people out there could find fault in that.
The trouble may be in finding one. As of this writing, availability of the 2.4 seems to be a bit spotty, depending on where you live. If you're in New York, New Jersey, or California, you shouldn't have too much trouble. Otherwise, you may be waiting a while or traveling a bit to get into one. Such is the plight of the manual transmission these days.
2013 Acura ILX 2.4 6MT
Engine: Inline-4, 2.4 liters, 16v
Output: 201 hp/170 lb-ft
0-60 MPH: 7.1 sec (est)
Weight: 2978 lb
Fuel Economy, City/Hwy: 22/31 mpg
Base Price: $29,200