Quick Drive: 2012 Volvo XC60 T6 AWD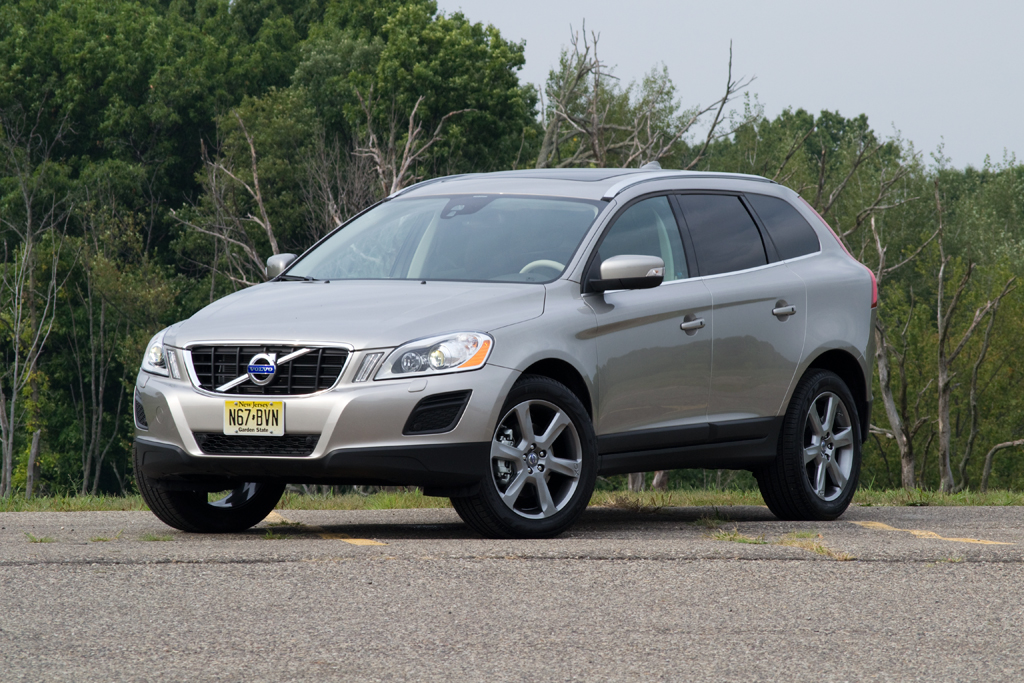 —East Lansing, Michigan
The
Volvo XC60
is a safe choice. No, we aren't talking about the Swedish brand's legendary safety record or its dogged quest of adding every accident-preventing technology available to its cars. We're referring to the fact that XC60 buyers know they are getting a competent, comfortable, smooth, reasonably powerful, somewhat economical means of toting a family around. They know the exterior sheetmetal looks good without offending. They know that there's enough room in the trunk. Really, it's the same reason people buy Camrys. They just know what to expect.
On the one hand, there's nothing wrong with that. The Volvo is a good vehicle. It's got plenty of power from its turbocharged six-cylinder engine, packing 300 ponies and 325 pound-feet of torque. There's some turbo lag on tip-in, but by and large the engine spools rather quickly and dumps the torque across the middle of the rev range. It feels accessible, although not quite as much as some biturbocharged setups (we're looking at you BMW). It dispatches highway traffic in a quiet, dignified manner, certainly not struggling to make a pass or tackle an entrance ramp.
Likewise, the six-speed automatic delivers invisible performance, swapping cogs while doing little to inform the driver or passengers of what's what. It's fast enough to drop down, without doing too much hunting around the rev range. The manual mode works well, although we found it to be a bit unnecessary considering how well this trans performed on its own.
The ride is smooth, and like the transmission, inoffensive. It soaks up the notorious bumps and imperfections of Michigan's roadways quite well. The damping is quite good, giving the XC60 a poised, comfortable nature. Body roll comes on manageably, and alludes to the grip afforded by the all-wheel-drive system.
Perhaps the high point of Volvo's CUV is the interior. It's like being in an IKEA store without the tricky instructions or shoddy reliability. Materials look and feel good, and the design is just quirky enough to be entertaining while largely avoiding MyFord Touch levels of complexity. Backseat space is ample, and there's plenty of room in the trunk for a weekend's worth of luggage for four. Certainly, we'd have no problem taking this thing on a road trip with a few other adults in the back.
During our week with the XC60, we racked up several hundred miles, including a 200-mile run from Metro Detroit to East Lansing, Michigan. In this role as a highway cruiser, the Volvo performed well in every realm but fuel economy. With an EPA-estimated 17 miles per gallon city and 23 mpg on the highway, our 18.4 mpg rating after a week was quite disappointing. It was made all the worse by the fact that our run to Michigan State occurred at the very end of the loan, and should have resulted in a noticeable boost to our overall numbers. While we always admit to a heavy foot, cruising at 70 miles per hour for 200 miles should do more than bump the numbers by .2 mpg.
The biggest issue this Volvo has is that it lacks character. It's a rather dull, forgettable vehicle. At least with the R-Design we tested a few months ago, it had some charm by way of straight-line speed and the various aesthetic touches that came at that trim level. The same thing can be said of the
Volvo S60
. It was such a dramatic departure from the last S60 while still maintaining all of that vehicle's good qualities. It made an impression on us, and usually, that's the very best thing a car can do. The standard XC60 didn't make a big impression on us, and for that reason, we'd have to pass on this Volvo.
2012 Volvo XC60 T6 AWD
Engine: Turbocharged inline-six, 3.0 liters, 24v
Output: 300 hp/325 lb-ft
Weight: 4225 lb
Fuel Economy, City/Hwy: 17/23 mpg
Towing Capacity: 3300 lb
Base Price: $40,450