Quick Drive: 2012 Volvo C70 Inscription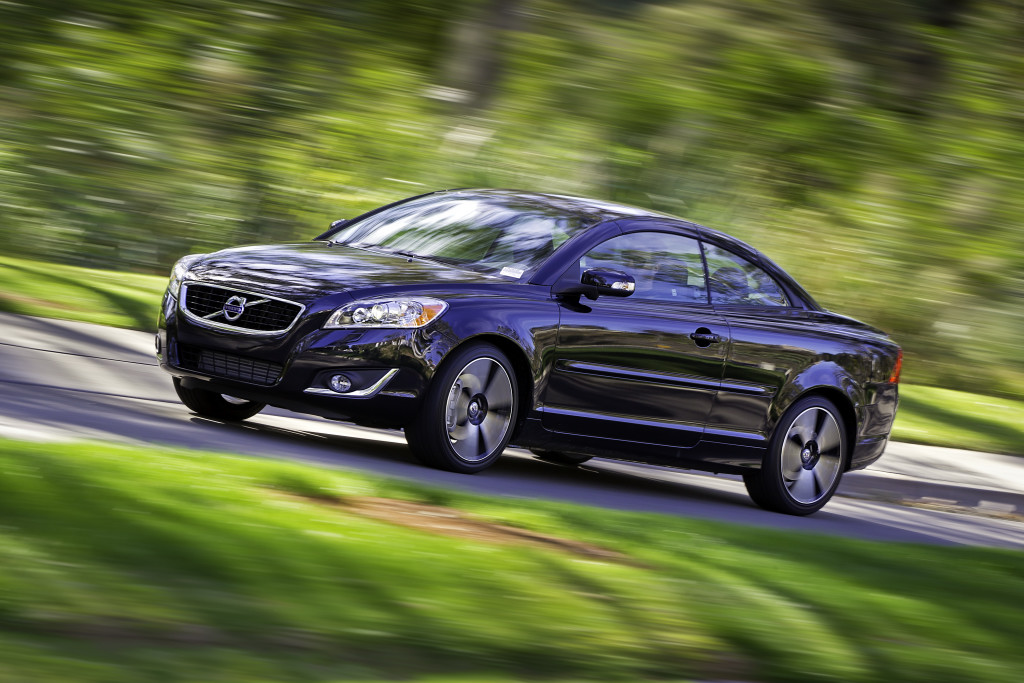 —Lake Orion, Michigan
If you are looking for a stylish, comfortable, reasonably priced, four-person convertible, you could do much worse than the
Volvo C70 Inscription
. If you are looking for a fun-to-drive, fast, sharp droptop, then you'll probably want to look elsewhere.
This is a very single-minded vehicle, in that it's sole focus is being comfortable. The steering is rather light throughout its range. Whatever weight it does gain comes on in a linear manner. On-center response is alright, but there's not much feedback throughout the tiller's range.
The suspension is just as soft as the steering is light. It soaks up bumps and imperfections very well, with little disruption to passengers. Where it differs from something like a
s
is that the Volvo feels decidedly more planted on the road. Even on rougher sections of road, vertical motion is well controlled with no feeling of floatiness. Lateral motions are well managed too, with little of the side-to-side motion that comes with other four-seat 'verts. That being said, things are so composed that the C70 borders on feeling completely disconnected from its driver.
The combination of low steering feedback and an isolated suspension isn't a good one if you are looking for an engaging drive. But if you just want to get there, comfortably, with the sun on your face, the Volvo excels.
The seats are immensely comfortable, with a surprising degree of lateral support. We had no qualms covering longish distances behind the wheel, as finding a relaxed seating position was quite simple. The leather used on the seats and other interior pieces is soft and supple, and feels like some seriously high-quality stuff.
That soft suspension that we talked about earlier isn't great for involvement, but it more or less quashes any degree of cowl shake. Top up or down, the Volvo felt solid. That being said, we wish the top itself would raise and lower a bit faster. The process seems convoluted, especially after we'd just spent time in the
Mazda MX-5
and it's brilliant power-retractable hardtop.
The engine in the C70 is truly interesting. It's a 2.5-liter, turbocharged five-pot, and despite the Polestar badge on the trunk, this is not a fast vehicle. The five-cylinder produces 250 horsepower and 273 pound-feet of torque, which sounds perfectly reasonable until you realize the C70 is over 3800 pounds. Despite producing maximum torque at a low 1500 to 3000 rpm, there's no getting around the fact that this is not a speedy convertible at all. It does have some merits, though.
Five-cylinder engines aren't exactly popular in the Winding Road office as they are often noisy, harsh, and unpleasant pieces. Volvo's 2.5 is different. Really, short of hard throttle applications, it's difficult to even tell this is a five-cylinder. It revs smoothly and quietly, with little in the way of NVH. Either the Swedes fit a smorgasbord's worth of sound deadening in this thing, or Volvo has finally sorted out how to build a quiet, civilized five-cylinder.
The C70 is a competent four-place convertible, if you are willing to give up any thoughts of driving enthusiastically. Really, if you are buying a vehicle like this for fun, then you'd best just wait for BMW's new 3-Series convertible. If, however, you want an extremely stylish, decently equipped, quirky way to fit four people without a roof, then you'll want to take a look at the Volvo C70.
2012 Volvo C70 Inscription
Engine: Turbocharged inline-5, 2.5 liters, 20v
Output: 250 hp/ 273 lb-ft
0-60 MPH: 7.0 sec
Weight: 3843 lb
Fuel Economy, City/Hwy: 19/28 mpg
Base Price: $44,350