Quick Drive: 2012 Volkswagen Tiguan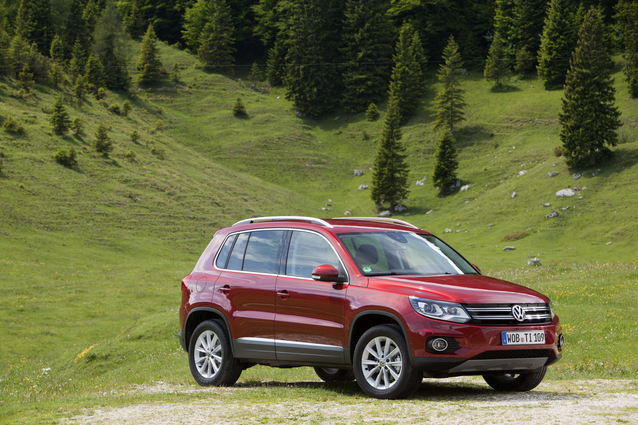 My first turn in our Volkswagen Tiguan was not ideal. I'd just finished the
Lexus GS
press event in Las Vegas. My flight required a 30-minute layover at Minneapolis-Saint Paul, and of course, my connection was at the opposite end of that stupidly large airport. After a sprint to make my flight, I woke up to rough air and snowflakes outside the window as we approached Detroit Metro. We landed at 12:09 in the morning, and I snagged the keys to the Tiguan by 12:30. The snow was coming down, and all I wanted to do was sleep.
Then I got into the Tiguan. My drive home, while uneventful, was enjoyable. The turbocharged thrust of the Tiggy made the open roads a hoot, while the 4Motion all-wheel drive never set a wheel wrong (it should be noted that it was still much too warm for snow to stick to the ground). The Tiguan was an easy car to get comfortable in, and for that reason delivered an engaging driving experience. You can set the wheel in your lap, easily reach the shifter (there are no paddles, unfortunately), and still have plenty of room all over. The seat is comfy, supportive, and has a nice, wide range of adjustability. Our shifting was handled by a six-speed dual-clutch, although the base Tiguan can be had with a six-speed manual. As is typical with a Volkswagen DSG, shifts were delivered quickly, while downshifts kicked in at appropriate times. Overall, the transmission was quite unobtrusive.
In a market full of bland entries, the Tiguan is unique because it actually wants to be driven. It's fun, it's engaging, and it's still a breath of fresh air in this segment.
—Brandon Turkus, Online Editor
When I took the Tiguan home, I was impressed with the way it handled when turning. There was a notable lack of body roll from side to side, and the car remained pretty flat. It has kind of a wide-feeling stance that makes it feel planted at speed. It also displayed a good amount of grip in corners and on wet or snowy surfaces.
Other than that, the Tiguan doesn't really feel very inspired. I like Volkswagen's punchy 2.0-liter turbo in general, but it doesn't feel like the best fit in this model. Six naturally aspirated cylinders would be more befitting (or, even better, a diesel option). Also, despite its good handling of side-to-side motions, fore/aft movement could be kept in check a bit better.
I do really like the look of the Tiguan's exterior, and its just-right sizing. Also, the fact that it starts at about $23,000 seems pretty good to me, but you have to spend a few grand more to get into one with all-wheel drive. The lackluster interior also reflects this price. A little bit of clever design would go a long way, here.
—John Beltz Snyder, Senior Editor
I like the Tiguan as a package. The Tig has good size, is nice looking (the redesign was a good piece of work for VW), is easily maneuverable in the suburban sprawl, with confidence-inspiring AWD that will never need to prove itself on anything rougher than an icy street. The powertrain is, as is mentioned above, somewhere between "adequate" and "sort of fun" on the enthusiast spectrum, which puts it in the top-half of the crossover segment, at least.
It's too bad then, that most of the primary driver interfaces seem to be pretty rubbery, non-linear, and/or soft (in a bad way). The steering feels awfully dead around the center to me, and doesn't load up very progressively in a turn (despite the overall confident handling of the suspension pieces below you). There's a huge amount of pedal travel between first push and effect with both the brake and the throttle—you'll want long legs or a close seating position if you intend to try some quick footwork. These sort of gummy, slow-witted controls aren't bad enough to be actually dangerous, but they start to feel ponderous if you try to have a little fun.
—Seyth Miersma, Editor-In-Chief
Pros
2.0-liter, turbocharged four-cylinder is an absolute peach
Side-to-side motions are kept in check by the suspension
A great looking small crossover
Cons
Manual trans is only available on the most basic, front-wheel-drive model
2.0-liter turbo four is the only engine option
Controls are rubbery overall, not sporting to use.