Quick Drive: 2012 Toyota Camry XLE 3.5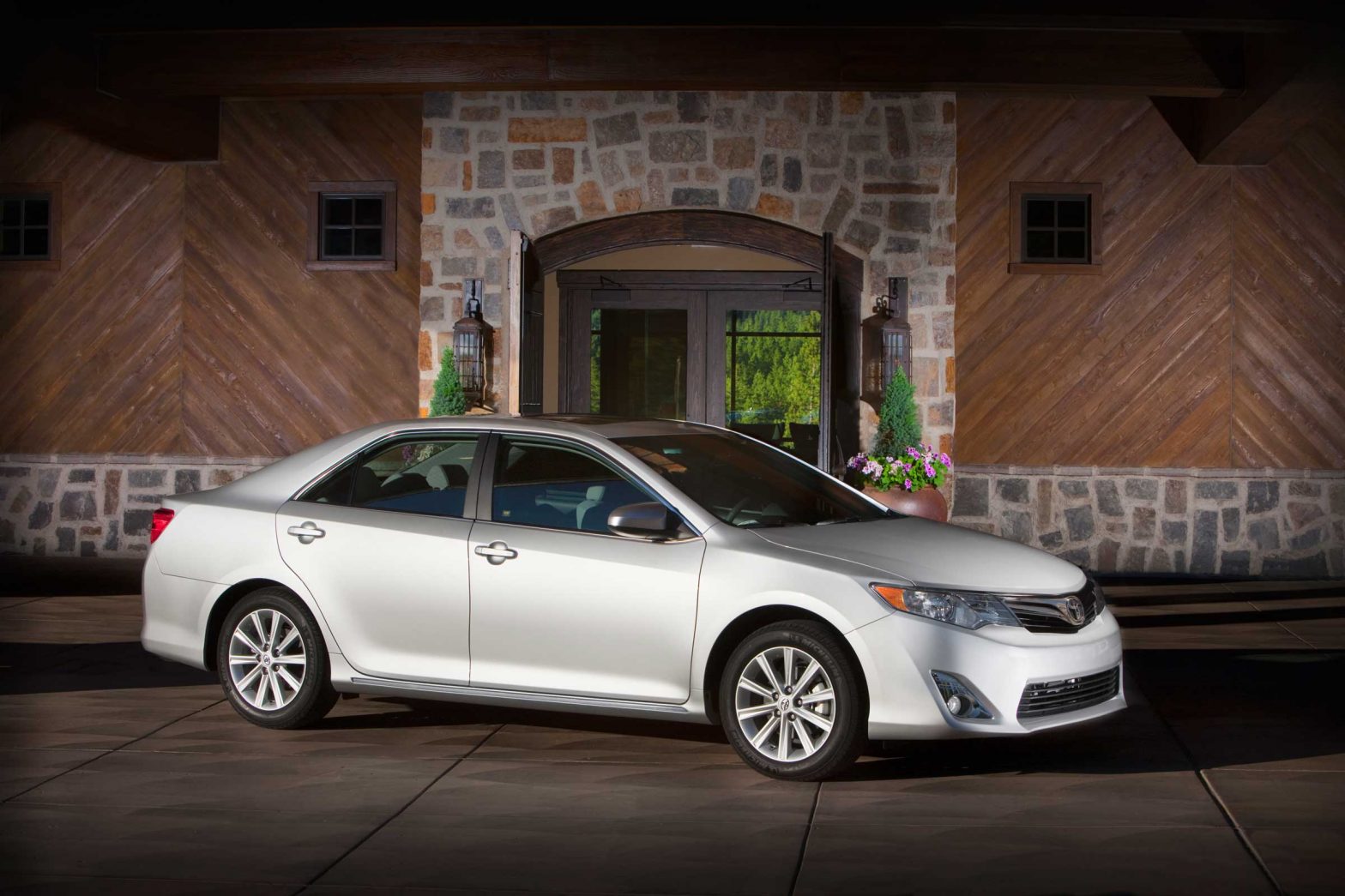 One minute into my first spin in the new
2012 Camry
V-6 and my response (out loud, I talk to myself when I drive alone) was something very close to, "Jesus. This is a [deleted expletive] fast Camry." Somewhere along the line, the six-cylinder Camry has become a damn fast mid-sizer—yes, the rest of the field has, too, but my default Toyota Camry memory has always been decidedly slower.
This is important to note, as you'll read on below to get more than a few mentions of how flavorless this car is, overall. The fact of the matter is, if you're moving into this Camry from another sedan, say five-years-old or older, you'll be forgiven for thinking you've just landed some kind of sports sedan.
Now, make no mistake, this Camry is no sports sedan. The car is "all motor," by which I mean the only really fun/dynamically distinguishing feature of the vehicle is the power it offers, and the quickness with which it lays that power down. The rest of the package is very subdued, soft, and quiet in terms of driver feedback.
What's more, if you actually do some cross shopping before you buy your Camry (very like "next Camry" is an appropriate descriptor for most real buyers), you'll find that there are more, and better alternatives if you want something "kind of quick." Mostly the
Kia Optima SX
, with its turbocharged 2.0-liter, is worth a long, hard look. The Optima turbo is cheaper, has more horsepower and more torque, gets better EPA fuel economy (real-world numbers may differ), and is, in the opinion of most observers I've heard of, far better looking. Oh yeah, the projected residual values for this generation of Optima/Sonata are looking pretty strong, too. Harder to make the argument that the Camry is the more valuable thing over time.
The Camry is, of course, a very nice car. It's stacked with technology, nice materials, comfortable seats, and more room than ever before. The secret, I think, with the Camry, is that very few buyers ever regret purchasing the car. The most popular sedan in the country isn't going to let down a lot of people that would consider driving a Camry in the first place.
—Seyth Miersma, Editor-In-Chief
If there is one highlight of driving the Camry, it's the engine. The 3.5-liter V-6 is a strong, torquey powerplant that makes straight-line surges a lot of fun. Low, mid, and high-end power is pretty decent, and the Camry revs more freely than the turbocharged offerings from Hyundai and Kia, although it feels a touch slower overall.
The bad parts come firstly from the torque steer that overpowers the front suspension. This suspension is just too soft on take-off, under braking, and through the bends. It's almost like driving a very full glass of water; things just slosh about. At the same time, it's fun to throw into the turns, and just let the body flow. There's still a decent amount of grip from the seventeen-inch tires, so you can take turns with some degree of speed.
I also took issue with the electric power-assisted steering, which was just too numb. It's a fast rack, which is nice, but there's so little feedback to be had that it's hard to judge front-end grip.
Still, if all you are interested in is straight-line speed, the Camry can be a fun option. Were it my money, though, I'd opt for the more involving and slightly faster Kia Optima.
—Brandon Turkus, Online Editor
This car's got no soul. It doesn't feel like a companion to me. Two cars recently—this, and the new
Honda CR-V
—would always get lost in the parking lot. I'd find myself leaving my house in the morning and walking up to a neighbor's car, only to realize what I was doing when I hit the unlock button on the key fob and saw the lights flicker across the street. There haven't been many times where I say, "That's not my car," but the Camry is just the sort of thing that causes these embarrassing moments.
It was a really quick car, though, and not a bad one if you're trying to avoid drawing attention to yourself when violating the speed limit (at least, that's my theory). It had really good punch just as it got to the end of the lower revs, and pushed me back in my seat a few times. There's no other feeling involved, though. There's not a sense of motion at speed, nor sense of what is going on between tire and tarmac. Steering is numb, and pushing the Camry through corners didn't reward me with any real feeling of satisfaction.
Still the car felt sturdy, stable, and smooth, without a lot to distract me (or keep me awake). The Toyota Camry is more of a waiting room than a driver's car—a place to sit and pass the time comfortably until you arrive at your destination.
—John Beltz Snyder, Senior Editor
Pros
3.5-liter V-6 is a powerful, free-revving powerplant
Feeling of quality and comfort in the cabin
Quiet cabin is quite spacious in the front and back
Cons
Very numb steering, there's not a lot of feedback from the EPAS system
Camry values are better served by the four-cylinder car. Sporting values are better served by the Kia Optima turbo
The car as a whole lacks character