Quick Drive: 2012 Mitsubishi Outlander GT S-AWC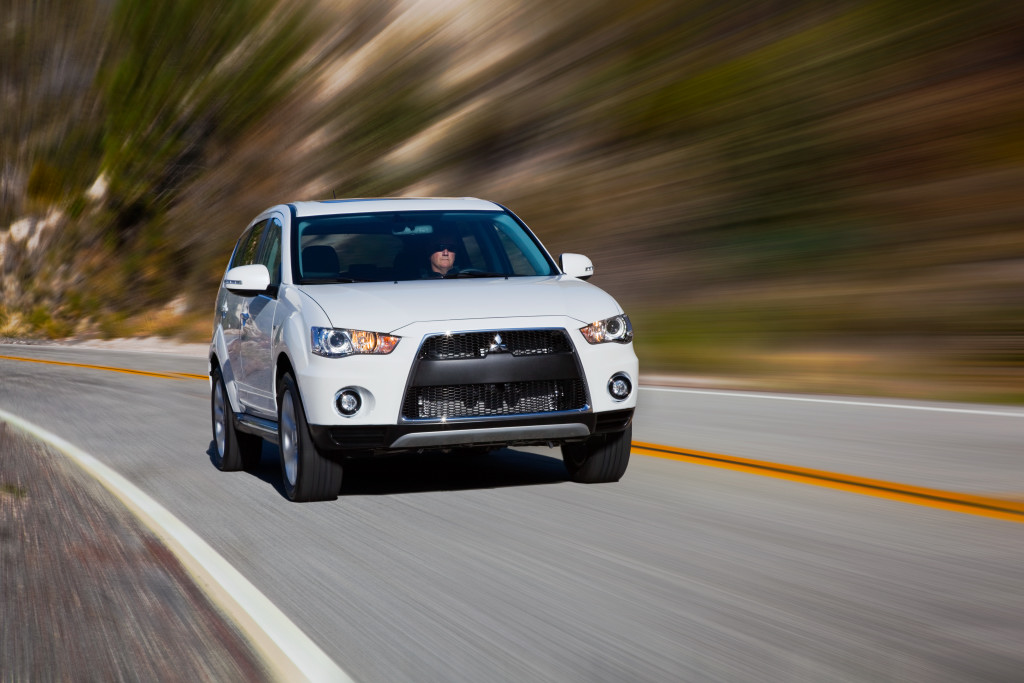 I could be mistaken, but I think the Mitsubishi Outlander is the cheapest way into a three-row SUV. While in itself, that might not be enough of a reason to pick one up, here's another: this is not a bad vehicle to drive.
Despite only having 230 horsepower, 215 pound-feet of torque, and a 3700-pound curb weight, I never really found myself dying for more thrust from the 3.0-liter V-6. Low-end power was alright, but it did taper rather quickly as the revs climbed. I'm still of the mind that Mitsubishi should ditch this engine and drop the
Lancer Ralliart
's turbocharged, Evo-derived 2.0-liter under the Outlander's hood, which would deliver a small shot in the arm to the three-row's driving experience.
Behind the wheel, there's a great feeling of security that comes from Mitsubishi's grip-inspiring Super All-Wheel Control. Being a version of the system found on the
Lancer Evolution
(but swapping the active center differential for an active front diff, and ditching the active yaw control outright), it felt secure in a variety of driving conditions. We never paced it too hard, as we were still experiencing Autumn-like conditions when we drove it, but I've had enough seat time in Outlander's to feel secure in some very inclement conditions with S-AWC at my side.
I still think the Outlander is a bit underexposed to the general car-buying public, as it has a variety of traits that would make it appealing to consumers in the market for a small to mid-size SUV.
—Brandon Turkus, Online Editor
The Mitsubishi Outlander, when driving it, felt pretty average to me, which isn't bad considering its low starting price of just under $22,500 (1K more for all-wheel drive), with our tester starting below $28K. It's also a vehicle that has sort of grown on me as I ponder it after our week-long loan. First of all, it provides a good amount of space, and can haul a lot of people or cargo comfortably. Its grip is pretty remarkable, and the dial in our tester that lets you select between "Tarmac," "Snow," and "Lock" makes choosing the right mode a simple choice, and proves the Outlander capable. I also enjoy the big magnesium paddle shifters mounted on the steering column. They're fun to use, and are really easy to grab regardless of where you're pointing the steering wheel.
The main problem is that the car just isn't very communicative when it needs to be. Under hard cornering, the suspension doesn't communicate grip levels, and you have to just trust that it's there (which, even when I was really cranking the wheel, it was, thankfully). It feels less stable than it actually is, too, but at least the body roll is really progressive. The Outlander has got a lot going for it, but doesn't have the means to tell you about all its favorable driving dynamics.
I'm kind of on the fence about the Outlander's appearance. I like the Evo-inspired front end, but the rest of the car doesn't take those cues of visual aggression. Inside, there is a lot of room, but the materials are middle-of-the-road, and there's nothing inspiring about the design. Still, it's very livable, and not bad for the money.
—John Beltz Snyder, Senior Editor
Pros
Super All-Wheel Control offers gobs of stability
Offers a lot of space for a low price
Magnesium paddle-shifters look and work quite well, encouraging you to have some fun
Cons
Interior trim feels below the competitive standards (Kia Sorento in particular)
Doesn't communicate its abilities as well as it should
Pop-up third row isn't suitable for anyone out of elementary school