Quick Drive: 2012 Mercedes-Benz E550 4Matic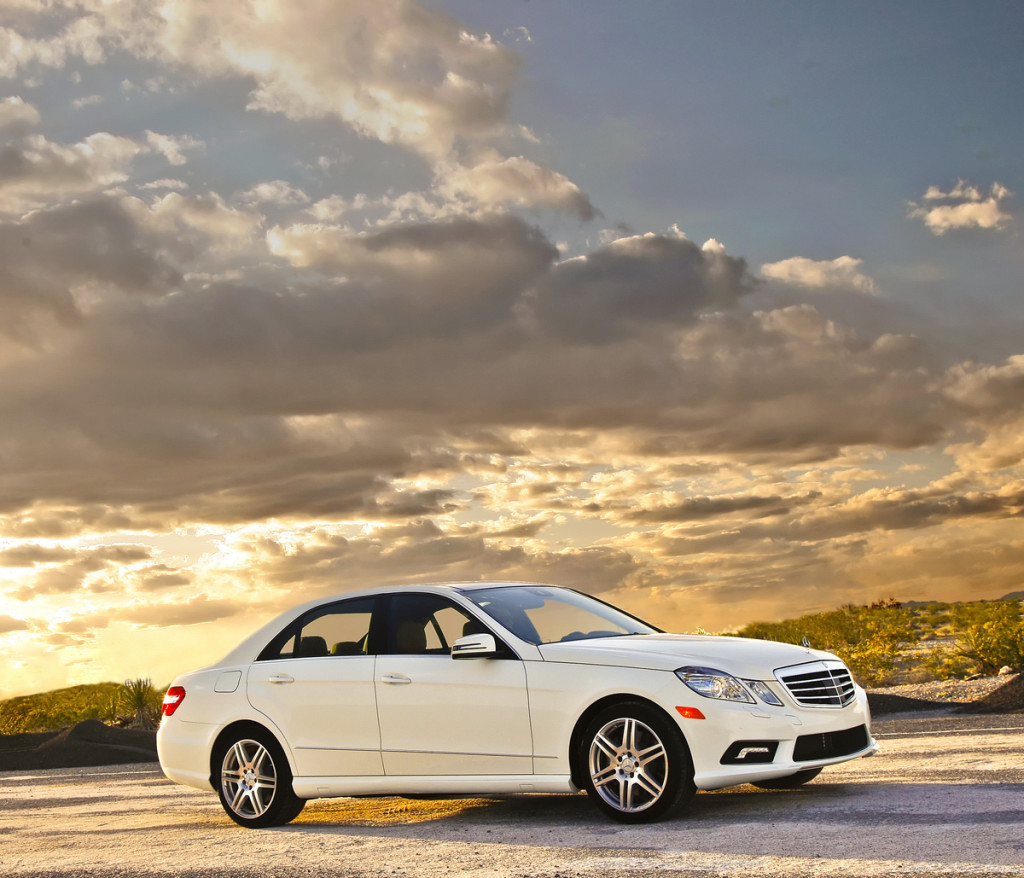 This is the perfect Mercedes-Benz. With apologies to the bigger, more impressive S-Class and the far sportier SLS, SL63, and other AMG creations, the current-gen E550 is, to my mind, a nearly flawless representation of everything I expect and love about this brand.
Sure, I'd rather own the brutally quick
E63 AMG
if I were simply offered any E-Class I wanted as my own, but with the real-world compromises all in play, this is the one I'd go for. The E550's V-8 is massively powerful, but the thrust is handled in such a way as to never really disrupt the serenity of the driver's environment. You can, of course, throw this big sedan into a tight corner faster than it would like—body motions are well controlled here until silly speeds are applied—but in anything like normal driving you'll only notice a firm-yet-compliant suspension, and plenty of power to pull away from the throngs of normal cars.
The interior treatment is rich, comfortable, and modern, as well as particularly good-smelling (I love M-B leather) and good-sounding (audio quality was exceptionally clear at high volumes). In fact, our E550 felt decidedly better to drive overall than the BMW 750i xDrive sedan that we had during the same week, despite being around $20,000 less expensive.
On the six-cylinder level, I do think that competitive cars like the
BMW 535i
,
Lexus GS350, and Audi A6
provide a real challenge for the lesser E350. But this V-8 is a manly, great-sounding hunk of torque-spitting metal that makes me feel properly plutocratic when I floor the throttle. It's not particularly PC, and it's no track-car, but it is a grownup, message-sending machine for a driver who's moved well beyond stoplight histrionics.
—Seyth Miersma, Editor-In-Chief
A hiccup has come up with my regular 50-mile drive home. You see, Michigan has two seasons: winter and construction. We're at the dawn of construction season 2012, and the Michigan Department Of Transportation has proceeded with its personal mission to make my life hell by shutting down a lane of the main freeway I use to get home.
This has ballooned my drive time from roughly an hour and fifteen minutes to well over two hours. Two hours in this Mercedes isn't really a bad thing, though.
It's a genuinely comfortable car here, despite being the oldest of the luxo-sport sedans on sale today. Its massaging, multicontour seats are some of the best on the market, able to deliver extreme support during dynamic driving and amazing comfort when merely plodding down the road.
The adjustable Airmatic suspension's impact absorption is great, keeping the cabin a calm and quiet place for a drive, and is helped along by the relatively small eighteen-inch AMG wheels. Vertical motion isn't much of an issue either, as even properly misshapen roads are managed quite well.
Show it some corners, and it'll perform well enough with neatly controlled body motions. Still, this is a car meant for comfort, not outright handling ability. There's not much in the way of feedback from either steering or suspension, either, so don't expect to be running around turns with the confidence or pace of a 5-Series or
A6
.
The 4.6-liter, biturbocharged V-8 pumps out 402 horsepower and 443 pound-feet of torque, and is plenty powerful for this sort of application. After some slight turbo lag, power comes on smoothly, with an ear-pleasing exhaust note that is somewhat muted overall. Shifts from the seven-speed automatic are slower than I'd prefer, but it's just one more reminder that this isn't a sports sedan.
—Brandon Turkus, Online Editor
Pros
V-8 engine is properly luxurious and plenty fast
Multicontour seats are comfortable and supportive
Great engine note when pushed; superbly quiet the rest of the time
Cons
Technology feels mildly dated relative to the competition
Handling is crisp but not overly involving
Audi/BMW/Lexus competitors feel more appropriate for younger rich guys