Quick Drive: 2012 Mazda3 Skyactiv Five-Door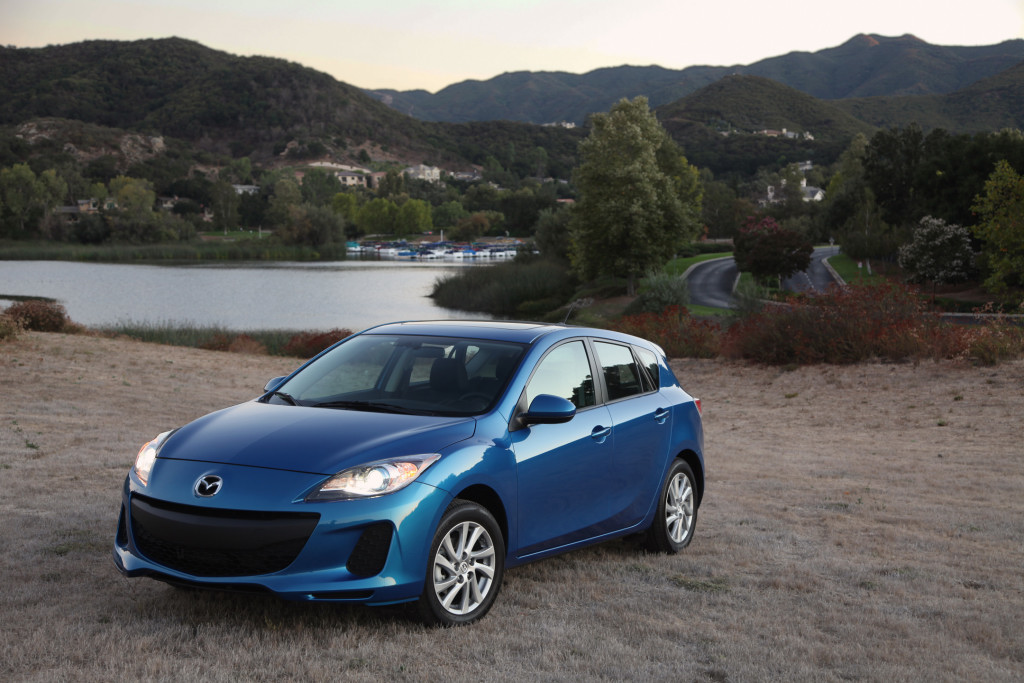 It's been a little while since I've driven a Mazda3 that didn't sport the
Mazdaspeed
badging, but this
3 Skyactiv
just didn't feel quite right to me. It was all down to the steering, which felt numb and was overly light. It seems that Mazda opted for an electro-hydraulic power assisted steering system for the Skyactiv. I just can't seem to understand why though.
To be fair, I've driven some great EHPAS systems, and in general prefer them over full electric units. For some reason it just hasn't worked for me in the Mazda. It's a fast steering rack to be sure, but in becoming so quick to turn, it's sacrificed any real heft from the rack. Feedback is also hurt, as I just couldn't get a great idea of what's going on through the wheel. To be fair, suspension feedback is still quite good, but I've always appreciated Mazda's ability to instill its steering systems with a very rich communicative experience.
If you can get over the steering, there's a lot to like here. The body structure is noticeably more rigid, with less roll through the turns. The new Skyctactiv engine, while a bit lacking on the power front, is seriously economical, and quite happy to go out and play. Even the six-speed autobox (certainly not our transmission of choice based on John Beltz Snyder's glowing review of the manual) wasn't too bad to work with. It was clearly programmed with efficiency in mind, as it tended to short-shift whenever possible, but it wasn't anything switching to manual mode couldn't fix.
Mazda built a fine fuel-sipper with the 3 Skyactiv. I just wish the folks in Hiroshima and Irvine hadn't fiddled with the steering system.
—Brandon Turkus, Online Editor
While the steering may be light, this thing's got some moves. I love chucking the 3 Skyactiv around corners and through slalom-like curves. It responds so well, and the suspension communicates everything back to the driver superbly. No need to guess on where the wight is shifting, or how much grip is left. Even if it isn't the most capable-handling small car, it handles well, and that level of feedback is very rewarding.
The automatic transmission is a mixed bag for me. I feel like it responds pretty quickly, and that it allows for a huge level of smoothness in all types of driving. It's almost as if it isn't even there, though. In most maneuvers, its so subtle and noninvasive, you can easily ignore it—not great for involvement, but good for comfort. It would be great to be able to tease a bit more aggression out of the autobox simply through use of the right foot, but your best—well, only—bet is to set it to manual mode and shift for yourself.
The interior feels nicer than that of the Mazda3 before. The materials are slightly better, and the upholstery on the seats feels nicer, and seems like it would be more durable. Our tester had a nice, simple design—no weird patterns on the seats or glossy plastics. The predecessor always felt a bit like a rental car to me, and this seems more like something I would like to own.
—John Beltz Snyder, Senior Editor
As ever, the Mazda3 has got to be seen as almost the default compact car choice for any driver that a) cares about handling and good driving dynamics, or b) wants a sizeable hatchback that still offers great fuel economy.
There are bigger, diesely, and more expensive options if you want some practicality and a good-size tailgate, but nothing that comes together like the Mazda3 as a five-door hatchback. This is territory that Honda has completely abandoned, unless you're willing to drive the utterly lifeless Insight, and that only the
Ford Focus
can claim to do equally well.
Push comes to shove, and I'll probably take the better-looking five-door Focus over the 3, but the choice is really hard. The Skyactiv manual transmission is worlds better than Ford's stick shift, but the steering in the new 3 is so light as to be a little bit off-putting to me, making the push go to the more attractive Ford. It's close enough that a formal comparison test wouldn't be a bad idea though.
—Seyth Miersma, Editor-In-Chief
Pros
Skyactiv powertrain is a huge win for the 3, with better power and econ
Communicative suspension makes for confident driving
Very little body roll and good stiffness (without harshness) from the suspension
Cons
Super-light steering is distracting
Automatic transmission isn't the best choice for enthusiast drivers
Competition from the Focus is stiff indeed