Quick Drive: 2012 Jeep Wrangler Unlimited Altitude Edition 4X4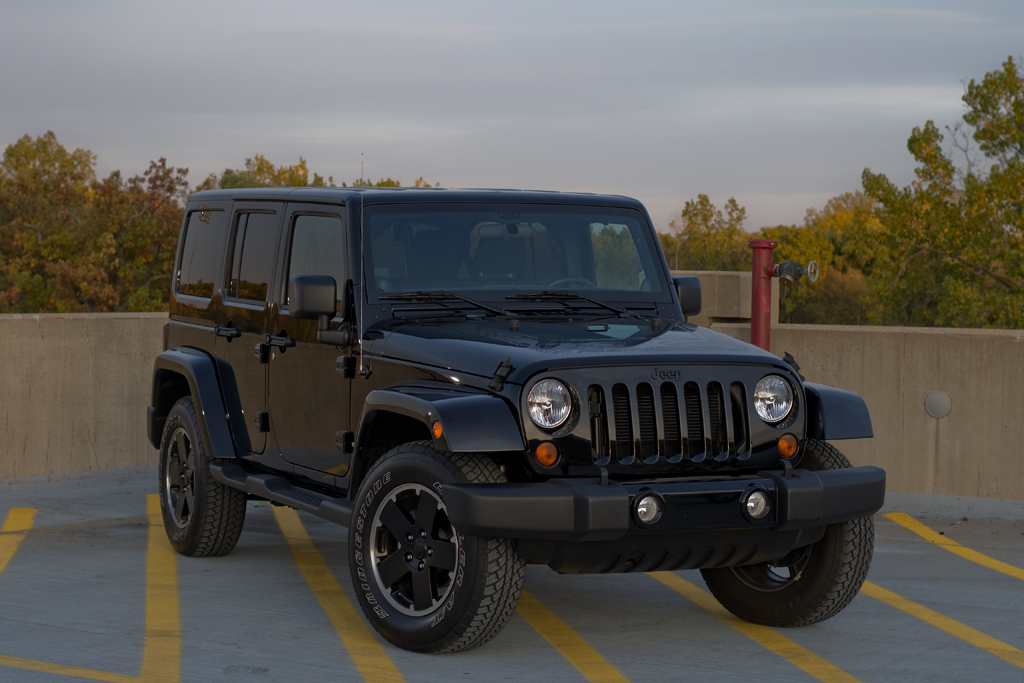 —Pontiac, Michigan
Jeeps are not meant to be comfortable beasts. These are vehicles of burden, meant to conquer anything set in front of them. Yet more and more, luxurious accouterments are being fitted. Take the
Grand Cherokee
, for example; the
top-spec Overland Summit
could easily be cross-shopped with full-on luxury SUVs. Even this week's tester, a black, four-door Wrangler is luxurious on a level that would have CJ-7 buyers stomping their feet in protest.
Based on the Sahara trim, our Altitude Edition Wrangler features a number of cosmetic tweaks that set it slightly apart from other Wranglers. There's a blacked out grille, a graphic on the hood, and a set of 18-inch wheels. The interior features soft black leather and red contrast stitching on the heated front seats. There are small interior tweaks, including a few pieces of piano-black trim. It's a very handsome place to spend time, and is made all the more enjoyable by a 6.5-inch touchscreen display, a 368-watt Infinity audio system, navigation, and Bluetooth connectivity. In short, it's certainly a more luxurious Wrangler than we're used to.
Despite this, it's still immensely capable. While it lacks the full madness of the Rubicon, with its locking front and rear differentials and electronically disconnecting sway bars, our Wrangler packed a Trac-Lok limited-slip differential, a Dana 44 rear axle, and a Command-Trac four-wheel-drive system. Skidplates protected the transfer case and fuel tank from any dangerous obstacles, and hill descent control was available by way of the five-speed automatic transmission.
To prove its capability, we did what you're supposed to do with a Wrangler, and got it really, really,
really
muddy. We found a nice soggy trail, and prowled up and down it. The Wrangler never missed a beat. Grip was plentiful, thanks to the just-chunky-enough Bridgestone Dueler A/T tires. Even on the slickest parts of the trail, we barely noticed much slip from these beasts. As we said, the off-road equipment on our tester isn't anywhere near the level of a Wrangler Rubicon, and to be honest, we never really missed it. Unless you really plan on tackling a serious trail, the lesser Wranglers should be just fine.
On the road, even this plush Wrangler puts it heritage on full display. The ride is choppy and as uncouth as a redneck wedding, with too much vertical motion and a fair amount of body roll. Rather than being a detriment, though, we think of it as a defining characteristic of the Wrangler. Recall the scene from the second Ace Ventura movie, where Ace is driving down a road, bouncing side to side, apparently driving down a very rough trail. The camera zooms out to reveal his Land Rover is traveling down a perfectly paved stretch of asphalt. That's what driving a Wrangler is like. You want to embrace the rough ride, and just sort of go along with it.
We've waxed poetic about Chrysler Group's Pentastar V-6 many times before. It's a great engine, delivering a robust 285 horsepower and 260 pound-feet of torque. It revs smoothly, delivering an impressive low-end punch, yet it only really feels out of breath at the tip-top of the rev range. Mid-range power is abundant, as well. The issue we have has more to do with the Wrangler itself than the powerplant. Economy isn't very good, with 17 miles per gallon in the city and 21 mpg on the highway. Truth be told, we struggled to hit that 17-mpg figure during our week with the car. The other issue was one of noise. There's just not a lot of sound deadening to keep the thrash from the engine out. It's not that the Pentastar sounds bad, but that its good noise is just a bit too much for our ears. It's like eating too much chocolate. It's good, but it gives you a stomachache after a while.
There are still plenty of Saharas with the Altitude package out there if you're willing to look. We found over 150 on a search of Jeep's consumer site. If the Altitude isn't your style, or you want a 2013, then the Sahara will get you the vast majority of the options without the unique styling of the special edition. Pricing for a base Sahara starts at $31,045, while the Altitude pack adds $2995. As tested, our Wrangler retails for $37,805, thanks to items like the UConnect navigation system, automatic gearbox, and limited-slip differential.
This Wrangler is a Jeep for a person that isn't ready for the isolation of the brand's other vehicles, but is still looking for something more comfortable than other members of the Wrangler family. If you are willing to live with the quirks and need the capability, Jeep's Wrangler, especially with the four-door Unlimited model, remains a solid choice.
2012 Jeep Wrangler Unlimited Sahara Altitude Edition 4X4
Engine: V-6, 3.6 liter, 24v
Output: 285 hp/260 lb-ft
Weight: 4397 lb
Fuel Economy, City/Hwy: 17/21 mpg
Towing Capacity: 3500 lb
Base Price: $31,045