Quick Drive: 2012 Jeep Grand Cherokee SRT8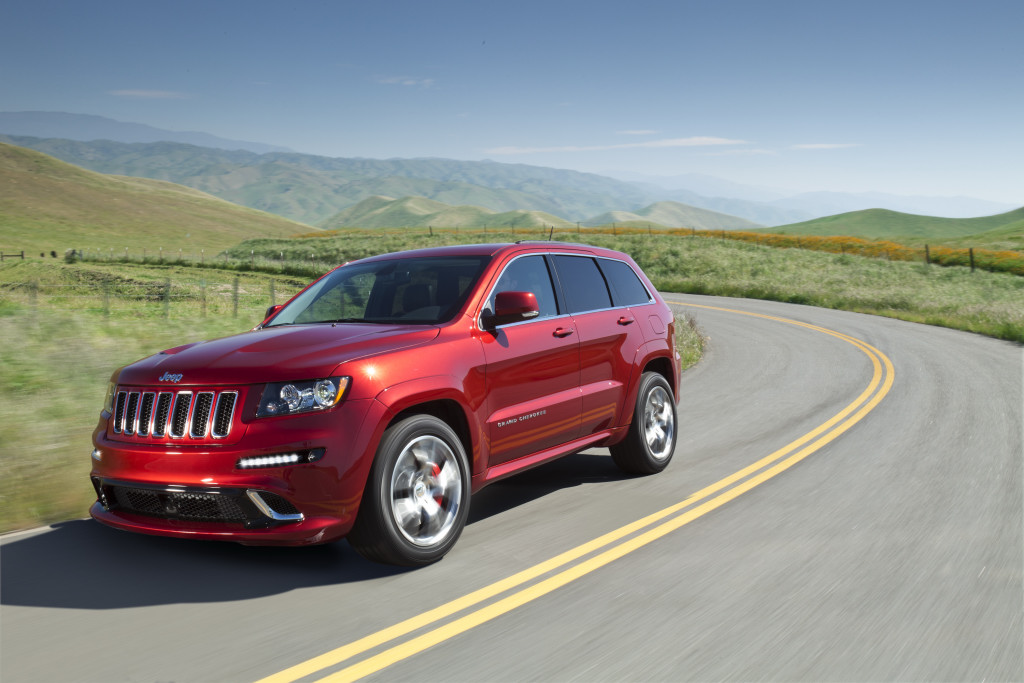 —Lake Orion, Michigan
We've had more than a few run-ins with the sportiest Grand Cherokee on the road. John Beltz Snyder first tested it in sunny Los Angeles and on the smooth tarmac of Willow Springs Raceway. We tested it again, just a few months ago, in our Austin office, where it went toe-to-toe with Porsche's mighty Cayenne S, and squeaked out with a narrow victory.
Despite these two rather extensive reviews, though, we've never had a sample of what the SRT8 Jeep is like to live with. That changes now.
The result? Well, like other entries from SRT, the Grand Cherokee is actually a remarkably composed offering during regular driving. We spent the vast majority of our drive time with the Selec-Track system in Auto. Sport and Track were used sparingly, usually when we were presented with a set of nice turns or a vacant entrance ramp.
Even with the SRT8 in its tamest setting, there's no denying that this 6.4-liter V-8 is a real charmer. In low-rpm, light-throttle situations, it's quiet while still feeling willing and able to get to speed quickly. Giving it more boot results in effortless acceleration and a deep, meaningful exhaust note that is as American as apple pie. Despite its raciness, though, the throttle response is very manageable around town. It doesn't feel overly sharp in Auto, and were it not for the sporty, flat-bottomed steering wheel and heavily bolstered seats, we may have mistaken our SRT for a more mundane Grand Cherokee.
Mated to the big, 6.4-liter bruiser is a five-speed automatic transmission. In a performance sense, there's really nothing wrong with this gearbox. Left on its own, it upshifts and downshifts quickly and at the right time, responding well to sudden throttle applications and dialing up the correct gear for the situation. In manual mode, the shifts don't feel much more immediate. Combine that with the solid shift logic of the five-speed slusher and manual mode seems just a bit pointless.
Despite the big, twenty-inch wheels of our tester, the ride was remarkably composed. We covered several hundred miles during our week with the SRT8, including a few sprints down some less-than-smooth dirt roads. Throughout, the Grand Cherokee remained a comfortable and almost isolated place to wile away the miles. The secondary ride was very good, with little in the way of impact noises from damaged roads. Vertical motion was well managed, and contributed to the glued-to-the-road feel offered by the Jeep.
Around the bends, the SRT8 handles much better than its size might indicate. Handling was remarkably flat and neutral, with a very high degree of grip. Feedback through the chassis was better than expected, although there wasn't a huge level of chatter coming from the steering. Still, for what it's based off of, we were quite happy with the level of involvement provided by this Jeep.
In the realm of practicality, the SRT8 loses very little to the standard Grand Cherokee. There's still a spacious cargo area behind the second row, with a high-opening, powered tailgate. Unlike the last Grand Cherokee SRT8, the exhaust placement allows fitting of a hitch for those with something to tow. The second row offers a fair amount of space for passengers as well.
Of course, with gas hovering between $3.75 and $4.00 per gallon (or higher in some places, sorry Cali), we can't ignore the fuel economy of this Jeep. It offers an EPA-estimated 12 miles per gallon in the city and 18 mpg on the highway. We can certainly vouch for those numbers, as we maintained a healthy 16 mpg during our loan. Covering mainly highways helped considerably, but we still believe civil driving in a city setting will net well above 12 mpg.
Having been on the market for some time, SRT8s are thick on the ground, with a very reasonable spread across the country. Based on what we saw, there are more than a few models sitting around the $54,470 base price of our tester. Optioned as our SRT8 was, with the Luxury Group II ($4495, leather door trim and instrument panel, power liftgate, blind-spot monitoring, adaptive cruise, and forward collision warning), the Trailer Tow Group ($995), the $1995 panoramic sunroof, and a 19-speaker SRT high-performance audio system ($1995), you'd be looking at shelling out $63,975.
Jeep's Grand Cherokee SRT8 accomplishes two things for its buyers: it's bar-none the cheapest way to get into the high-performance SUV game, and it's also a darn good bargain for a luxury vehicle, offering driving dynamics that balance comfort and performance along with a very healthy options sheet.
2012 Jeep Grand Cherokee SRT8 4X4
Engine: V-8, 6.4 liters, 16v
Output: 470 hp/465 lb-ft
0-60 MPH: 4.8 sec
Top Speed: 160 mph
Weight: 5150 lb
Fuel Economy, City/Hwy: 12/18 mpg
Price: $54,470