Quick Drive: 2012 Infiniti G37S Sedan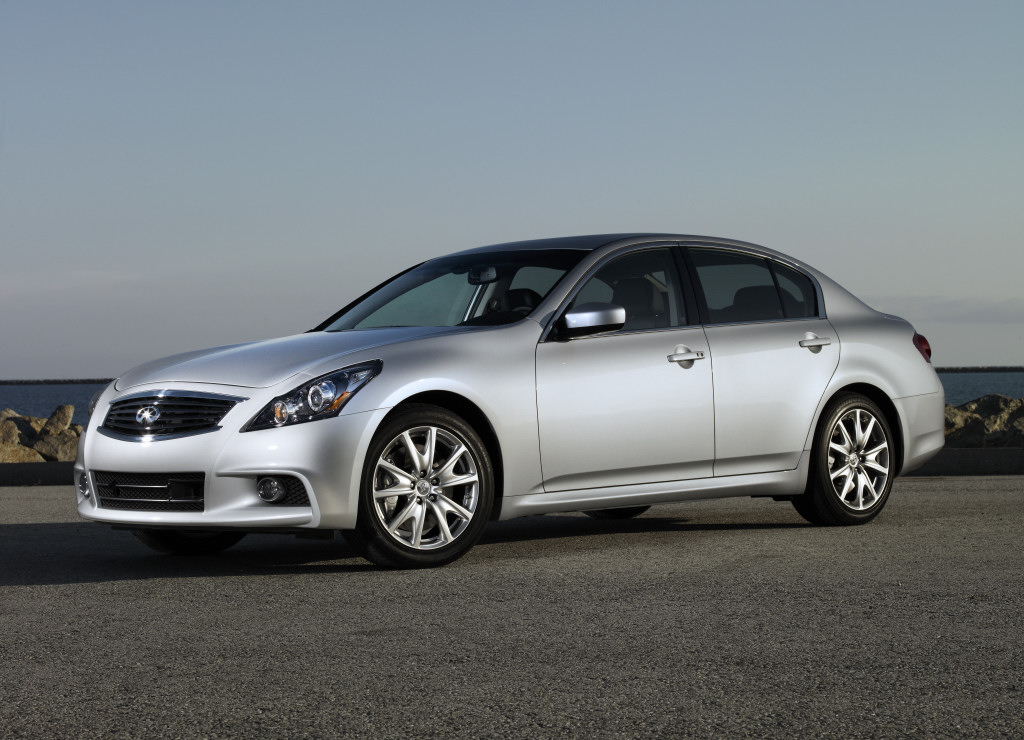 Grousing of my Online Editor to the contrary, the G37 sedan is still a hard-to-pass-on car for those drivers with any kind of an enthusiast bent.
The G is more powerful than everything in its price/size/class, and is available with a manual transmission, which is an increasingly rare trait these days. (The 6MT in question isn't that great to use, but I believe it's far less horrible than Brandon does, apparently.) It has a lively, responsive chassis, and a suspension tuning that rewards hard driving without being completely punishing.
That said, I do believe that, as an older entry than most of the competitors in the segment, the Infiniti suffers a bit in terms of cabin refinement, and slickness of technology. Additionally, most everything that can run with the G37 (
335i
, C350,
Regal GS
) will return far better fuel economy figures than the G's 17/25 city/highway mpg.
If it's me, spending low $40,000s for a sporting sedan, I'd look pretty hard at the
Acura TL
before I opted for any of the Germans, or the G37. AWD, a really kick-ass manual trans, and great ride/handling balance are hard to beat in that car (even if the Infiniti feels a bit faster).
—Seyth Miersma, Editor-In-Chief
I've had a lot of experience behind the wheel of various members of the G family, but I've never really been charmed by any of them. This G37S is no exception. Whether it's the
IPL G
or one of the G convertibles, I've never really gotten excited about driving them.
Part of that stems from a clunky manual gearbox. It feels too notchy, with vague gates and a throw that feels artificially short (think aftermarket short-throw shifter). Combine that with an overly grabby clutch, and you get a fairly unlikable transmission. This is one of the very few cars that I'd rather drive as an automatic.
The engine has a decent amount of power, but sounds so terribly unrefined from inside the cabin. It's a quick-revving mill as well, which forces you to interact too much with the aforementioned manual transmission. Every time I drive it, though, I'm drawn back to that coarse exhaust note, which really puts a damper on the whole motive experience.
The cabin is at best inoffensive, and at worst boring. The controls have a parts-bin feel to them, feeling more like a Nissan than a higher-end Infiniti.
The steering isn't bad, but it does feel a bit too light for my tastes. Feedback is okay, although you'll be relying on the wheel for the majority of it.
The G's problems extend beyond just the car itself. It's stuck in a hugely competitive segment that receives regular upgrades and refinements. Mercedes-Benz C-Class, BMW 3-Series, Audi A4, Acura TSX, and even something like a Buick Regal GS all present a very good alternative to the G, while lacking many of its flaws.
—Brandon Turkus, Online Editor
My own feelings toward this car are very, very different from Brandon's. First of all, I like the styling of the G sedan. It looks every bit as powerful as it is, while still not looking garish or over the top. It has a nice classy look, too, being appropriately beautiful without trying too hard. It's simple and tactful.
The G37's ride matches its looks. It is comfortable soaking up a lot of the bumps in the road. It is a bit isolated, but that helps give it that premium feeling one expects from a luxury car. The suspension is still very much up to the task when it comes to taking on a good road. It feels very planted, and body motions are well controlled.
The best thing about this car, though, is the delivery of the power. It's fast and responsive, with power effortlessly making its way to the rear wheels. Step on the right pedal, and the result is explosive. Being able to use both feet and a stick shift to drive it are an added boon. The manual transmission is average, I'd say, but it's plenty good to direct the power of the G37's powerful V-6.
I think it has all it needs to keep up with the competition. To me, this car has personality, and every time I get inside, I know that thrills are within easy reach.
—John Beltz Snyder, Senior Editor
Pros
3.7-liter V-6 is one of the most powerful in the segment
Ride blends comfort with sport capability well
Steering, gas, and brakes are all satisfyingly responsive
Cons
Manual transmission doesn't have a refined feel
Competition offers more exciting interiors
Fuel economy is poor compared with more recently updated competition