Quick Drive: 2012 Hyundai Azera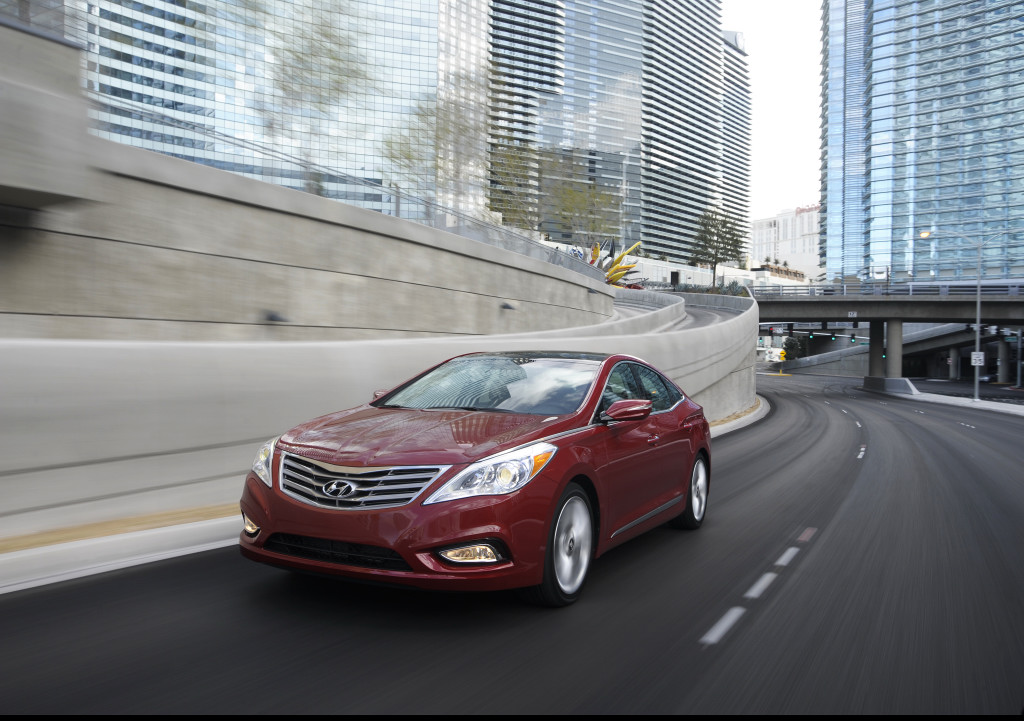 I said it when
I first drove it; the Azera is a damn fine vehicle
. Even after seeing a few on the roads, I'm still taken by the styling, both inside and out. It's the best looking of the fluidic sculpture vehicles, and the interior sorted out many of the ills I had with the Hyundai range, thanks to its soft-touch materials, contrasting colors, and overall logical layout.
The part I'm (still) not sold on lives under the hood. For the life of me, I'm not sure why Hyundai has opted for the 3.3-liter V-6. It's not a bad engine, but considering what I've been seeing from the brand these past several years, this felt like a decidedly lackluster effort. It doesn't rev particularly fast or sound too nice along the way. You really need dig into the throttle to get going. Part of this is down to the transmission, which just never feels very eager to downshift.
Either the 2.0-liter, turbocharged four-cylinder from the
Sonata Turbo
or the 3.8-liter V-6 from the
Genesis Sedan
would have made far more sense, sounded better, and delivered more power with little to no negative impact on the economy.
If you can get over the engine (and I can), then the Azera is an excellent big sedan. Its ride balances being smooth and quiet without feeling completely detached from the road like a
Toyota Avalon
or
Buick Lacrosse
. Wind and road noise are well controlled, as well.
Still, if you want a big, comfortable, stylish sedan (and don't mind a rather snooze-tastic engine), then you'll want to check out the Hyundai Azera.
—Brandon Turkus, Online Editor
I totally understand the engine choice for this car. It might not sing its way into your heart, or provide peaky, slingshot-like bursts of acceleration, but that's kind of the point. It is a good fit because of its smoothness. It's powerful enough that it feels fast even when passing people on the highway, but your passengers will be able to sip their lattes without spilling all over the nice perforated leather seating. That'll only happen when you slam on the brakes—they feel quite strong even in normal driving.
I really liked spending time inside the Azera, as it's very comfortable and refined, as Brandon points out. The one thing it seems to be lacking is a good amount of headroom up front. That's not totally a horrible thing, as I didn't have to flip down the visor during my regular commute, as I do in most other cars.
Our Azera tester felt particularly luxurious. It had heated and cooled seats, both of which come in handy during spring in Michigan. Its panoramic sunroof is enormous, and it looks well integrated into the car from both inside and out. Backseat passengers always enjoy the power sun/privacy shield in the rear window. I also found the Azera's touchscreen very easy to reach, use, and navigate. Even the blinker has a unique sound to it that makes it feel a bit special (passengers ruminated on how that sound came to be, and who engineered it).
—John Beltz Snyder, Senior Editor
Pros
Clean, refined, stylish interior
Lots of good luxury features available
Smooth driving characteristics for a comfortable ride
Cons
3.3-liter V-6 doesn't feel as energetic as Hyundai's other engines
Lacks feedback through steering and suspension
A bit lacking in headroom