Quick Drive: 2012 Chevrolet Volt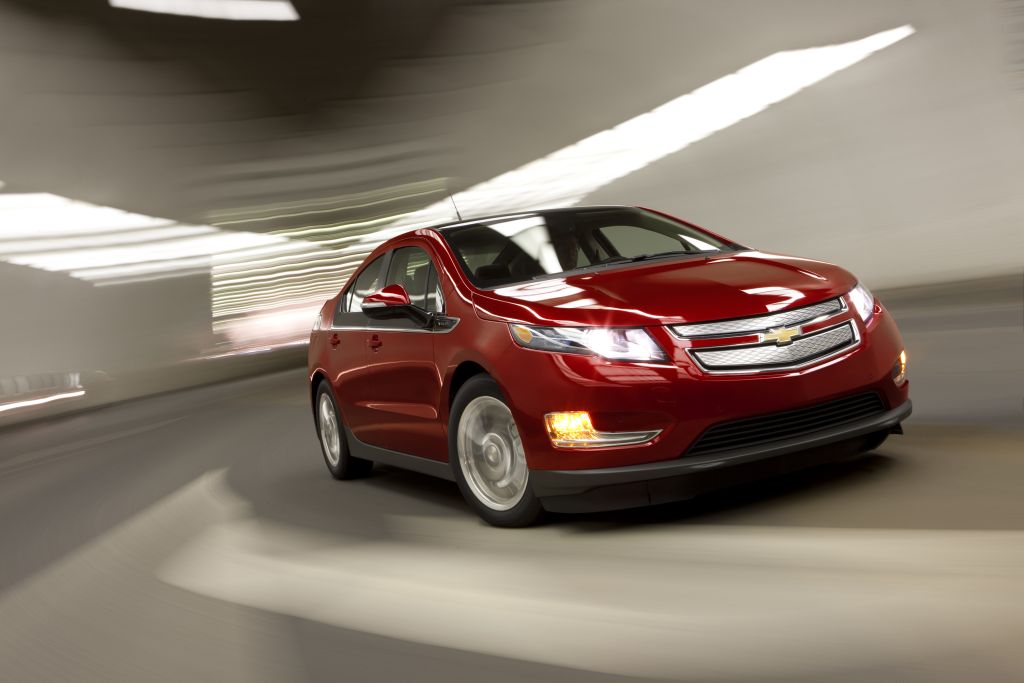 I'm always impressed by the smoothness in the Chevy Volt's ride. It feels like it glides across the surface of the road, but in a way that doesn't feel floaty or unstable. The smoothness of the power delivery compounds this sensation, and anyone I've had in the car with me has made mention of it. For reference, another car that offers a remarkable gliding sensation would be the Hyundai Sonata Turbo.
Plus, the Volt does have a premium feel to it. The interior materials are pretty impressive. Fit and finish is high-quality. The architecture of the cabin feels fresh and modern without being splashy or dramatic.
One thing that does bug me about the Volt is the presence of some unwanted electrical noise. In particular, I always notice a very high-pitched tone when driving the car. It's similar to the sound a television produces when turned on, but with the volume off, almost like having a ringing in my ears. I find that sustained high-frequency tone rather bothersome, but haven't gone so far as to find out if other people experience this as well. So, gentle reader, if you've been in the Volt, is this something you've experienced too, or are my ears just too sensitive to high frequencies?
—John Beltz Snyder, Production Editor
First, to answer John's question, I've never noticed the ringing sound he refers to. Maybe he just has ears that are more sensitive higher frequencies. Since my original review of the Volt, I've tested the
Nissan Leaf
. As significant as the Leaf is (and it is a very important vehicle), I can't help but be partial to the Chevy.
Part of the Volt's success is that it feels just like any other car. Sure, it has some funky, EV touches with its instrument cluster and center stack, but all the dynamic attributes feel like the kind of car we're all familiar with. That's a stark contrast to the Leaf, which makes you feel like you are driving something slightly alien, something not entirely familiar. Maybe it's the lower seating position in the Volt, or the more familiar (and beautiful) infographic touches, but I just feel far more normal driving the Volt.
If there is one complaint I'd like to level against the Volt, it's that when the gas engine kicks to life, it is a bit too noisy. Compounding things is that, unlike a normal car, there's a noticeable change in tone as you accelerate. Not so in the Volt. The engine remains at the same dull moan regardless of speed. It's one of the only characteristics of this car that makes it feel not normal.
—Brandon Turkus, Test Fleet Manager
Pros
Very smooth ride does a lot for comfort and perceived quality
Interior full of nice things to touch, look at
Beautiful infographic touches, easy to use and understand
Cons
Very low front ground clearance means its very easy to scrape on the ground
Noisy gas engine doesn't translate well to the motive experience
Center stack, with haptic feedback, takes some getting used to