Quick Drive: 2012 Chevrolet Cruze Eco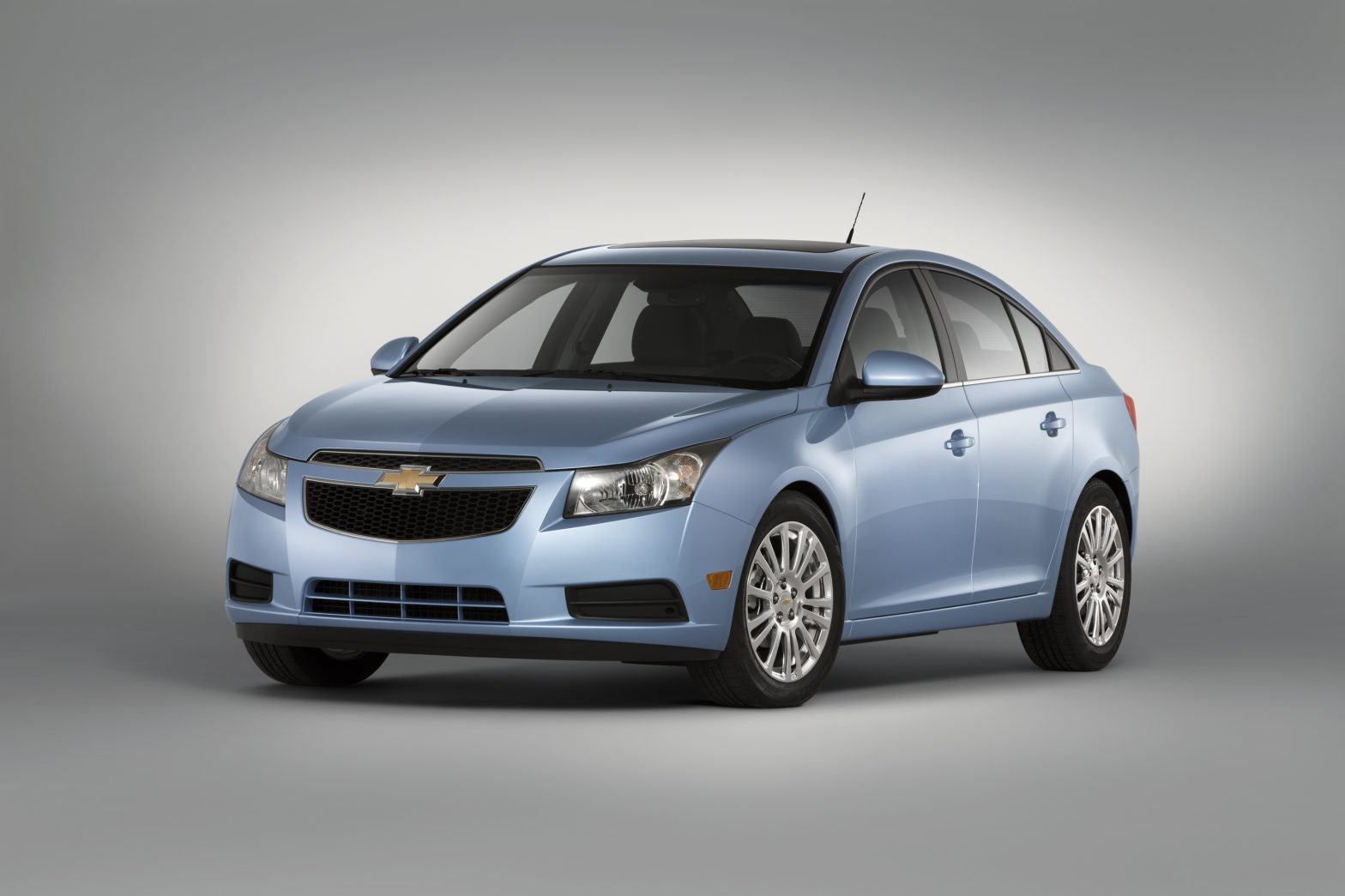 —Lake Orion, Michigan
Hybrids, EVs, diesels…they get all the credit. With advanced powertrains, super-clean emissions, and lofty EPA ratings, these fuel-sippers are stars. Meanwhile, there's a range of ultra-efficient gas engines that, to quote the legendary Mr. Dangerfield, get no respect.
That's wrong, as we found out during our week with the smallest member of
Chevrolet's Eco range
, the Cruze Eco. With a 1.4-liter, turbocharged Ecotec engine and a six-speed manual transmission, there's a lot to like about this smallish Chevy. It packs 138 horsepower, 148 pound-feet of torque, will net 28 miles per gallon in the city, and 42 mpg on the highway. Combine those numbers with a curb weight of just 3011 pounds (it's no Lotus Elise, but it's still decent), and the Cruze Eco's appeal begins to shine through.
Flat out, it'll easily get out of its own way. We have no qualms with its ability to accelerate for highway passing or merging maneuvers, and with peak torque coming on at a low 1850 rpm, it feels equally adept in city driving. Torque is hardly diesel-like, but the Cruze will still happily chirp its low-rolling-resistance tires. Despite being a small turbo, lag is well managed, and once spooled, power delivery is smooth and linear. This is a pretty quiet engine, producing less noise under acceleration than a
Chevrolet Volt
does when its gas engine kicks to life.
The Cruze has always been blessed with a better-than-average balance of ride and handling, and the Eco is no exception. Vertical damping could stand to be a bit stronger, but side-to-side motions are well managed. Overall, the chassis balance leans decidedly towards the front of the vehicle (not surprising considering it's a front-engined/front-drive small car). Actual grip levels aren't very high, on account of the aforementioned eco-friendly tires.
The ride is smooth and comfortable, with a controlled level of road and wind noise. Impact noises from the suspension are negligible. It soaks up bumps and ripples in the pavement quite well, and certainly wasn't bothered on some of the bigger imperfections we traveled over.
There is a distinct lack of feedback through both the chassis and the steering, which, to be fair, is a chronic problem in the realm of both $20,000 sedans and fuel-efficient vehicles. The steering is rather light, but what effort there was built up in a linear manner. Overall, we'd call it one of the better electric setups on sale.
We have to admit to being big fans of the Cruze's interior. The seats are rather soft, but offer a nice level of support, with right-sized bolsters. They're finished in a breathable and comfortable cloth that feels surprisingly upscale (for cloth). It's easy to find a comfortable seating position, and fans of putting the steering wheel in their lap will enjoy the great range in the tilt/telescopic wheel. There's only one area we aren't really sure of, and that's the cloth insert that spans the breadth of the dash. It looks odd, and doesn't feel particularly good. Really, we've never said this, but just give us a spot of painted soft-touch plastic instead.
Fuel economy during our time with the Cruze was impressive. On a 100-mile loop, we managed an impressive 44 mpg on a prolonged stretch of highway, before hitting our final number of 37 mpg after a stint of urban driving. What struck us was the ease with which the Cruze Eco achieved its mileage. We weren't actively trying to drive efficiently, yet our results were quite good. We like cars that deliver effortless economy, and we're officially adding the Cruze Eco to that list. The only thing we'd like to see is better metrics for measuring economy, as the Chevy was lacking in that regard.
In terms of pricing, the Cruze Eco looks like a bargain. It starts at a mere $19,325, which for a five-passenger sedan that can net 42 mpg is very impressive. Our tester also featured a $995, seven-inch, touchscreen navigation system. All told, we'd shell out $21,560 (including destination) for a 42-mpg, nav-equipped, manual-transmission, turbocharged sedan. That price is even more impressive when we look at it next to its big-name competition: the
Toyota Prius
.
A standard Prius starts at $24,000. With gas at a conservative $3.70 per gallon (the same number quoted by the EPA on the Cruze's Monroney window sticker) and a driver that would cover 12,000 miles per year, it'd take over 11 years to recoup the price difference between a base Cruze Eco and a base Prius Two. Of course, that number will decrease as fuel costs increase, but prices need to go way up for this to make economic sense.
We understand the hype towards EVs, hybrids, and diesels, and that eventually gasoline-powered cars will be supplanted completely. In the here and now, though, Chevrolet's Cruze Eco is a great fuel-saving sedan at an even better price.
2012 Chevrolet Cruze Eco
Engine: Turbocharged inline-four, 1.4 liters, 16v
Output: 138 hp/148 lb-ft
Weight: 3011 lb
Fuel Economy, City/Hwy: 28/42 mpg
Base Price: $19,325