Quick Drive: 2011 Toyota Venza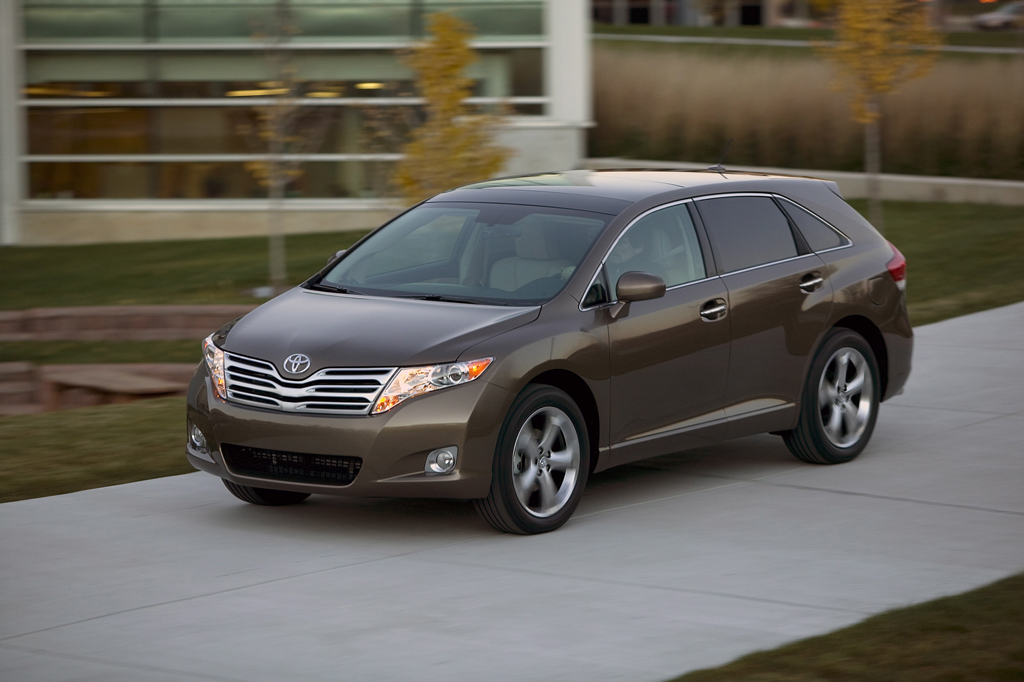 Some of Toyota's newer products—Prius, Sienna, and this Venza among them—do a reasonably good impression of entry-level luxury vehicles from the standpoint of interior packaging. (This is, by the way, something that Volkswagen probably leads the world in; based on cars like new Golf and the CC.) Venza's cabin feels decidedly upscale, with material finishes that are both pleasant and kind of unexpected.
I'd argue that the exterior sheet metal matches the appeal of the cabin, too. Even though, rationally, I know I'm being suckered into thinking the Toyota is "sporty" because of it's oversized wheels, I can't really help myself. The Venza is certainly helped out in that regard by offering ride quality that isn't compromised by its big shoes—something that can't be said of the last-generation Ford Edge Sport, for instance.
Venza handling and performance are pretty unremarkable, which is okay considering many crossovers cause me to remark in a negative way. I appreciate the significantly better acceleration and passing power afforded me by the 3.5-liter V-6 here, but, truth be told, if I were the one laying down dollars I'd save a few grand and opt into the perfectly reasonable four-cylinder model.
This "update" drive in the Venza crystallized for me that this is my favorite product in the current Toyota range, and one of the best, sanest choices for a CUV in this size class.
—Seyth Miersma, Editor-In-Chief

The Venza does have a pretty nice interior, as Seyth points out. Also of note is that, at least on the inside, it feels simply huge. If you ever are in the back seat of a Venza, look up, and take in the enormity of the ceiling above you. It's impressive, and whether you're driving, riding as a passenger, or loading cargo into the back, you'll appreciate the feeling of space this vehicle offers.
That is pretty remarkable, considering the Venza drives like a much smaller vehicle. It is sprightly enough, and can hustle about in traffic with relative ease. The only time I really noticed the car's actual size was in the parking lot, where cramped aisles and parking spaces made it a bit of a chore to maneuver.
An exciting car to drive it is not, though. It features the typical Toyota DNA in that it is more meant to be used as a tool to move people and personal belongings from place to place than as a source of entertainment. Its numb steering and soft responses make it really easy for anyone to drive day-to-day, but don't inspire much in the way of passion.
—John Beltz Snyder, Production Editor
The Venza is kind of a jack-of-all-trades. Its driving nature is completely inoffensive. The six-speed auto swaps cogs smoothly and somewhat quickly, and the 3.5-liter V-6 can haul this fairly large vehicle around pretty quickly. It's plenty versatile; thanks to a large trunk and a second row that folds completely flat. It's even got the security of all-wheel drive. So what's wrong with it? The answer is the Mazda CX-7.
The CX-7 is the straight-shot of whiskey (don't drink and drive) to the Venza's diet cola. It's a useful crossover that is completely unapologetic about its turbocharged 2.3-liter I-4, all-wheel drive, and sporty handling. So what if it isn't as useful as the Venza (you'll lose about 10 cubic feet of passenger space, and 12 cubic feet of cargo room), it's a hell of a lot more fun to drive.
Where the Toyota's steering felt light and numb, the Mazda's feels alive and talkative. The Venza's V-6 certainly wasn't bad, but it lacks the rev-happy eagerness of the turbocharged I-4. The CX-7 offers a driving experience that is so much more visceral than the Toyota. It actually elevates the act of driving from a slightly more active form of sitting in a waiting room, to something that can be fun and enjoyable.
It's even cheaper than the Toyota. Our V-6-powered, all-wheel-drive Venza cost $36,385, while a Mazda CX-7 Grand Touring All-Wheel Drive with a rear-seat DVD player and a trailer hitch costs about $500 less. There is really nothing wrong with the Venza, but if you want to have some fun in the CUV class, you should check out the Mazda.
—Brandon Turkus, Test Fleet Manager
Pros
Excellent interior treatment feels more like Lexus than Toyota
Passengers will appreciate the roominess
Good deal of content at an affordable price
Cons
Kia/Hyundai offerings are really squeezing Venza in terms of value for content
Many other crossovers offer more in terms of personality and fun driving
Isolated steering and handling make Venza tricky to handle at higher speeds (not that you're likely to take it there)