Quick Drive: 2011 Subaru Legacy 2.5GT Limited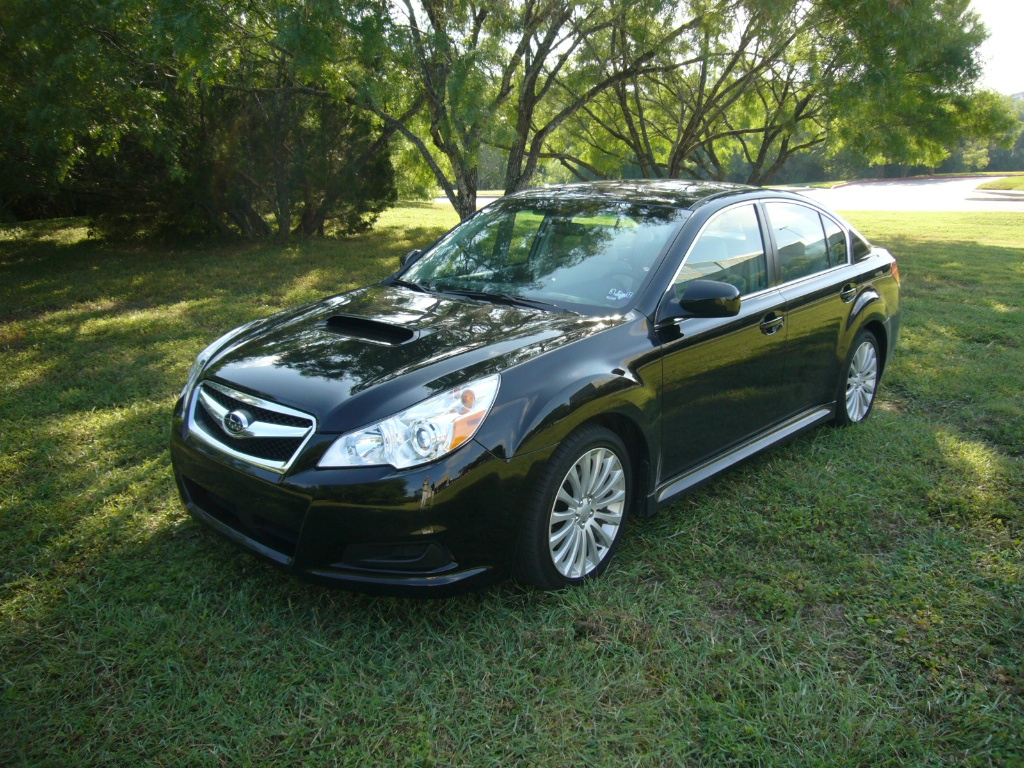 "Now we're talkin'," I thought to myself as I brought the Subaru Legacy 2.5GT whistling up and out of my favorite back road sweeper on full boost. No doubt about it: Subaru's turbocharged 2.5-liter boxer four is a powerful and soulful little engine that feels stronger than its published specs might suggest, and that is blessed with a sweet, urgent exhaust note to boot. And "whistling," as it happens, really is the operative phrase when you've got this motor spooled up, since Subaru has seen fit to allow the subdued but insistent sounds of turbo whine filter through into the cabin—sort of like the automotive equivalent of a tea kettle jauntily announcing, "I'm at full boil, now…" All of which is to say that the Legacy 2.5GT channels much of the goodness of its little brother, the potent Impreza WRX, but in a significant larger, more luxurious form. True, the Legacy gives up some of the point-and-shoot tossability of the WRX (in part because it's simply a much bigger, heavier car), but even so there's real motoring joy woven into its DNA.
More so than other Japanese or domestic sedans priced in the low-to-mid $30K range, the Subaru Legacy 2.5GT is consistently fun to drive, and it is easy to understand why. Start with a 265-horsepower turbo four that produces big, dirty bags full of torque down low and a nice rush of power on top, add a six-speed manual with really well chosen gear ratios, couple the whole works to a full-time all-wheel-drive system, and what have you got? You've got a platform that is responsive and communicative, that provides good grip and acceleration in the dry, and that adds a measure of security in inclement weather or on sketch road surfaces. And what's not to like about that?
Suspension springing offers a well balanced compromise between firmness and compliance, so that ride quality is very good—even on badly rippled surfaces. Better still—and unlike any number of other "sport" sedans we've sampled—the Legacy 2.5GT offers a meaningful amount of roll-stiffness (though in my view it could use even more). Steering feel, though certainly not up in the Lotus Elise class, is nevertheless very good as mid-size sedans go. But one area where the 2.5GT could use serious improvement involves shock calibrations, since as tested the car proved woefully under-damped. On a day-to-day basis, this leads (early and often) to scenarios where the 2.5GT delivers a firm ride and provides good control over roll motions, yet still manages to feel floaty—owing to inadequately controlled vertical body movements. Strange, no? Even so, the Legacy 2.5GT is so fundamentally responsive that it makes cars like the Mazda6, Chevy Malibu, and Ford Fusion feel ponderous by comparison.
The Legacy is not a bad looker either, though its design language might seem a bit bland and generic for some tastes. My favorite view is from the front quarter, where the well proportioned hood scoop hints at the very real engine performance that's on tap down below. The interior is nicely done, with high quality materials (Legacy 2.5GT's come with leather interiors as standard), and a well-organized way of presenting contrasting colors and textures (our sample provided black surfaces on the top of the dashboard and doors, with simple wood accent panels, and tan leather surfaces and carpeting below). To a degree not immediately apparent from the outside, the Legacy offers an exceedingly roomy interior with a downright huge back seat. This is an honest-to-gosh, no-jive, five-passenger sedan—not a cramped four-seater masquerading as one. My only two gripes center on the front seats, which though comfortable do not provide sufficient bolstering to hold the driver in place during really spirited cornering, and the somewhat weird pushbutton parking brake mechanism. My thought: Wouldn't a traditional handbrake lever be simpler and work better? Otherwise, the Legacy 2.5GT interior is a tasteful and relaxing place in which to spend time.
Think of the Legacy 2.5GT, if you will, as a wider, stretch chassis WRX that's all dressed up in fine, Sunday-go-to-meeting clothes. It's the sort of sedan that will let you pose as a prudent, perhaps even conservative, solid citizen-type by day, but that then invites you to go play (and play hard) on the back roads during your free time. We can get behind that concept, can't you?
—Chris Martens, Contributing Editor
This is one of those cars that I found myself immediately able to like, and yet the Legacy 2.5GT doesn't conform to standard enthusiast norms for how a car should be set up. Like many a Subaru, this one differs quite a bit from its $30K competitors, and I could imagine a lot of people who would enjoy that difference.
The fun begins with the turbo 2.5-liter four-cylinder engine that we also see in the WRX. This turbo motor has a rising power curve as the turbo kicks in that makes it seem much more powerful than the demure six-cylinders that are installed in most of the competition. At 265 horsepower, it really isn't more powerful, but I simply loved cruising at 2400 or 2500 rpm waiting to shoot the gap in traffic by riding the power curve up to 4000.
The ability to enjoy the power curve is enhanced dramatically by the presence of a six-speed manual gearbox in the GT. Some of us enjoy shifting, but even if it isn't high on your list of pleasures, you're bound to enjoy the direct connection that such a transmission brings to the party. Compared to a CVT or a slushbox, this transmission is transformative. The shift mechanism won't displace the one from the Acura NSX on the "back in the day…" hall of fame, but it is perfectly usable and enjoyable (I'd rate it a step ahead of typical BMW mechanisms for example).
The 2.5GT's handling is where things get weird, though they stay fun. The thing is, the car has moderately firm springs and (unusually for a Subaru) moderately stiff anti-roll, but pretty soft damping. I presume Subaru was aiming for good ride quality, and it has mostly succeeded, but the slightly floaty primary ride may throw you off if you go for a short test drive. Don't let it. The GT has very good grip, nice balance, and can be tossed around at normal street velocities in an entertaining way. The 2.5GT also has better steering than is the Subaru norm, with good weighting and feedback, making it possible to enjoy controlling the underpinnings enumerated above. This is a car that would make a lot of sense for the bad roads in northern climes: fun, engaging, but not bone-jarring. If you want something stiffer and more boy-racerish, you can always get the WRX STI with the new Spec-C suspension.
I also have to mention four standout design details. First, the back seat is simply immense, or at least bigger than I would have expected. While on the subject of seating, let's also sing praises to the Subaru seat designers who have combined a good shape with comfortably firm seating surfaces (Are you listening Audi? Titanium is cool, but it isn't a seating surface!). The interior design and materials are attractive and not only a step forward for Subaru, they are at least on a par with Honda and Toyota. Finally, the exterior met with kudos from women and men ages twenty-eight to forty-five. I found the passion for the design a bit surprising, but like the driving dynamics, Subaru has found a spot that is attractively strong and not at all bland.
In this price class, if you want a sedan, you really should visit your Volkswagen dealer to look at the CC, your Buick dealer (later in the fall) to drive the turbo Regal, and your Subaru dealer to evaluate the Legacy 2.5GT. These are really different cars, but each stands out in a desirable way and by the end of those visits you should know which one is for you.
—Tom Martin, Editorial Director
Pros
Turbocharged Boxer engine packs a big punch
Massive backseat means there really is room for five
It's a WRX that's gone to finishing school
Cons
Poor damping control can lead to a floaty ride
Electronic parking brake is confusing and severely limits snowy parking lot shenanigans
Underbolstered front seats don't fit in with the cars performance character