Quick Drive: 2011 Porsche Panamera 3.6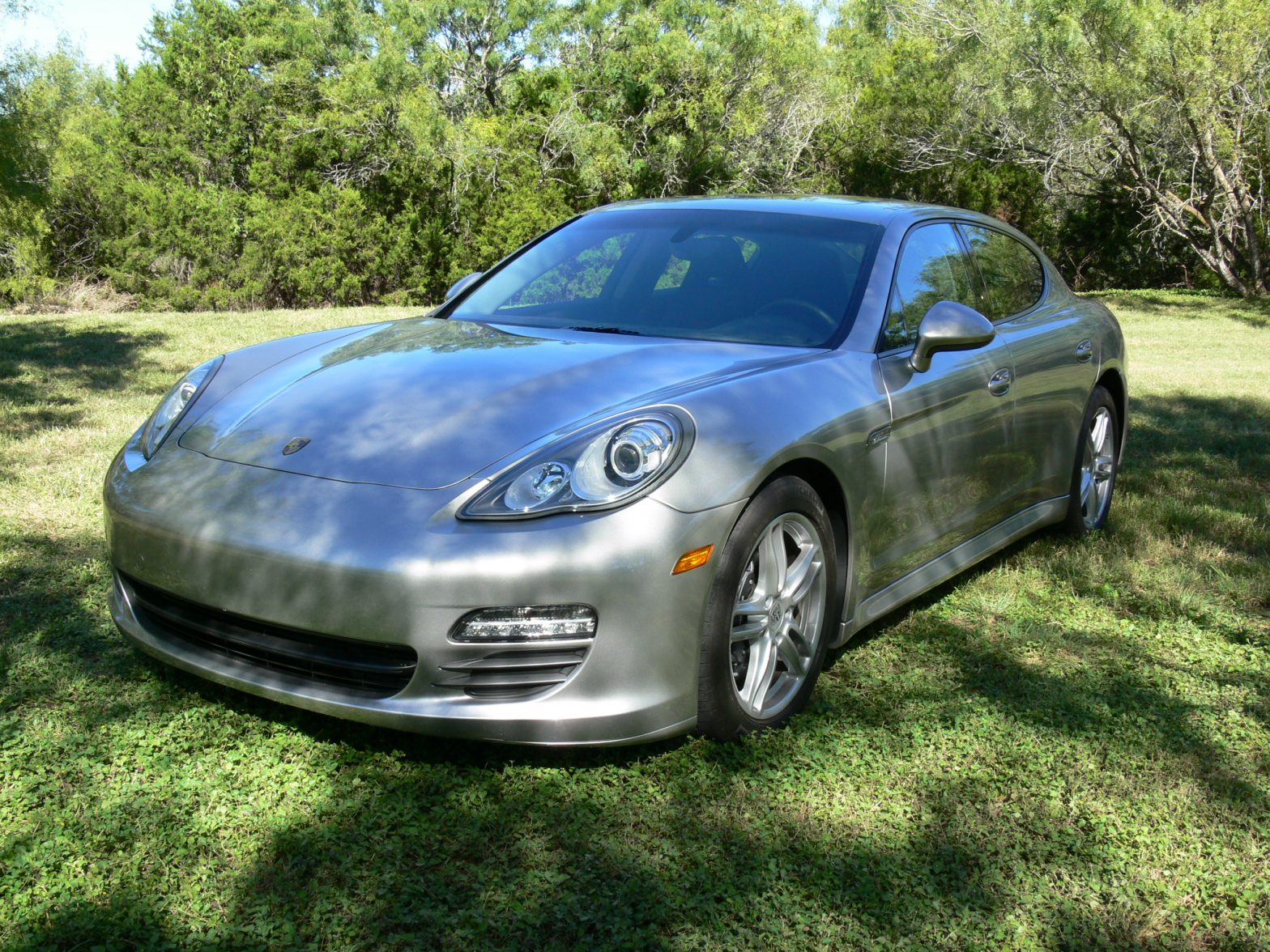 For me, there is a certain excitement that comes when driving a Porsche—any Porsche, really—I suppose because long experience with the brand has proven that there's an unbreakable social contract at work. When you climb into vehicle that wears the famous Stuttgart badge, you can rest assured that it was designed and built by serious men and women who understand quality and solidity and, above all, care just as much about the qualitative aspects of driving as you do. But the fine print in that contract also says "…but not all Porsches will necessarily be sports cars." And so we have the Panamera, Porsche's first ever four-door sports sedan.
The looks of the Panamera are, I'm told, controversial, though I personally don't see any cause for consternation. To me, the Panamera is simply lovely, wearing clear-cut Porsche design cues on its nose section, while the cabin window lines do their best to create the feel of a taller, more airy-feeling, stretch-chassis 911 (an idea that may or may not sit well with all viewers). From the rear, the Panamera shows strong influences of the wide-hipped look of many famous sports cars, with wheel openings stretched out to the sides to accommodate wide tires. In turn, the huge rear hatch window (yes, the Panamera is a hatchback) distantly echoes the look of the 911 rear skylight window. I reckon some might find the car a bit bulbous looking, but I would simply say to give it time; the design grows on you—and in ways that, quite frankly, the also controversial Cayenne never did. One thing's for sure: the thing instantly wins admiration from non-Porschephiles, who can be found oohing and ahhing over the Panamera whenever it's left unattended in a parking lot.
One thing that may not be apparent from photos is that the Panamera is a big car—one that is seriously wide, long, and almost unbelievably roomy, with space for four full-size adults (a quartet of beefy 6-footers would fit comfortably with head and legroom to spare). The trunk/hatch bay area is also quite capacious, so that your baggage and other trip necessities will—as Southwest Airlines might put it—fly free. Where may GT cars are two-plus-twos, the Panamera is a four-plus-more kind of car, which makes its underlying performance capabilities that much more fun to enjoy.
Our tester was equipped with Porsche's 3.6-liter 300-horsepower V-6 and the lovely 7-speed PDK automated manual transmission. The combination gave very brisk though not truly ohmigosh fast acceleration—acceleration that most who have not been logging time in Shelby GT500s or even faster vehicles would find thoroughly impressive. The PDK transmission gives lightning fast and glass smooth upshifts and downshifts, allowing the car to surge forward with almost electric motor-like smoothness in normal mode, while taking on a more urgent, high-strung character when put in Sport mode. One could argue that on the Panamera as on many other cars, the Sport mode is a little too aggressive for normal, day-to-day use, so that it might be nice to have three modes—say Normal, Sport 0.5, and full-on Sport 1.0. That sort of arrangement would cover all the bases quite nicely.
Given its size, the Panamera has surprisingly high and also surprising usable cornering limit, thanks to a combination of excellent grip and plenty of roll stiffness. (Somehow I just knew the Porsche guys would have the roll stiffness thing figured out and sure enough they do. Why can't everybody else get with the program?). Steering is relatively quick and offers a good though not truly great amount of feel, I think because it is—at least for my tastes—somewhat over-boosted. On the road, the combination of steering quickness and high levels of boost means that it's easier to turn the wheel more rapidly than you mean to (say, if jostled by a mid-corner bump) and consequently to get more turn-in than you bargained for. As a result, it takes practice to be able to carve smooth, clean arcs if you like to drive twisty, but also bumpy back roads as much as I do.
Ride quality in normal mode is determined by moderately but not excessively firm springing with good damping, though I would say the standard setting allow somewhat higher amplitude vertical body motions than would be desirable. Let me expand on this point. Aircraft enthusiasts often speak of great airplanes have the desirable quality of "control harmony," meaning that for equal-effort control inputs in each axis you get an equal and proportionate response from the plane. I would say the Panamera give good but not quite spot-on control harmony and here's why. Grip, acceleration, roll stiffness, steering quickness, and braking are all beautifully proportioned. But steering boost levels and slightly too little control of vertical body motions upset the balance just enough to be noticeable—keeping the car from achieving the fullest measure of smooth, athletic grace that the best GT cars achieve.
But here's the kicker: if you switch to Sport mode the suspension tightens up as does steering feel, so that balance is restored. As I drove the Panamera last night, I remember think to myself that it would be great if Porsche let us have the Sport suspension settings at the flick of a switch, but without requiring the more urgent and insistent Sport drivetrain settings. Now that would be an almost perfectly harmonious setup.
Let me wrap up by saying that I loved the Panamera's interior. It finds that just-right balance point between simplicity, understated but unmistakable luxury, comfort, control, and true sporting intent. The instrument panel, in my view is a work of art, with the biggest central nacelle reserved for a combination tach/digital speedometer, and a just right-sized map display window set off to the right. Grouping map displays with the other instruments was an inspired touch that just feels right and appropriate, once you see how Porsche has done it. I'm not wild about Porsche's controls for the transmission's manumatic mode, since I find (as do, interestingly, many other confirmed Porschephiles I know) that the push-forward-to-upshift/pull-backward-to-downshift controls are, from an intuitive standpoint, exactly backwards. But this is a minor and of course debatable point. To each his own. Overall, I'd say the Panamera provides the kinds of quarters where I could find years of mature (but not too mature) motoring happiness. You?
—Chris Martens, Contributing Editor
Pros:
Loads of grip and great roll stiffness create fine cornering behavior—handles like a true Porsche
Despite being the Panamera's "base" motor, V-6 engine is refined and plenty fast
PDK transmission is smooth, quick to shift, and well-matched with the 3.6-liter V-6
Cons:
Sport mode programming may be a little too aggressive for day-to-day use
Steering is a bit too light and lacking in feel to match what we expect from a Porsche
Styling is far from universally loved