Quick Drive: 2011 Nissan XTerra Pro-4X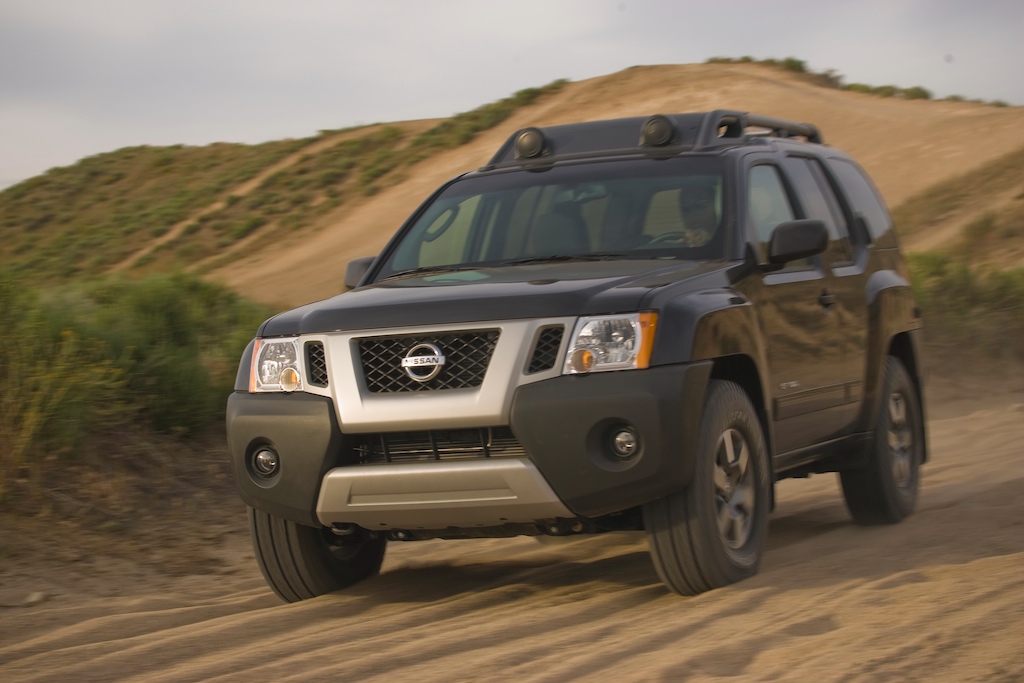 The Nissan XTerra reminds me of my 1999 Jeep Cherokee Sport I used to drive. Firstly the suspension is pretty stiff over the smaller imperfections, but there's still a lot of bounce in the front springs. While that may seem a bit annoying driving in the city, it makes for good articulation off-road. Secondly, when I shifted the XTerra into four-wheel drive, turning becomes a wholly different affair. Especially with the steering wheel near lock in either direction, the power steering fights against you, and the car is reluctant to turn sharply. I encountered this problem in my old Jeep, and was surprised to find it in a new vehicle. It's not a big deal, just weird, and probably alarming to a driver who hasn't encountered it before. The third similarity was in the simplicity of the layout of instruments and switchgear—a good thing in my opinion.
I think the XTerra feels a little old, though. I feel like it hasn't changed a lot over the years, and that it could use a little freshening up to keep it in line with the competition. Maybe some various suspension settings for different types of driving (a little bit of technology can make a big difference), some unique feature, or even just some interior styling updates would help make it more enticing. It wouldn't take much to create a better balance of simple, fresh, and capable.

—John Beltz Snyder, Production Editor
The thing that strikes me about the XTerra is just how honest it is. John is right, the ride really isn't that great, and the steering in four-wheel drive isn't too good. And yes, the interior is dated. But this is a car that doesn't try to convince the driver that it's something else, or worse, be all things to all people. In that regard, it reminds me a lot of the Jeep Wrangler, in that it's an old-fashioned vehicle that is still quite enjoyable to drive.
It also beats the pants off its nearest competition, the Jeep Liberty. The 4.0-liter V-6 feels considerably more refined, and pulls much harder than the Jeep's 3.7-liter V-6 that we tested over the winter. And while the ride is rather harsh, it's considerably more comfortable than the crashiness that the Jeep delivers.
—Brandon Turkus, Fleet Manager
Pros
Simple interior design is easy to use, and without gimmickry
4.0-liter V-6 feels extremely robust, and sounds pretty good, too
Pro-4X comes with off-road lights…awesome!
Cons
Four-wheel drive system is a little rough around the edges
Soft suspension isn't really comfortable on road
Interior could stand a little refreshing