Quick Drive: 2011 Lexus LX570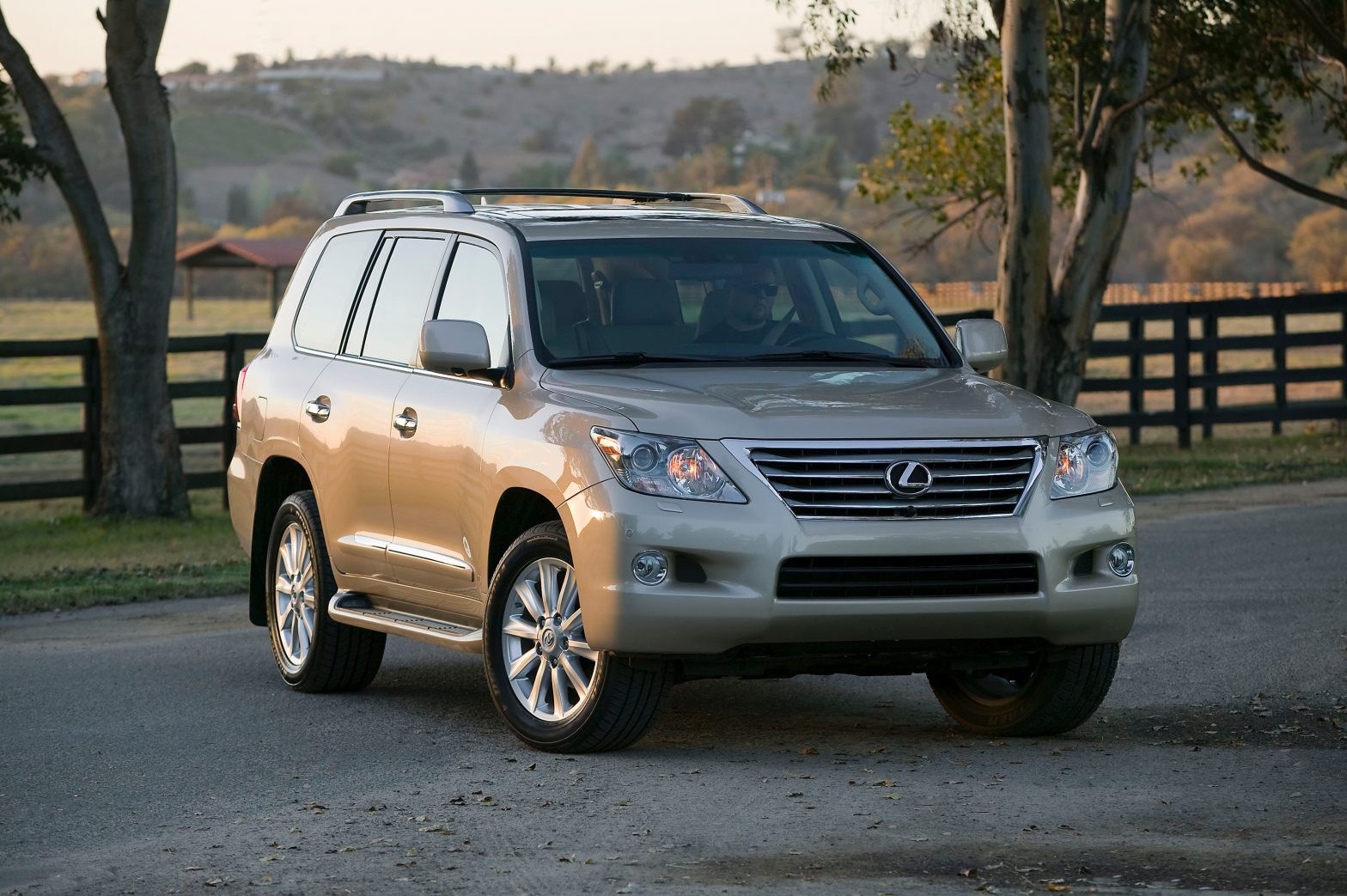 This is a rare example of a huge vehicle that I don't mind driving. It's really comfortable and fairly luxurious. Our tester was white, and was resultantly hard to ignore (which has the nice effect of left-lane slowpokes moving aside to let me pass). It's not a huge chore to keep it tacking straight. Decent visibility plus parking aids make it relatively easy to parallel park despite its length. Plus, Lexus' nav/audio interface it really easy to use.
It also had a switch for suspension settings, including Normal, Sport, and Comfort. Sport doesn't seem like it can make this vehicle actually seem sporty, so I mostly left it in Comfort. Even on the cushier setting, body roll is kept in check for the most part, especially when you compare it to previous generations.
Another feature I like is the adjustable ride height. It doesn't seem like much, and under most driving conditions, it puts it into normal height no matter what, but I found myself using it. The LX is good for carrying passengers, and the fact that you can lower it to get in and out is helpful when ferrying shorter or less spry friends and family. The high ride height wasn't of much use on-road, but in a crowded parking lot, I used it to give myself a better view while hunting for open spaces.
—John Beltz Snyder, Production Editor
"Smooth." That's the one word that kept creeping into my mind during my time with the LX. Something as simple as pulling away from a stoplight, regardless of throttle input, is a relaxed, comfortable experience. By relaxed, I certainly don't mean slow, as the 5.7-liter V-8 provides more than enough power to get you going.
Especially smooth is the ride. As John says, keep it in Comfort for a supremely plush ride that has no business belonging to a full-size SUV. What is really impressive is that, even in Comfort, the LX has a good handle on vertical movement over bumps and other imperfections. I've noticed in some other cars with adjustable suspensions, that Comfort mode tends to create a sort of up-and-down ride that can be more uncomfortable than the firm ride in Sport mode. This was a non-issue in the LX, as it simply crushed anything that passed beneath it.
Ignore the isolation of the big Lexus, and simply enjoy what is one of the nicest riding vehicles on the market today.
—Brandon Turkus, Test Fleet Manager
This LX shares a trait with every other Lexus that I remember driving from the recent past—rather remarkably throttle response on tip-in. Seriously, the power put out by the V-8 (383 horsepower) here isn't that great relative to the mass of the thing, but tuning has made the throttle really responsive, and ultimately makes the LX "feel fast." Lexus pulls off this trick with its smaller-power IS250 and IS250C, too.
I can only imagine that throttle response of this nature is something that really helps your local Lexus dealer sell cars. The typical non-enthusiast buyer probably doesn't care too deeply about the horsepower and torque numbers on the spec sheet, but he or she will absolutely what to feel "good pick-up" in the machine when they test drive it.
On a down note: this interior package now feels woefully out of date—in terms of finish and function—relative to newer competitors. My guess is that anyone who drives both this LX and a similarly spec'd Infiniti QX (which is a brand new model) will agree with me. Honestly, even the far less costly Jeep Grand Cherokee, at least in higher trim levels, has a cabin I'd rather spend time in.
—Seyth Miersma, Editor-In-Chief
Pros
Roomy and comfortable for hauling multiple passengers
Supple ride over even the roughest of roads
Swift throttle response for something this large
Cons
The brakes struggle against the sheer mass of the LX
The overall character of the LX is too isolating
Interior styling is in need of an update