Quick Drive: 2011 Lexus IS-F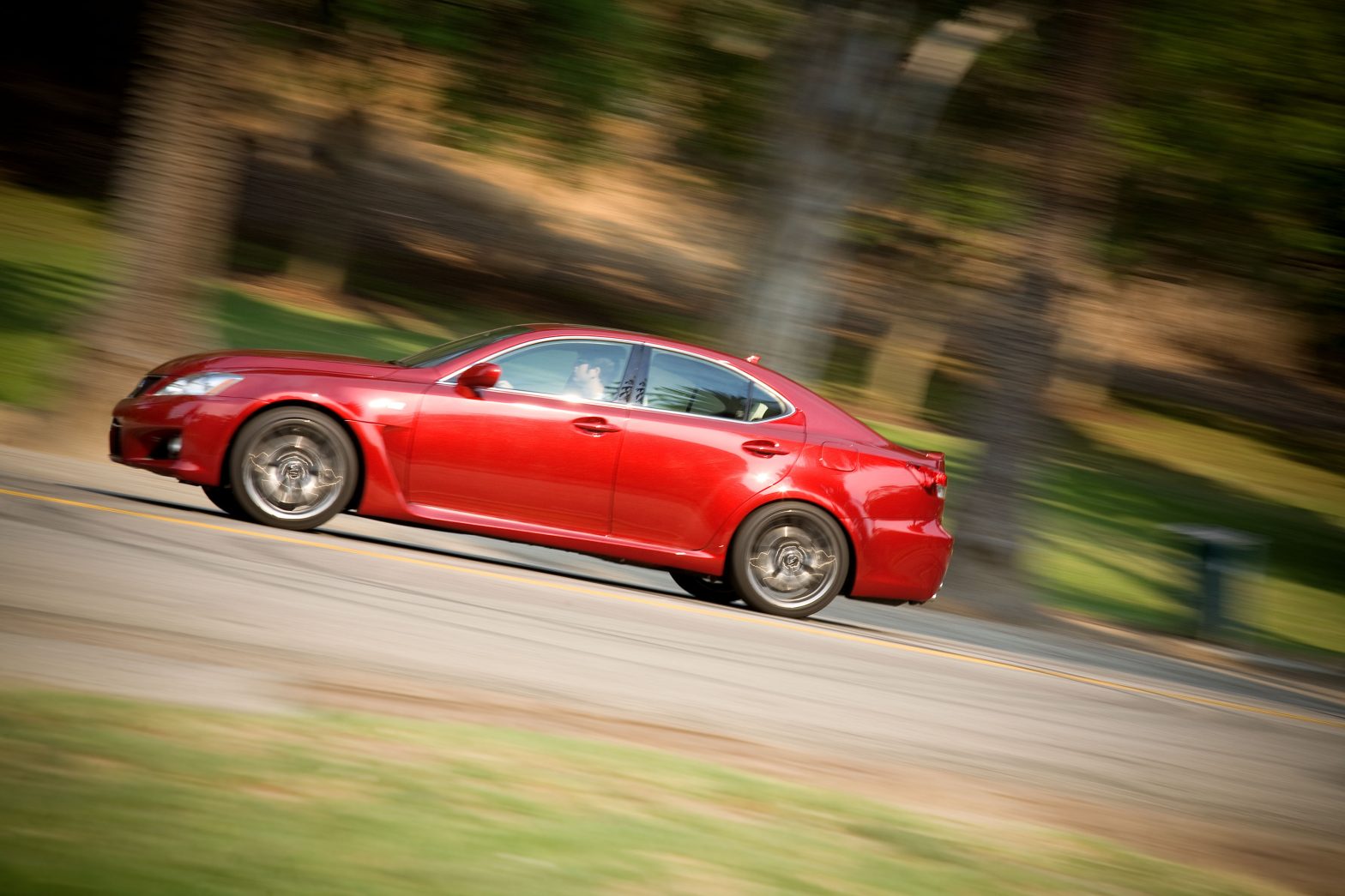 This car is better than the old IS-F, by a fairly large margin. It feels sharper, more communicative, and generally a lot more fun. I still love the dual-stage exhaust, which sounds mellow at low engine speeds but sounds downright burly and racy north of 4000 rpm.
At the same time, I can't help but feel that it could be even better. The most obvious improvement would involve ditching the current car's eight-speed automatic. This isn't a bad transmission, in the sense that upshifts, especially under wide-open throttle, are handled quickly and easily.
No, the problem comes when it's time to downshift, where regardless of Sport mode or manual shifting, the gearbox simply can't react quickly enough to inputs. Say you are on the freeway, cruising along in eighth gear, with manual mode engaged, and it comes time to pass slower traffic. Rather than just drop a gear or two, you need to drop four to get the engine where it needs to be to make the pass quickly. And while the dash display may indicate you are now in fourth gear, a considerable amount of time passes between the indication and the actual reaction from the gearbox. Let me be clear, I have no issue with automatic transmissions in performance applications. I love a good dual-clutch trans just as much as I like a three-pedal deal. In the case of the IS-F though, eight speeds is simply two too many.
At risk of beating a dead horse, the IS-F needs another transmission choice. Frankly, I'm not too picky on whether it gets a proper six-speed manual or even the six-speed sequential box from the LFA. The IS-F just needs something better, as that's the only way it'll ever be able to compete with the likes of the BMW M3 and Mercedes-Benz C63 AMG.
—Brandon Turkus, Test Fleet Manager
The IS-F keeps growing on me every time I drive it. This time, I had the pleasure of taking it more than four hours Up North for a long weekend vacation. It was suited quite well for this sort of thing, with its right-sized trunk, comfortable interior, and smokin' good looks. On the highway, that eight-speed transmission helped me conserve fuel as best I could (though I agree with Brandon, this car definitely needs another transmission option). That 5.0-liter motor is so slick, and so powerful, I not only had an easy time passing the slowpokes on the many miles of two-lane roads on the way to and from our destination, but the IS-F also turned a lot of heads when people heard that exhaust note open up on full song. Good, good stuff.
On the abandoned rural roads that wound through the woods and around lakes in northern lower Michigan, the IS-F was a riot. Its sharp acceleration and rear-wheel drive setup make for great traction-control-off antics. But you knew that already.
One change I would make would be to the dual-stage exhaust. I'd save the more muted driving for normal driving modes, and in Sport, leave the gates wide open throughout the rev range. I'd prefer an on-or-off setup to having it off at lower rpm and on at higher revs.
—John Beltz Snyder, Production Editor
Pros
– 5.0 liters in a V-8 is a recipe for greatness
– Sporty looks on the outside, comfort on the inside
– Transmission upshifts quickly
Cons
– Why can't we opt for the full exhaust song all the time?
– BMW M3 starts at almost $5000 less
– Too many gears to downshift through for quick maneuvers