Quick Drive: 2011 Jaguar XK Coupe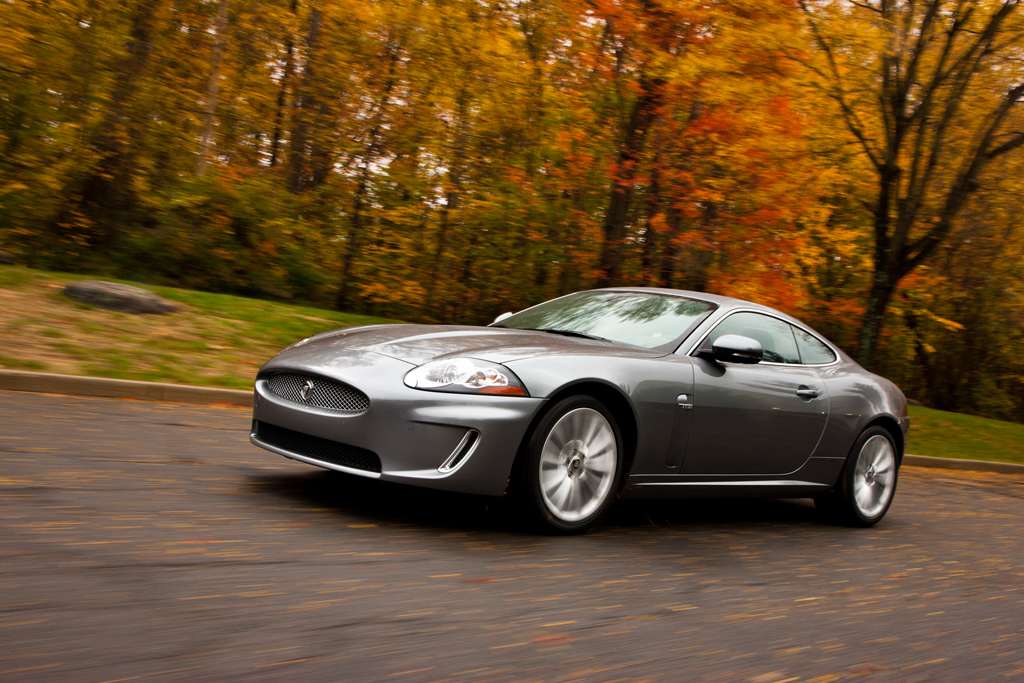 There's little doubt that the Jaguar XK Coupe possesses some sporting specifications—385 horsepower, 0-60 in just over five seconds, top speed of 155 miles per hour—but the fact of the matter is that the car is much better suited to grand wafting than it is to serious driving. To be clear, I don't consider that statement to be a negative one, but simply a means of qualifying what this flowing coupe does very well. For anyone looking for a statement car that is fast, and refined, and smolderingly sexy, but without having to sacrifice comfort, or having to work too hard, this Jaguar might be just the ticket.
The XK almost fits the profile for what a lot of people look for in a good, luxury sports sedan: a suspension that's firm without being harsh, ample power, and an engine soundtrack that's exciting but still quiet enough (at most times) to be pleasantly covered up by a banging audio system. That the coupe is smoking hot is just kind of an awesome reminder of its spendy price tag. (As far as that is concerned, I almost consider the XK a bargain considering how stunning it is. If there were a "beauty per dollar index" the Jag might be near the top.)
What the XK is not is a true driver's sports car. The automatic transmission is a bit too lazy when one asks for quick shifts. The motor, while plenty potent, has got an awful lot of weight to shift in this big coupe, which makes the experience something well short of "scary" fast in all cases. Perhaps most telling though, is that the XK never really commits to turning in like a smallish sports car should—preferring to take longer, stately arcing turns in favor of fast directional changes.
When it comes right down to it, my biggest problem with the XK is that I'd rather have just about everything else in Jaguar's current lineup first. If I truly wanted this kind of Brit-lux ethos with some performance, I'd opt for the XFR. Utter luxury at the same price point? Hand me the keys to the XJ (which also handles better, thank you). Even if I do want to just go fast and look good, I'd rather have the option to do so in the open air via the XK Convertible.
The supercharged XKR has always made a little more sense as a bonzo driver's car than the base XK, and I'm hoping that the XKR175 is the best of the bunch in that regard. It pains me to write in these harsh tones about the lovely "base" XK, but the rest of the Jag line is so good these days that the Coupe feels just a shade unnecessary.
—Seyth Miersma, Editor-In-Chief
This car does indeed turn heads, mine included. It does remind me of some sleek, powerful jungle cat (I can't think of a specific species off the top of my head). Or maybe a professional swimmer—buff, svelte, and slippery. As a matter of personal taste, I almost always prefer a coupe version to its convertible counterpart, the XK being no exception. I like the flowing roofline and, frankly, I hate the sun. To each his own.
I also think that the naturally aspirated 5.0-liter is in the "Goldilocks" zone for this car. It can really kick up some dust with more than enough grunt for something you're not going to take to the track. Even with more squeamish passengers, it's easy enough to drive the non-blown XK smoothly enough to be a great car for a comfortable weekend getaway. Acceleration happens plenty fast for the thrill-seeker, but I'm not going to worry about lending the keys to someone only to have them wrap the car around a tree at the first turn—good for when you need to do a driver change on the way up north.
Also, just on its own, it's a pleasure to drive. It handles well, and gives just enough cues to make you feel like you're always on top of the situation without giving up the premium feel most people want when they spend $83K on a coupe.
—John Beltz Snyder, Production Editor
To start, I'm going to get the obligatory reference to the Jaguar XK's stunning beauty out of the way. I genuinely believe it is the best looking car on the road that doesn't wear an Aston Martin badge. Besides the classic "long hood, short deck" proportions, you can pick out subtle styling cues from classic Jags like the XK120 (rear haunches), Series I E-Type (headlights), and D-Type race car (front grille). The whole car packages modern beauty with classic looks in a wrapper of undiluted sexiness.
Then you get to the powertrain. The naturally aspirated, 5.0-liter Jaguar/Land Rover V-8 is pretty much a peach in every application, but it just feels better in the XK. 385 horsepower and 380 pound-feet of torque might not seem like much, but it is plenty in this Jag. Even with the lazy six-speed automatic, the Jag can get up and hustle with little motivation.
Speed is pretty easy to do, but it was how the big Jag went about it that was really surprising. This car is as smooth at 90 miles per hour as it is at 30. The XK does the grand touring bit with such ease, comfortably smothering any road imperfections that crop up. This is not a car for corner carving though. The wooden steering and soft ride work in concert to keep the driver uninvolved with what is going on between road and car.
At times, the Jag just felt like a lavishly equipped isolation box to me. It is obscenely comfortable, but the lack of external driving stimuli is just more than I'd be willing to deal with.
—Brandon Turkus, Test Fleet Manager
Pros
Stunning—everyone agrees about this point
A fine, smooth-riding, and fast grand tourer
We love this 5.0-liter V-8, even if it isn't quite fast enough to match the looks of the XK
Cons
Lack of steering feel and feather lightness let down the whole experience
Isolation means that speed isn't terribly exciting when achieved
Non-vampires have little excuse to skip the better convertible version of the XK