Quick Drive: 2011 Jaguar XJ Supersport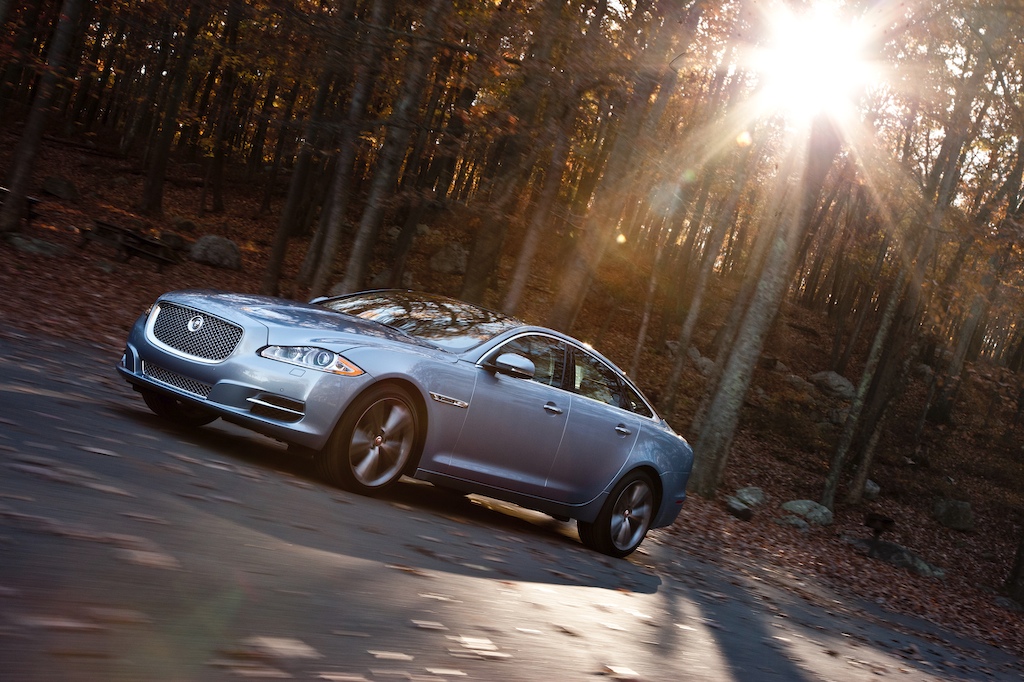 The new Jaguar XJ line has been a rarity for Winding Road, in that it's a car that almost every member of our staff agrees about pretty wholeheartedly. With supple but athletic handling, massively good engines, and amazing looks, what's not to like?
All of that positive feeling can be lavished on the seriously desirable XJ Supersport, too. This full-boat model offers a lot more power and torque (40 horsepower and 37 pound-feet) with no significant weight gain, creating a full-size sedan that isn't just fast, it's damn fast.
And the car is seriously impressive, too. Friends who have long since stopped noticing the fact that I come to visit in a different car each time, definitely noticed the lovely XJ. Rides were demanded and offered. Compliments from laypeople were handed out in generous fashion (and not because of my tidy driving either, they like the car). Everyone seems to find the car really desirable—especially after finding the subtle-yet-awesome purple-lined glove box and center storage bin. The Supersport is like a rolling goodwill fest for Jaguar.
But (you felt that one coming, didn't you), I can't accept that what the Supersport brings to the table in all this—great motor and hidden purple having been given their due—is fully worth the $30,000 price hike over the XJ Supercharged. Can't do it. Any buyer with a modicum of thrift should be able to see that the value proposition just isn't there for this flagship trim level of the flagship model.
The good news for Jaguar is that the Supersport buyer isn't likely to give a care about thrift on this level. Just as BMW can "get away" with selling the not-much-faster V-12 7-Series for $50K more than its very-good V-8 7-Series, and just as Mercedes-Benz can charge and astonishing $70K premium for its S65 AMG versus its S63 AMG, Jaguar will find punters who're willing to pony up for the ultimate XJ. Sometimes, when money isn't a limiting factor, the best is just the best because it's the best. Time to buy a lottery ticket.

—Seyth Miersma, Editor-In-Chief

The Jaguar XJ is a superb vehicle. Regardless of powertrain, it is smooth, fast, and exciting. Even the base vehicle boasts a high amount of opulence, and more than enough performance for any reasonable driving task. So when the Supersport showed up at our office, complete with its supercharged 510 horsepower, I was eager to go for a drive.
Maybe it had been too long since I had driven the XJ Supercharged, but I really didn't notice a difference in driving dynamics. Both have more than enough power to accelerate quickly. They're both supremely fast, and under sane driving conditions, I can't imagine either vehicle exhausting its reserves of power. I haven't driven the naturally aspirated version yet, but I imagine that would probably be plenty of power for a vehicle meant to offer a fast, smooth driving experience.
My same compliments go to the XJ Supersport as the other I drove: stunning exterior, beautifully sculpted interior, quality materials, smooth ride, fast steering. The Supersport does offer some minor details that distinguish it from the rest of the line. There just aren't enough XJs on the road that I'd feel I need those touches to make mine feel special.
—John Beltz Snyder, Production Editor
Pros
– Endless supply of power
– The ultimate version of an extraordinary Jaguar model
– Purple glove box lining. Don't laugh until you've tried it
Cons
– Lower-powered XJs cost tons less, still offer plenty of power
– If you're enthusiast enough for the Supersport, this kind of money will buy some pretty compelling sports cars. How much do you need rear legroom?
– Doesn't quite have the blazing techno-wizardry in its cabin to beat Audi, BMW