Quick Drive: 2011 GMC Sierra 2500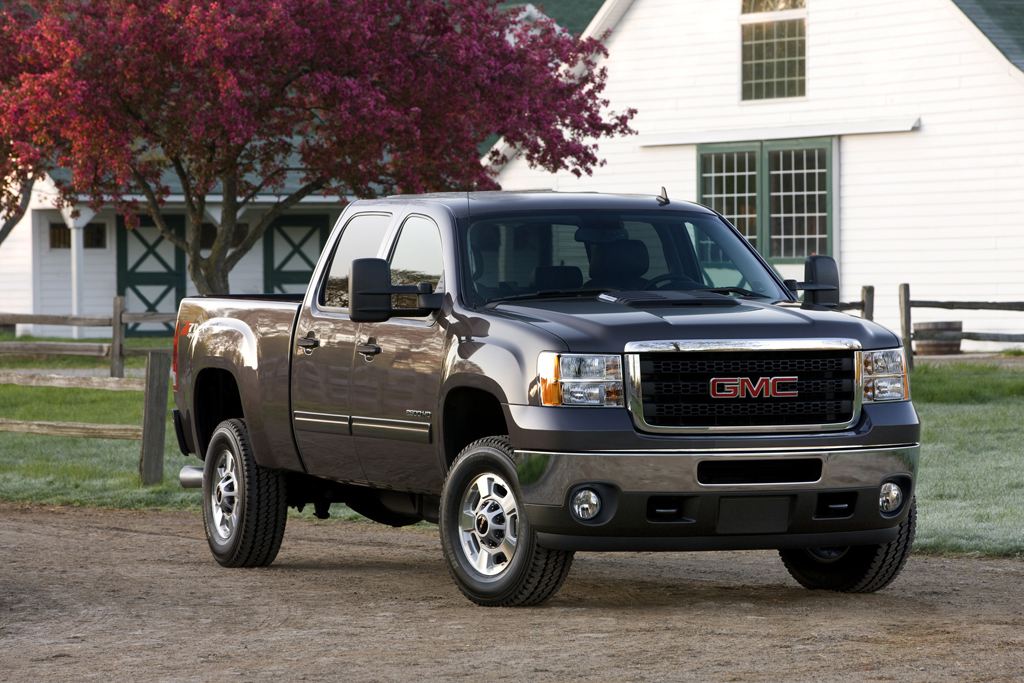 What a difference a more upscale brand, and higher trim level can make. The last HD pickup I drove from General Motors was a completely stripped, regular cab Chevrolet Silverado. Where the Chevy truck was noisy, bouncy, and pretty unrefined, the GMC Sierra was relatively quiet and plush.
GMC brand values have seemingly always included making trucks and SUVs that are more refined than their Chevy counterparts, and the Sierra is no exception in my book—if you're looking for a more livable truck, consider your money well spent here. Added NVH work renders the GMC less truck-like overall, though I still think that the Ford F-Series trucks are the class of the field in this regard.
Conversely, the Sierra seems to me to be the most aggressively styled pickup, despite is more refined interior/ride experience. I think GMC has got the alpha-dog truck styling nailed, with tallness, boxiness, and general bigness to be found at every angle.
—Seyth Miersma, Editor-In-Chief
On the surface, the Sierra is a pretty decent truck. The Duramax 6.6-liter turbodiesel V-8 offers gobs of torque, while the six-speed Allison transmission smartly handles the shifting duties. While we really liked the 6.0-liter V-8 that we had in our Silverado HD, this is the motor to have. I never really wanted for more power or more torque, and not once did I feel the need to interrupt the computer during shifts and handle things my self.
Then there is the interior. While not necessarily as high quality as Ford's Super Duty, the relative luxury, abundance of room, and lots of places to store stuff would make this popular as a foreman's work truck. It would be equally at home hauling the kids about though, as the back seats can easily handle three kids plus their assorted bags and toys.
I did find the price a bit hard to swallow though. With a 6.0-liter V-8-powered Sierra starting at $44,560, it isn't exactly cheap. Throw in the $7195 Duramax diesel and the $1200 Allison transmission, and you are looking at $8400 just in powertrain upgrades. When all was said and done, our Sierra HD topped out at $57,630, which is a lot to ask for a truck.
At that price, the Sierra HD, despite how good it is, is just too big of a pill to swallow.
—Brandon Turkus, Test Fleet Manager
To me, the Sierra was simply too big. While its size may work well for hauling lots of gear, it makes it especially hard to maneuver in city driving. I also felt like I couldn't really get a sense of where the corners of the vehicle were, something that always makes me feel a bit blind. If I needed a work truck, I would probably opt for the Ford Super Duty, as I found that to feel a little less clumsy in regular driving.
I agree that the GMC's interior over its Chevrolet counterpart. The styling is fresher, and the whole cabin just seems more comfortable. Also, the NVH work, along with the relative quietness of the diesel motor, makes this feel like it isn't laboring as hard when putting power to the ground. It comes on smoothly, and works through the gears without much fanfare.
—John Beltz Snyder, Production Editor
Pros
Amps-to-eleven GMC truck styling should be a hit within the core market
Duramax diesel and Allison transmission combination is arguably the best powertrain on the market
A nice step up in quality and ride from the Chevy trucks
Cons
The F-Series is still the truck to beat in terms of refinement and interior comfort
Gets pricey in a hurry, especially when Duramax/Allison are added
Size gets in the way of city driving, parking