Quick Drive: 2011 Ford Fusion SE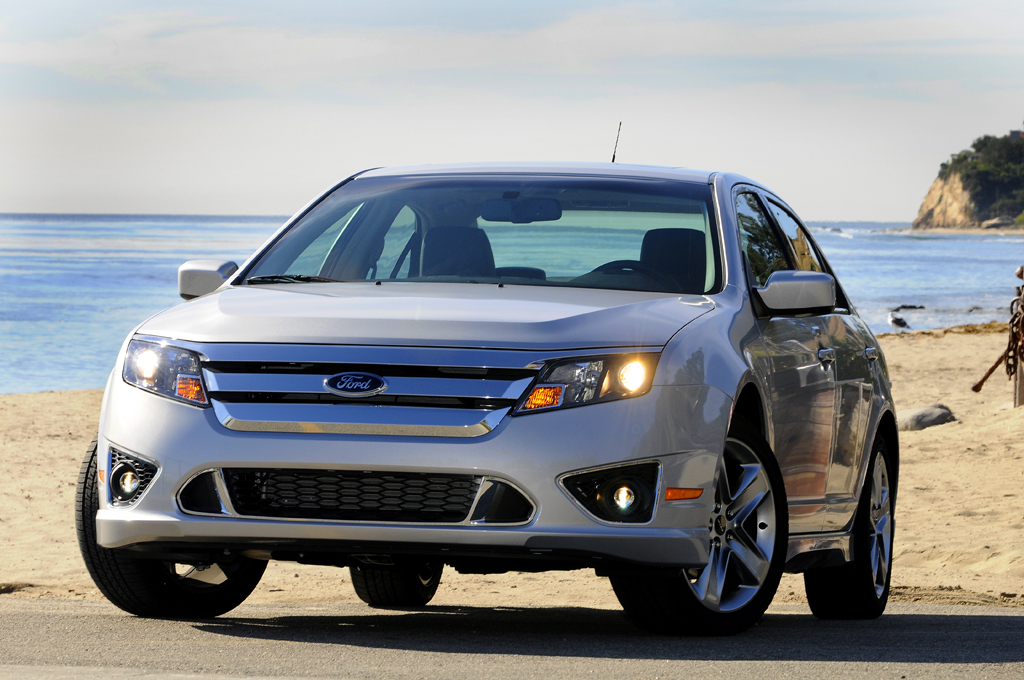 Especially after driving sedans like the Hyundai Sonata and the Suzuki Kizashi for our recent comparison test, I can't help but find my opinion of the Fusion cooling just a bit. There's no question that the Fusion is a nice-handling and competent car, but the newest entries in the mid-size segment are starting to move it down a bit on the segment's "most desirable" list.
From a driver's perspective, the six-speed manual transmission is good, but not great. I am, frankly, happy that Ford even offers the manual as an option, but the truth is that it isn't as nice to use as units from Mazda or Honda. (I'm also bummed that there's no manual option for the more enthusiastic six-pot Fusion Sport.) The gear lever throw is a bit on the sloppy side, the clutch pedal lighter than I'd like, and so on.
Ford's 2.5-liter Duratec four is spirited and at least as powerful as most of the other four cylinder engines in this class, though it is pretty buzzy when you're trying to wring the last bit of power out of it. Most of the time though, under normal driving conditions, the engine is responsive and willing. Not to sound like a broken record, but Hyundai's 2.4-liter is more powerful (200 horsepower versus 175 for Fusion) and offers better fuel econ (22/35 city/highway for Sonata, and 22/30 for Fusion).
I think that Fusion is also still among my favorite interior experiences in the mid-size sedan class though. Ford interior design seems to get better with every new car. That's good, because this is a damn tough, and fast moving, segment to stay on top of.
—Seyth Miersma, Editor-In-Chief
I'm going to take a bit of a harder line than Seyth and say that the Fusion is an extremely competent car, but it doesn't go much beyond that. While driving it, I never really felt that it excelled at anything. The easy-to-use gearbox was unispiring, which is saying something, considering the usual spark and novelty value provided by a manual transmission in a vehicle that is usually equipped with an auto.
The interior isn't bad, and is arguably screwed together better than other cars in this class. The interior materials, especially at the various major touchpoints feel like quality items as well. At the same time, the interior doesn't have the design flare of newer Ford products like the Mustang, Fiesta, or up-coming Focus.
The Fusion has a comfortable ride, but I found the body a bit too prone to rolling about in corners. Likewise, the damping is safely on the softer side of the spectrum. Steering feel is there, but you are never given the kind of precise information that you get in something like a Kizashi. Again, these aren't big turnoffs, but I would like a bit more dynamism from the suspension and steering.
The thing about the Fusion is that it feels like it was built for a different time, when the primary competitor seemed to be the Toyota Camry (a car that, I think, it handily beats in most measurable areas). The market has changed though, and we are now lucky enough to have access to semi-sporting mid-size family sedans. Hopefully, when the next Fusion bows (sharing global architecture with the outstanding Euro-market Ford Mondeo), Ford will have amped up the sportiness.
—Brandon Turkus, Test Fleet Manager
The Fusion has always seemed well balanced to me, and continues to feel that way, even in light of the competition. It feels solidly put together, amply powered, and responds well to input. Still, it comes up just short of being a driver's car. Even with the six-speed stick, it lacks the engagement necessary to make it truly fun to drive. It's a shame, since, in most aspects, I genuinely like the Fusion. It just lacks excitement.
While the competitors that are popping up in this segment lately, may not all achieve high marks across the board, many of them at least excel in certain areas. The Mazda6, for instance, may not have the poise of the Ford Fusion (nor the nice interior), but it fares better in steering feel and willingness to rotate. The Hyundai Sonata may not have the same solid stance, but it feels and looks so fresh. Basically, the rest of the crowd has certain features that make them stand out, even if they fall short in other areas. The Fusion, however, just does a really good, but not exceptional, job all around. Personally, I prefer a car with a few quirks if it means a bit more personality.
—John Beltz Snyder, Production Editor
Pros
Still one of the best, design-forward interiors in the class
The overall ride is less crashy than some of the current competitors
Solid handling and good balance
Cons
We like the manual trans option, but this six-speed isn't great to use
Duratec four-cylinder is starting to get outclassed
Lacks the personality of a fun driver's car