Quick Drive: 2011 Audi S4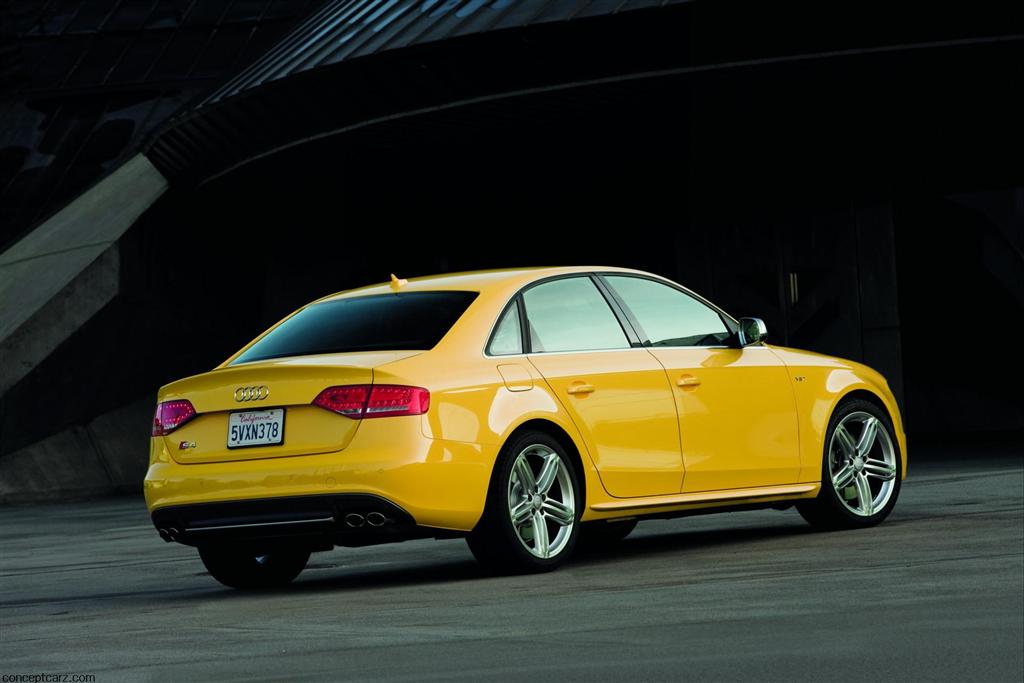 The last time we had an S4 in the office, it was for the purposes of doing a comparison test with the Mitsubishi Evo MR Touring. That turned out to be a surprisingly well-matched set of cars, and a hell of a good week of driving, to boot. This newer S4 experience didn't do anything to disappoint me then, or to change my mind about loving Audi's performance middle child.
As Brandon points out below, the immediacy of the power delivery here is a large part of the fun. Torque pop as the supercharger comes up to speed is massive without doing anything to upset the balance of the car at speed—thank Quattro-grip for that, I'd say. The AWD system also allows for composed, yet thrilling acceleration from just about anywhere, too.
The closest BMW analog to this car, from a performance perspective, is the 335is coupe. Leaving aside the practical considerations of two versus four doors, I'd say that the 3er still feels a bit better balanced and more nimble, due in no small part to its "purer" rear-drive setup. Still, in any traction-minus situations, and certainly here in the heart of the snowy Midwest, the S4 comes out as a clear, all-season champion.
—Seyth Miersma, Editor-In-Chief
There really isn't much not to like about the S4, especially when it looks like our tester. Equipped with the Titanium Package (anthracite wheels, black grille) and drenched in Imola Yellow paint, this car is quite the stunner. Its performance is pretty impressive too. I love the BMW 335i and M3, which straddle the S4 in terms of price, but the Audi just hits a bull's eye on usable, everyday performance.
The S4's 3.0-liter supercharged V-6 puts out 333 horsepower and 325 pound-feet of torque, which may not sound like much, especially when sitting next to an M3 and its 414 horsepower. The thing that sets the Audi apart from the BMW though is the amount of torque that is available. The S4's 325 pound-feet are available from 2900 to 5300 rpm, while the M3 only has 295 pound-feet to work with. You also have to hustle the Bimmer almost halfway to its 8400 rpm redline to access the meatiest part of the torque band. Working for speed can be a lot of fun, but sometimes it's nice to just sit back and go, which is what the S4 allows.
The Audi is already a truly fun car to throw around. Lateral movement is really well controlled, while the engineers in Ingolstadt did a good job of delivering a sporting ride without it feeling crashy. Tap the button into dynamic mode though, and the handling gets turned up to eleven. The S4 just feels tauter, more agile, and better pinned down. The steering, already nicely weighted and communicative, feels just a bit better in dynamic mode. I do love the M3, but after driving the S4, it feels good to pilot a car that doesn't require Schumacher-like skills to really enjoy.
—Brandon Turkus, Test Fleet Manager
I love any chance to spend time in the S4. Its interior is dressed in fine materials, no matter where you sit. For the driver, placement of controls feels very natural, and the setup lends itself to a sporting driving style without doing away with comfort. I didn't spend time in the back seat of this one, so I can't really attest to the amount of space back there, but the sedan body style means that rear passengers won't have as much trouble getting in or out.
It's a great car to drive in the snow, too. The Quattro gives it good grip, and its handling profile translates well to being tossed around in the slick. The steering is really responsive and the car is quick to recover. If only it had a proper handbrake instead of the electronic switch.
In terms of performance and quality—and especially considering the other cars the S4 can compete with—it's sub-$50K starting price is money well spent. Still, for my buck, it would be hard to justify taking the S4 over the Mitsubishi Evo, unless I was a real stickler for comfort.
—John Beltz Snyder, Production Editor
Pros
Easy to access its potential thanks to a bountiful amount of torque and Quattro all-wheel drive
Engine/supercharger/exhaust sound combination is a weird, almost otherworldly racket that we can't get enough of
Handsome exterior and high-quality interior
Cons
Still stiffer in the twisty bits than the rear-drive competition
Great acceleration characteristics, but steering/chassis feel isn't quite as visceral as we'd like from a car this good
S4 is easy to get in and drive well right away. This small lack of challenge may mean we get a bit bored after a while?