Quick Drive: 2010 Volkswagen Jetta TDI Cup Edition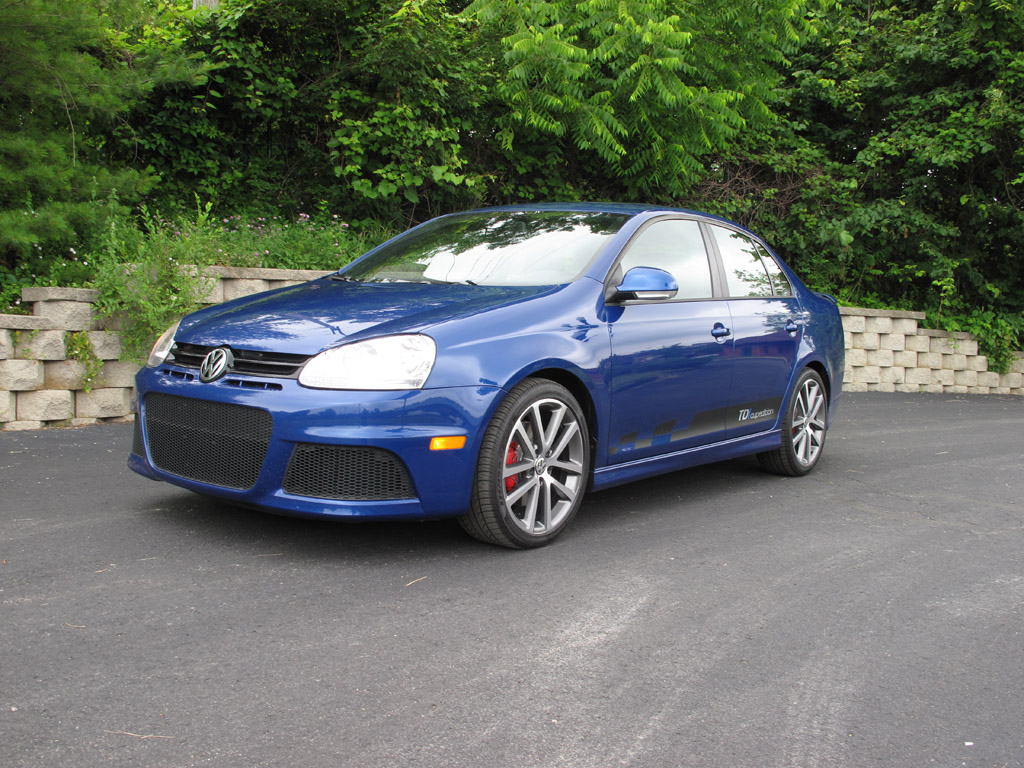 The WR staff has had a whole lot of seat time in the standard Jetta TDI, thanks to our yearlong loan of that sedan during 2008-2009. I really enjoyed the basic version of the diesel sedan, so I was really looking forward to our loan of the hotter car.
The most noticeable difference I found in my short driving experience with the car had to do with the re-tuned suspension. The Cup Edition felt much firmer over the road, with less of a tendency to squat in hard corners or hard braking situations. I'm not completely convinced that the compromise struck here, between ride quality and handling, is better than the standard TDI for most driving scenarios, but if a potential buyer/owner is considering the occasional track day in the car the tuning might prove worthwhile.
Then again, buying a standard TDI and spending some cash on a few upgrades of your own (tires first) might be an even better recipe for fun at the track. I tend to believe that most enthusiast drivers, interested in some kind of performance diesel vehicle, would understand that the Jetta TDI is 90-percent of the Cup Edition already after driving the two back to back. Of course, the Cup does offer performance solution that requires no work harder than signing a bigger check, and doesn't risk voiding a warranty, which are conveniences that some won't want to pass up.
—Seyth Miersma, Editor-In-Chief
The Volkswagen Jetta TDI Cup Edition is a good car; it can be fun to drive, comfortable, relaxing, is easy on fuel, and it is (without the body kit) fairly good looking. It has a fuel-sipping 2.0-liter TDI I-4 under the hood that makes 140 horsepower and 236 pound-feet of torque. The six-speed dual-clutch gearbox guarantees fast shifts and the best possible fuel economy, while still offering a manual mode and paddle shifters if you feel like having fun.
The plaid seats are heavily bolstered, and are extremely comfortable, while the thick steering wheel is a joy to handle. The rest of the interior is thoughtfully laid out, and offers everyone plenty of room, as well.
I have always liked the Jetta TDI, but I don't think I could spend the money on this special edition when I could get the standard model for less. Our Cup model cost $31,113, while a fully-loaded Jetta TDI doesn't even break $30,000, and still comes with a touch-screen navigation system. The Cup is good, but it just isn't good enough to warrant the extra cost compared to the normal TDI.
—Brandon Turkus, Fleet Manager
The TDI Cup Edition kept all the best parts of the Jetta TDI we know and love, and adds the performance suspension, and a bit of added flair. Twice, I was stopped by people on the street walking past my parking space. They commented on the car, one group said it looked "hot," but people wanted to know what made it special. When I made no mention of any changes under the hood, the kind of shrugged and said something along the lines of, "Still a great car, though."
I do like the TDI's engine—it a good mixture of torque and efficiency. For me to buy the TDI Cup edition, rather than tune a proper TDI, I would want something a little more from it. Perhaps a bit more boost, or a sporty exhaust. And while the suspension was good, I wouldn't mind it to be a bit more aggressive; it felt like Volkswagen only went halfway with this edition.
But, if you're into the visual touches, and like a bit of racing DNA from the factory, you'll likely find a match made in heaven with the very livable TDI Cup. Beware, though, if you have a steep driveway or tall speed bumps in your neighborhood. That front lip is low.
—John Beltz Snyder, Production Editor
Pros
Visual upgrades really sell this as a "sport" diesel
TDI power works well with the uprated performance parts
Cabin feels of high quality, a bit more special than the standard Jetta TDI
Cons
Hard to justify the cost of the Cup package over the standard car
Tuning isn't really aggressive enough for those looking for a track vehicle
A higher output diesel engine is almost expected, not delivered