Quick Drive: 2010 Nissan XTerra S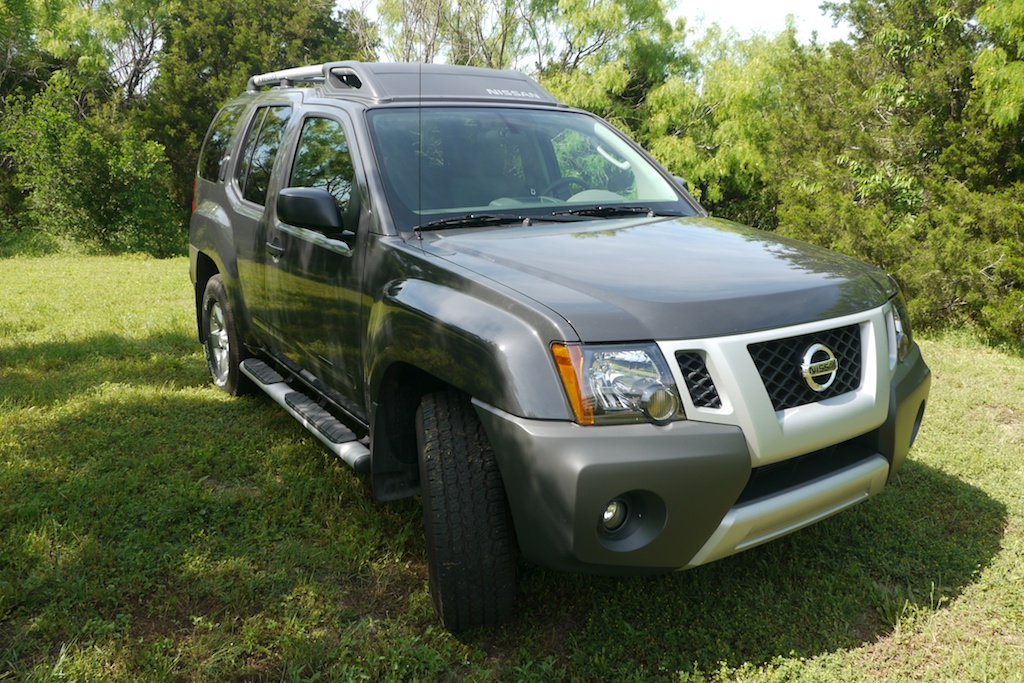 The XTerra is plainly geared for SUV enthusiasts who want vehicles that exhibit a fundamentally rugged, rough-and-tumble character, rather than a more car-like persona. This isn't to say that the XTerra lacks refinement, though, since it is quiet and very solidly built. It's just that its truck-based roots shine through early and often. This has several implications.
First, the XTerra is fairly stiffly sprung and damped, so that its ride is more firm than plush, with a certain amount of hobby horse-like fore and aft movement when traversing badly rippled surfaces or broken pavement. Steering is direct and decently weighted, but—in the manner of most trucks or truck-like vehicles—does not offer much in the way of road feel or communication. But overall, what I think most drivers would report is that the XTerra conveys a sense of robustness and strength—showing a kind of a go-anywhere/do-anything persona that is very appealing in its way.
Second, Nissan's signature V-6, which feels revvy and free-spirited in many applications, exhibits a more—forgive me for putting it this way—agricultural character as implemented in the XTerra. In truth, the engine is plenty strong. It's just that it is moving more mass in the Xterra—a fact that's reflected in the exhaust note you hear and the levels of throttle response you feel.
Three major plusses for the Xterra, however, are its clean, no-nonsense interior/ and instrument panel, its elevated, stadium-style rear seats, and the useful and pragmatic layout of its storage spaces (both within and, yes, above the vehicle). The roof rack/roof storage cage are very beefy, so that the whole package invites you to take whatever stuff you want, wherever you want. If that's not a good working definition of an SUV, what else would be?
—Chris Martens
Thanks to its charming exterior, almost the entire Austin office wanted the XTerra to be a winner. Nissan has executed post-modern macho really well, so that the XTerra appeals to 25 year olds and 50 year olds and everyone in between.
But, would you want to own it? Well, you might. In mostly suburban driving (where XTerras probably really are driven), I found the ride surprisingly smooth and quiet on smooth surfaces. The steering is decent for a truck. Acceleration is nicely torquey. Some light off-roading reinforced the feeling that the underpinnings are beefy and the construction is stout. For a truck that in some ways competes with the Wrangler Unlimited, the feel of refinement here is in another dimension.
I also thought the rear seat and cargo area were amply sized and make the XTerra a good vehicle for parties of four and their gear. There are all sorts of tie-down rubber materials that seem appropriate to a vehicle you use for hauling. I kept thinking, "not too big, not too small, just right."
The one place where the XTerra seemed to go from old school to hair shirt is in the electronics department. If you want Bluetooth or XM or trip computers or keyless entry, you can, however, get them by stepping up from the S to the SE. But navigation is nowhere to be found, which seems odd for the intended use here.
—Tom Martin
Pros
Plenty of room for friends and gear
Surprisingly refined for an off-roader
Beefy looks have a wide appeal
Cons
Bring a map, navigation isn't an option
Off-road suspension borders on stiff
Exhaust note isn't very appealing