Quick Drive: 2010 Nissan Frontier LE 4×4 Crewcab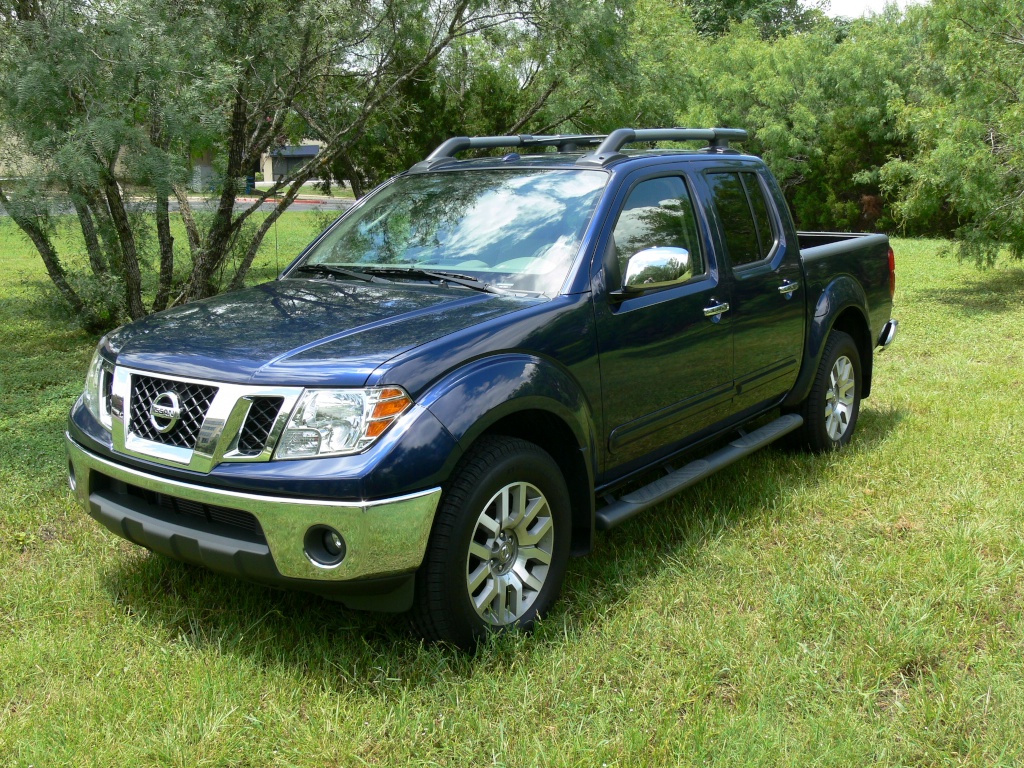 In the world of mid-size trucks, competition is interesting, at least if your reference is the full-size truck market. Ford, really, is a non-player and Chevrolet, GMC and Dodge come to market with obviously aging designs. That leaves Toyota among the major players to fight with Nissan and Honda (of all people) for the bulk of the mid-size market. My time in the Nissan Frontier made me wonder why Nissan isn't among the majors, the same way I did when I drove the Titan last year. That's because, to a car guy, the Nissans have a lot of appeal due to their superior driving dynamics.
Basically, the Nissan steering and suspension package is just a tad more responsive than the Toyota (or Chevrolet or Dodge) competition. I borrowed a 2010 Toyota Tacoma, with a very similar options list, to make sure my memory was accurate. Sure enough, the on-center feel, roll stiffness, and balance of the Nissan are a smidge more engaging and direct than in the Toyota. I also noticed that the primary ride of the Nissan is better, because Toyota trucks seem to lack the necessary rebound damping and thus have an excessive amount of vertical movement on big bumps. If you live where the pavement is bad, the Toyota may have better secondary ride (on potholes and frost heaves, for example), but on the relatively smooth Texas roads where our test was conducted we couldn't be sure of this. The Nissan powertrain also seems slightly stouter, though this may have as much to do with its soundtrack as with actual velocity.
Of course, truck buyers don't shop like sports car buyers, so ride and handling subtleties may not be the key point of consideration. The functional aspects of the Nissan seem quite similar to the Toyota with a few exceptions. Visibility on the Nissan is superior, due to greater glass area and better placement of the A pillars. Step-in height is also lower, hip point is slightly lower, and yet you sit higher relative to the dash (reinforcing the sense of better visibility). The front seats on the Frontier are comfortable, but the shape of the seat backs in the Toyota is more supportive. Big differences show up in the back seat, where the Nissan seems less roomy, and its rear seat is clearly shorter and uncomfortably lower than in the Tacoma. I'm skipping over load capacity and the like because if that's what you want, you buy a full-size truck.
Stylistically, the Nissan seems either more traditional or less modern depending on your point of view. The interior clearly seems somewhat un-styled, while the exterior tends toward a classic chiseled look. I liked it, but others may want a bit more flair.
—Tom Martin
During my time with Nissan's Frontier 4×4 LE, I spent a fair amount of time contemplating the fact that, for many prospective suburban truck buyers, mid-sized models such as the Frontier might be far better choices than full-size trucks—if only because their overall driving dynamics tend to be so much better. With the sole exceptions of hauling and towing capacity, almost everything else seems to improve when you step "down" from full-sized to mid-sized trucks: steering feel, path accuracy, ride comfort, suspension action, roll stiffness, and even visibility. What is more, prices tend to be somewhat lower, too.
Obviously, some truck buyers need and want the capacity that only a full-size truck can provide, but judging by the use patterns I observe among many of my truck-owning neighbors, I suspect many folk don't really need the capacity of a big truck—at least not on a regular basis. Instead, I think many truck owners want ruggedly built daily drivers that are comfortable and capacious, and that can—when the need arises—handle large and/or irregularly shaped cargo loads, or that can be used to transport other types of vehicular toys (ATV's, motorcycles, personal watercraft and the like). For that application profile, a mid-sized truck will typically do just fine and may wind up costing less to boot.
So where does the Frontier fit within the spectrum of current mid-sized offerings. I haven't had the opportunity to compare it to all of its competitors, but on the whole I'd say it's the best all-around driver that I've yet experienced in its class—especially for those of us who are, at heart, car people. For me, this observations hinges on four key points: steering feel (which is more communicative than most), path accuracy (which makes the Frontier easier to position within lanes with more precision than most other trucks afford), suspension action (which is firm, but not harsh and that offers well-chosen damping settings), and visibility (though the Frontier is not astoundingly tall, it lets you see much more of the traffic around than many trucks that are).
Styling is angular and a bit blocky, which some viewers will appreciate, while others will yearn for something more curvaceous and evocative (e.g., the Tacoma). The Frontier's interior is comfortable, spacious, and simple, and the instrument panel and center console follow suit emphasizing—thank goodness—functional simplicity versus trendy, overwrought styling. One minor nit, however, is that the back seat is not as roomy or as comfortable as some might wish. As always, Nissan's V6 is a strong, stouthearted powerplant that works well and sounds good, too. Put these factors together and you've got one of the best balanced mid-size trucks around.
—Chris Martens
Pros
4.0-liter V-6 sounds good, while offering decent performance
Driving dynamics are top notch
Open greenhouse with elevated seating position ensures great visibility
Cons
The backseats don't provide much room compared to competition
Blocky styling may not appeal to all
Interior design is a bit bland