Quick Drive: 2010 Mazda3 i Touring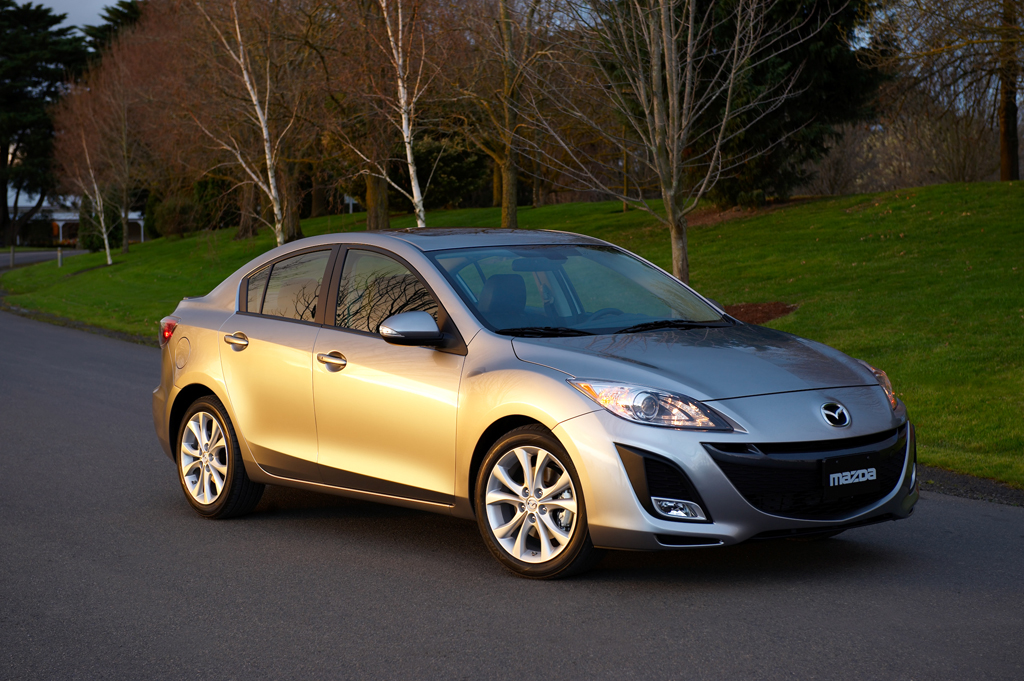 Mazda seems to excel at providing expensive thrills for economy prices. The current range is packed full of vehicles that can put a smile on your face, and I have always considered the 3 to be one of those cars. Our Mazda3 was the "i" Touring, means the base motor, a 2.0-liter I-4 and a decent amount of standard equipment.
Although there is a lot to be said for the 2.5-liter I-4, available as an option on the 3 sedan and standard on the 3 wagon, the 2.0 liter provides plenty of grunt. The four-banger is happy to rev, and while its 148 horsepower doesn't deliver hardcore acceleration, it does offer a pleasant exhaust note. A surprisingly refined engine, the 2.0 liter matches up well with the five-speed stick.
That gearbox has throws that are a bit long, and the overall action wasn't very smooth, but nothing so bad that I wouldn't be able to live with it on a day-to-day basis. What I can't live with though, is the high catch point on the clutch. While not the on-off switch that the Speed3 has, this unit is hardly tolerable. The catch point is small, and annoyingly high on the pedal's path. Even after three days of driving, I still wasn't adjusted to it.
The price was more concerning to me than the clutch though. Although our 3 started at $17,875, the addition of the moonroof, Bose Stereo package and Sirius Satellite Radio bumped the as-tested price to $20,975. That's base MSRP money for one class up in the vehicle foodchain. The Suzuki Kizashi and Hyundai Sonata are roomier, better driving, and (much) better looking for roughly the same coin.
—Brandon Turkus, Test Fleet Manager
Last time, I spent a good amount of time driving the Mazda3 in the snow and ice, and often on the highway. This time around, I spent more time in town in the summer. Under these conditions, the Mazda3 feels much more at home.
Its 2.0-liter engine felt great zipping around city streets. It seemed a bit more cheerful than it did drudging through a sloppy Michigan winter. Getting around town—lots of low-speed, heavily trafficked stuff—it is just so much more joyful, especially with proper amounts of grip on hand. The car rotates well, and is really nimble finding holes in traffic or busting around tight corners. A little tightening of the suspension wouldn't hurt here, though.
If you live someplace with warm weather, the Mazda3 is a lot of fun as a daily driver. While not the most sporting Mazda, it's hard to beat the balance of joy and practicality of the 3. If you live somewhere with lots of snow, though, invest in some good snow tires, or that flashing traction control light will be the bane of your existence.
—John Beltz Snyder, Production Editor
The Mazda3 is a small car package that really appeals to me. Great handling, enthusiastic engines (even this "base" 2.0 liter), and better-than-average levels of feedback all make great cases for the 3, even if it's slightly goofy looks don't.
In any event, the 3 sedan shouldn't raise too many dynamic complaints from those who might be testing it versus a Civic or a Sentra. The Mazda has got better steering feel and response than any non-tuned sedan in this class, I'd wager. The 3 isn't quite on par with cars like the Mini Cooper or Mazda's own MX-5 in terms of sheer rotational ability, but it's still very nice here.
I have to say that I'm a bit biased against the sedan variant of the 3 though, simply because the five-door hatch is such a damned useful thing to drive and own. Enthusiast drivers on a budget would be better off with the Mazda3 hatch, which offers the more potent engine and tons more usability as a primary car. Those drivers that are really just looking for a bargain would be better served testing Ford's Fiesta, Nissan's Versa, or the new Kia Forte, I'd say.
—Seyth Miersma, Editor-In-Chief
Pros
Base four-cylinder engine has guts
Responsive steering makes running around town fun
Suspension is sporting, without being backbreaking
Cons
Clutch's high catch point is annoying
Doesn't make much sense when compared to the five-door
As-tested price approaches the cost of some mid-size sedans