Quick Drive: 2010 Dodge Ram 2500 Laramie 4×4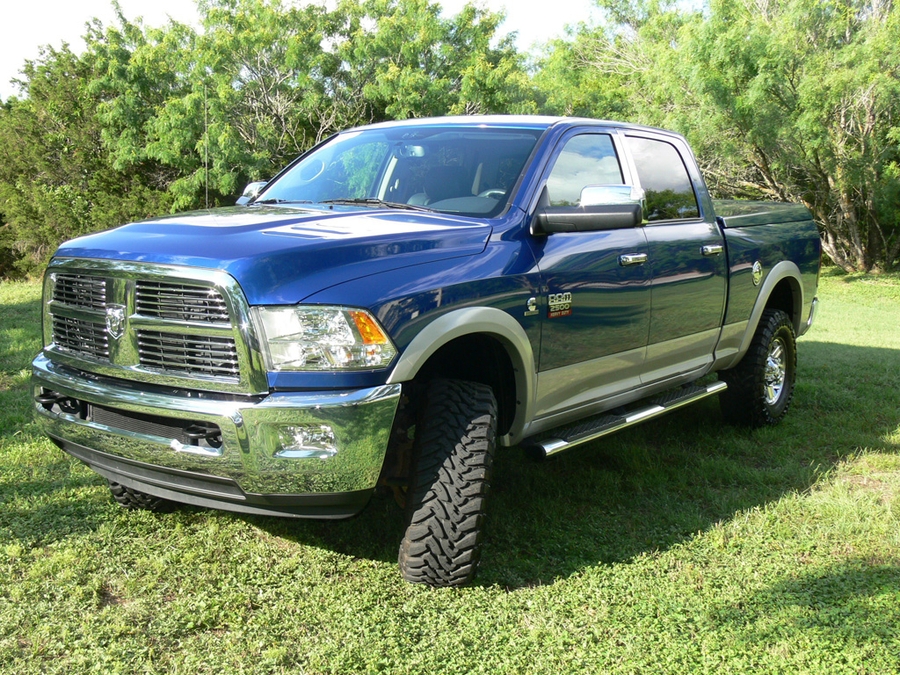 Let's not mince words. Dodge's Ram 2500 Laramie 4×4 is not one of those kinder, gentler pickup trucks you've read about that claim to possess certain car-like virtues. No sir, this is a big, burly, muscular, manly truck that looks down (quite literally) upon most of the vehicles with which it shares the road. The big Ram is very stiffly sprung, features firm shock damping, and highly boosted steering that provides directional guidance for the truck, but that otherwise makes no real attempt to communicate the cornering forces or traction conditions down below. Instead, this big beast is all about towing/hauling capacity, so that (as my wife so aptly put it) it feels stout enough that, "You could probably tow your house along behind you if you wanted to." Whoever coined the expression "hell for strong" was probably thinking of a vehicle much like this one.
Is the Ram 2500 fun to drive? Strangely enough it is, although not in the sense that sport sedans or other performance minded vehicles are. While this big boy is not geared to provide cornering feel or finesse, nor is it meant to take on spirited back road drives, it appeals in much the way that driving a military vehicle might. It represents, for those of us who typically drive cars every day, a novel experience that is, in its own way, quite entertaining. In a Porsche Boxster you might enjoy the challenge of trying to cut the perfect arc across the apex of a corner, while in the big Dodge the challenge is to find a way to keep the huge, stiffly suspended vehicle smoothly centered it its lane as it bounds from one road surface irregularity to the next. Different strokes for different folks, as they say.
Speaking of which, let me mention that the giant Ram gathered more unsolicited positive commentary than any other Winding Road test vehicle I've driven in recent memory. Complete strangers would approach me in parking lots, restaurants, or even my own driveway just to let me know how handsome and appealing they felt the Dodge was. Many also commented favorably on the truck's Cummins diesel engine, which if anything adds notes of pure authenticity, efficiency, and strength that surpass even the reputation of Dodge's vaunted Hemi V-8.
If you happen to live, as I do, in a region where a pro-pickup truck culture is the norm, the Ram 2500 Laramie 4×4 is your ticket to an exclusive club—a club populated by folks who make a point of owning the biggest, baddest, sharpest looking trucks on the planet. Truck people, I think, appreciate vehicles that offer the elusive combination of roominess, towing/hauling capacity, style and, most importantly, brute strength. Our Dodge does all of the above.
—Chris Martens, Contributing Editor
I was impressed with how easy the Ram 2500 was to wheel around the city. This is a very big truck (as are the other players in this class), but it is about as car-like as a truck can be when it is 100 feet long and 25 feet high. By that I mean that the steering feels lighter and more responsive, and handling less ponderous than some other 3/4 ton vehicles. In this sense, the Ram 2500 resembles the Ram 1500, which also feels more car-like than its competitors. Whether this is a good thing or not depends upon your view of what a truck should be.
There were three other standout aspects of the Ram in my short time with it. First off, the back seat is very large. Dodge has done a nice job of splitting the difference between the old Mega Cab and a crew cab, to deliver a rear compartment befitting a luxury sedan (only with more headroom). Second, the fuel economy, despite the Cummins diesel up front, was unexceptional. I got about 12 mpg in mixed city/highway driving which might be impressive given the size of the truck, but doesn't seem like much compared with the new Ford offering. Finally, the aesthetics of our Laramie edition Ram struck me as odd to say the least. This is a huge work truck, but the interior features Viper-esque sports car cues (blue alcantara-like seat inserts) with faux-lux elements like wood on the dash. It just didn't hang together for me at all. But, of course, if you pass on the extra coin for the Laramie trim you can also get a product than looks more unified.
—Tom Martin, Editorial Director
Pros
Easier to maneuver, drives "smaller" than you'd expect
Massive towing/hauling ability
Fun to drive in a "big boy toy" kind of way
Cons
Diesel fuel economy can't match the new Ford offering
Higher spec interior is questionable in taste and execution
As with most big trucks, feel and finesse are non-starters