Quick Drive: 2010 Dodge Ram 1500 SLT Crew Cab 4×4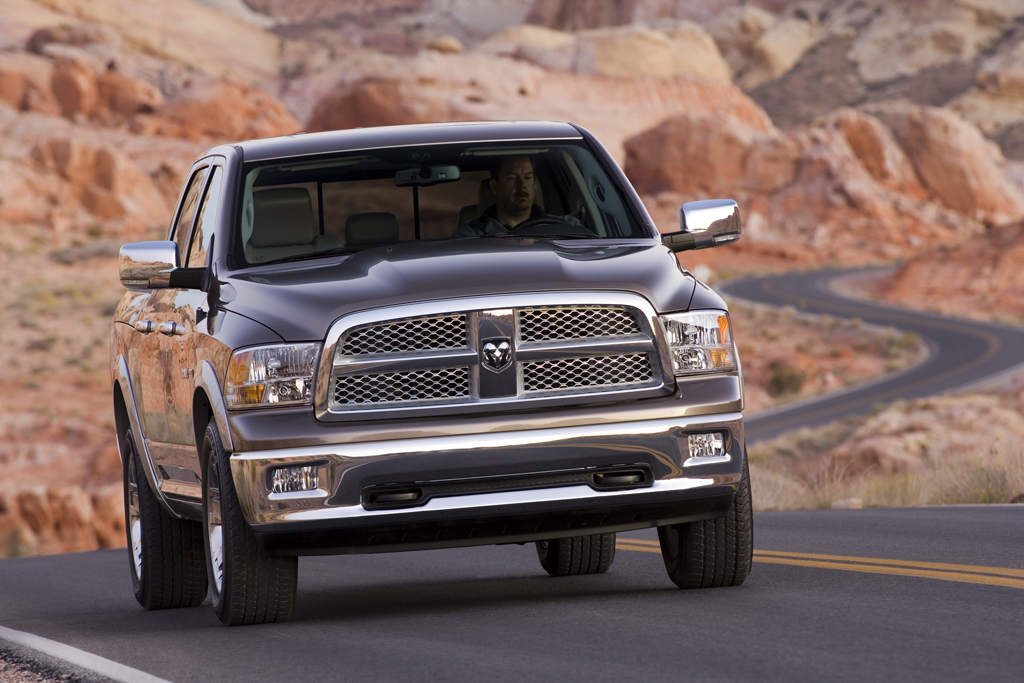 True to its image within the sedan/coupe world, it seems that Dodge is hoping to build a reputation for building the most muscle car-like trucks around. The Ram 1500, with its 5.7-liter Hemi V-8, absolutely backs this up. Lots of full size pickup trucks have shared V-8 motors with sports cars of the same brand, but Dodge has seemingly kept more of the sports car flavor in its new Ram trucks than most are willing to. The exhaust note is loud and meaty, transmission seems to be tuned for more acceleration than most big pickups, and, of course, the multi-link coil rear suspension offers ride and handling traits that feel a lot more car-like. This Ram is a real sports truck.
When and if I were ordering up my 1500, or picking one off of the dealer lot, I would emphatically not be opting for the "RamBox" storage bins on either side of the bed. I get the point; truck owners often need lockable storage out back. With that said, there are plenty of aftermarket storage solutions that will work here, many of which you can buy for a lot less than the $1895 Dodge will charge you for the RamBox (yep, almost two-grand). The aftermarket items less permanent, too, unlike the Dodge system that steals a lot of inboard bed space.
—Seyth Miersma, Editor-In-Chief
I was impressed by this truck. Despite the issues that Chrysler has had in the past, they can still screw together a pretty good pickup truck. The Ram's forward-canting front end combined with the twenty-inch chrome wheels and dual exhaust presents an imposing sight. It really is a good looking truck.
I really enjoyed the 5.7-liter Hemi V-8. Power was abundant, and the engine note was as good, if not better, than the 4.6-liter V-8 that we tested in the Toyota Tundra. Upshifts on the five-speed automatic transmission were crisp, and made running away from the lights a lot of fun.
Our tester came with almost every option under the sun, which made spending time in the Ram's cabin really enjoyable. Heated and air-conditioned leather seats, a navigation system, a Pioneer stereo, and a flip down screen with Sirius Backseat TV were all available on our Ram. Unfortunately, all of these options come at a price; $50,345. That is a lot of money for a pickup truck, even with all of these toys. After a few days in the big Dodge, I wasn't sure if I was in an intimidating muscle car, a luxury SUV, or a work truck. The Ram really is a jack of all trades.
—Brandon Turkus, Test Fleet Manager
I was expecting the ride in the Ram to be more bouncy than it was. Instead, it was considerably smooth for a pickup, in my opinion.
The cabin of the Ram feels very roomy. The passenger seat feels as though it's a mile away. Dodge has tucked storage compartments into many of the nooks and crannies. The interior is designed for utility, as one would expect, but I wouldn't mind a little more refinement, or some touches that make the space feel special or unique.
Were I going to buy a pickup, I'd have a difficult time choosing between this and the Ford F-150, but something tells me the Ram lose its appeal more quickly than the very livable Ford interior.
—John Beltz Snyder, Production Editor
Pros
Hemi V-8 power
Suspension provides a comfortable, almost car-like ride
Aggressive looks mean business
Cons
There are better aftermarket alternatives to the overpriced RamBox storage system
Utilitarian cabin lacks refinement
Options list can quickly get out of control