Quick Drive: 2010 Chrysler PT Cruiser Classic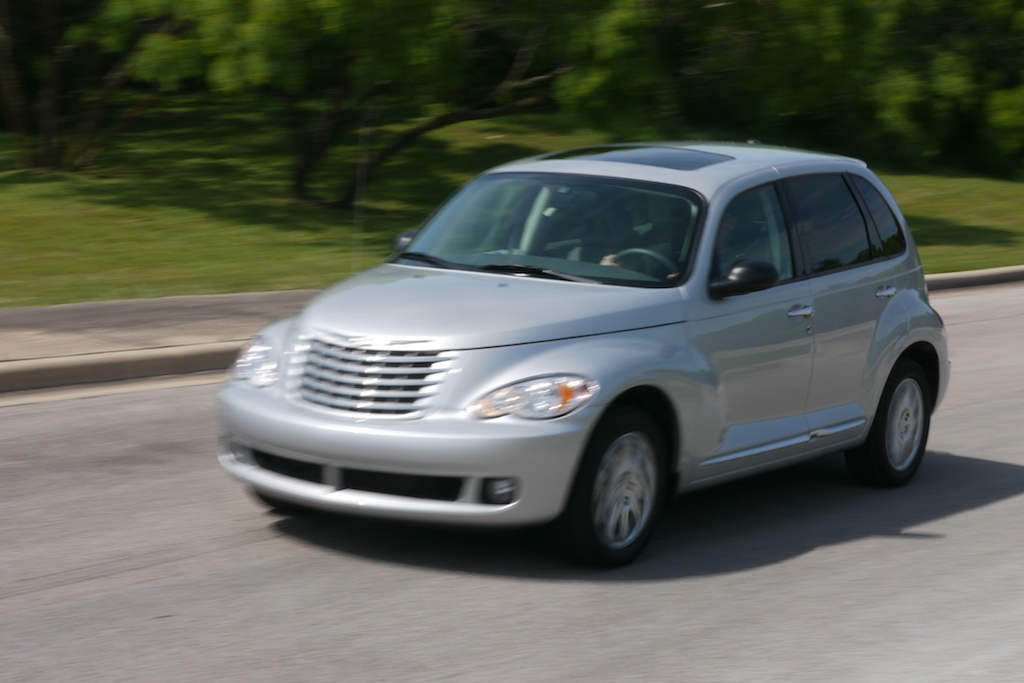 Depending on your visual tastes, the charm of Chrysler's PT Cruiser is that it radiates a whimsical, old-timey, hot-rod vibe from the outside, yet is incredibly spacious, versatile, and just plain useful on the inside. Whether you're schlepping three or four kids to various after-school activities, or hauling large and bulky items, the Cruiser takes them all in stride and without anybody or anything feeling cramped for space. More so than most cars, this one welcomes double duty as a quasi-minivan. I've had experiences with PT Cruisers in the past (yep, I actually used to own one of the first-generation models) where I would use the car to transport large home theater systems of the type I often review for our sister magazine, The Perfect Vision. At times, I would pull up at my destination and begin unloading, only to have onlookers positively gawk over the sheer amount of stuff the PT could hold. That's the good news.
The not-so-good news is that the PT is, at this point, a design that's showing its age in many different ways. First, the standard four-cylinder engine, which was never a whole lot of fun in the first place (at least not in normally aspirated form), is dragged even further down by a four-speed automatic that feels well and truly antiquated. Step on the gas and you may get a downshift (or two), plus angry sewing machine noises from under the hood, but you won't see the PT moving forward with much alacrity. Steering is positive and reasonably direct, yet it also feels slightly elastic—a sensation that's only amplified by the fact that this is one of those cars that exhibits a moderate degree of body roll before finally taking a set and then delivering meaningful amounts of turn-in response. As a result, handling is actually not too bad, though it is also not particularly fun or responsive.
The interior is a mixed bag. As mentioned above, it's a marvel of space utilization, and material choices are fairly good (especially in light of the vehicle's low sticker price), but certain surface treatments (for example, the matte silver applique that covered our tester's dashboard center stack) convey an unfortunate, slap-dash feeling of cheapness (personally, I feel the first-generation PT was better in this respect than the second-generation version is).
At the end of the day, though, the PT Cruiser states its case by offering an awful lot of utility value, complete with a modicum of style, for a very modest price. That's the basic value proposition that has kept this model alive long after theoretically more appealing competitors have come and gone.
—Chris Martens
The PT Cruiser is, in a way, emblematic of Chrysler's problems these days. It is a pretty good car that seems tired mostly because of familiarity. It doesn't seem like it would have taken much to get around this problem, but Chrysler didn't have what it takes, however small that was.
You have to admire the idea of an affordable, stylish car that has impressive functionality, and the PT Cruiser tries hard on all three fronts. Base price is $18k, which is reasonable. The design is different, and there is evidence of non-generic thinking inside and out. And the rear seat room, along with cavernous carrying capacity, really makes this a practical choice.
So, after driving it for a week, you start to wonder why it seems tired. In my observation it starts with the styling. You just have to change up a fashionable design like this more often, especially when the cues all date to the '30s or '50s and the group of people who fondly remember those eras is slowly going away. Then we get to the driving dynamics. Many cars from the former Big Three are rather softly sprung, and the PT Cruiser continues this tradition. Problem is, this approach makes the PT feel heavy and unresponsive. Too much Buick LeSabre, not enough Honda Fit. Compounding that problem is the fact that the PT is just plain slow.
It sounds worse than it is, and really the PT Cruiser is a nice car. But it could be better, and it needs to be to transcend its origins.
—Tom Martin
Pros
Super spacious interior
Styling is still unique after all these years
Low base price
Cons
2.4-liter I-4 is noisy and underpowered
Antiquated four-speed auto
Soft suspension does little to inspire confidence