Quick Drive: 2010 BMW 328i Sports Wagon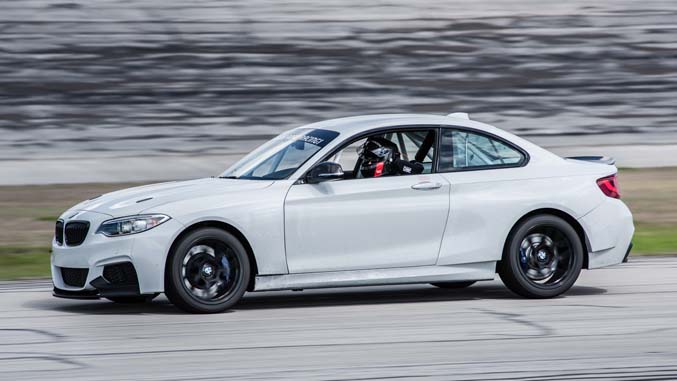 I've been a vocal proponent of the naturally aspirated BMW sixes, versus the turbo engines, here in the office, so this 328i wagon gave me yet another opportunity to crow about it. Sweeter sounding, more involving power delivery (more peaky than the turbo, but I like that), and with a lighter nose, the 28i engine just feels a bit purer in most public-road situations.
Coming from very recently driving the 550i GT, this 3er wagon does seem pretty small, though it'll do for most everyday, suburban hauling tasks. A few more inches wouldn't go amiss for the sake of functionality though, especially if they were applied to the (very small) rear seating area.
M Sport package is nice—cool wheels and a better steering wheel are appreciated—mostly for the sport-tuned suspension. Given my druthers, I'd opt in to the M Sport's $3750 package, and then opt out of the other $7500 worth of optional equipment that brought our tester from a MSRP of $35,400, up to a sticker price of $47,495.
—Seyth Miersma, Editor-In-Chief
"Ah, good, a 3-Series." This is your initial impression when greeted with the slightly sinister face of our BMW. Walking around the car, you will notice metal and glass in places metal and glass should not be. It's a wagon. "Okay, fine, I can handle that." Fall into the sport driver's seat, grip the fat, M-spec steering wheel and prepare to have fun. Push in the clutch… there is no clutch, it's an automatic. So we have a BMW 3-Series wagon, with an automatic transmission. "At least it's the 335i." Nope, it's a 328i. 230 horsepower instead of 300. If you think any of this is a let down, you are quite wrong.
If anything, the 3-Series is more attractive as a wagon; it looks purposeful, elegant, and Euro-cool, especially with the M Sport package on our tester (wheels, aero kit, sport seats, steering wheel). The automatic is still an automatic, but I never felt disappointed by it. Manual mode was responsive, and surprisingly competent. Finally, the engine. It may just be me, but the 328i just feels more balanced than the 335i. It feels more usable in everyday circumstances. Yes, you have to hustle it a bit more to get similar results, but you are rewarded with that sweet, smooth exhaust note that can only come from a BMW I-6. With the exception of the transmission (I'd still rather have a stick), the 328i proved to be an amazingly involving drive.
Our tester was everything I have come to expect from a 3-Series, a nearly perfect blend of balance, tossability, involvement, comfort, and quickness. Now get me a manual.
—Brandon Turkus, Fleet Manager
In general, I love driving most BMW products. They're powerful, they handle great, and they have really well-tuned suspensions for enthusiastic driving. They have quality interiors that I could practically live in. The 3-Series, in particular, offers a driver's car that is, for the most part, pretty no-frills, everyday-performance-focused for the sensible pilot who wants a really fun car to drive every day. A good, responsive, predictable experience all the time, every time.
See where I'm going with this?
As much as I love the 328i, particularly in wagon form, the 3-Series feels so generically BMW to me, now. I see it in every other Bimmer I drive. With BMW expanding its lineup, making so many niche models, the 3 seems so predictable that it lacks the specialness it one held.
At the same time, the fact that it is so solid, well-rounded, and predictable allow one to really hone one's driving skills without a lot of the variables that come into play in other vehicles. No tricks, no fancy stuff—just driving very near its purest. Only, in a wagon.
—John Snyder, Production Editor