Product Review: Necksgen REV 2 Lite Head and Neck Restraint System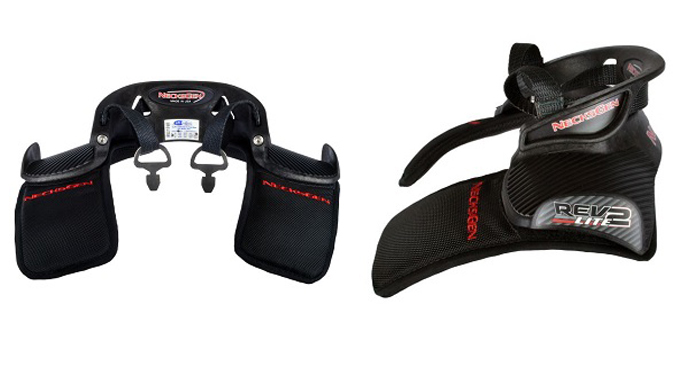 In today's racing gear review, Winding Road Racing product expert Shawn Stout talks about why we like the new Necksgen Rev 2 Lite head and neck restraint system:
To recap the benefits of this SFI-rated head neck restraint:
Super light: The new Necksgen Rev 2 Lite is constructed out of composite material, making it weigh in at only 1.2 pounds.
Low-profile design: Similar to previous versions of the Necksgen, the Rev 2 maintains its low-profile design, allowing it to fit with all seat configurations.
Adjustable straps: The straps are now adjustable on the Rev 2, so the tethers can be adjusted to your preferred fit.
Higher belt-guides: In case of an accident, the higher belt guides help keep everything in place, reducing the chance of your harness rolling over your shoulders.
Additional comfort: The new and improved shoulder pad design increases the comfort level from previous versions.
Unique helmet latching system: The Necksgen Rev 2 has one of the easiest helmet latching systems available: just one pull is needed to release and one push into the latch (similar to a seatbelt) to attach to your helmet.
Recertification: The Rev 2 Lite now comes with free recertification. When the certification on your Rev 2 is expiring, racers can mail in their Necksgen and it will be recertified and mailed back to you.
The Necksgen Rev 2 head and neck restraint can be found online at WindingRoadRacing.com or at any of our three retail locations (Austin, Southern California, or Bowling Green, KY).
Browse all of our racing gear product guides and best of lists here.