Preview: 2017 Nissan GT-R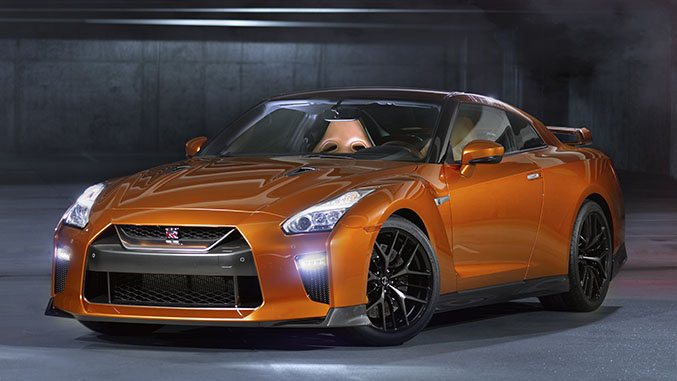 Back when the Skyline R35 made landfall on American shores as the Nissan GT-R it quickly became clear that this car was a game changer. Packing all-wheel-drive, twin turbos, a dual clutch gearbox, and sophisticated electronic enhancements, the GT-R offered legitimate supercar performance for well under $100K.
While Nissan's budget supercar essentially created a segment, nearly a decade has passed since. In the interim the auto industry has changed quite a bit, as evidenced by the fact that you can now buy a 700 horsepower coupe from a showroom that's cheaper than a mid-range luxury SUV.
While we had
plenty of praise for the 2015 model
, we also noted that there were a few rough edges to be honed. Now entering its eighth year in production, Nissan is giving the GT-R a much-needed refresh for the 2017 model year, one which focuses on increased performance and better daily driving manners.
The GT-R sees some visual enhancements as well, with a new front fascia that incorporates the company's "V-motion" design language, along with a reshaped hood and fenders that have been tweaked to optimize airflow.
Underneath that hood remains the familiar 3.8-liter twin-turbo V6, which now makes 565 horsepower and 467 pound-feet of torque, upgrades of 20 hp and 4 lb-ft over the 2016 model. That motor is hooked to the same six-speed dual clutch gearbox as before, which continues to route the power to all four corners.
The GT-R's oft-maligned ergonomics have been addressed with a full redesign, which simplifies the instrument panel layout and adds a new infotainment system. The shift paddles are now mounted to the steering wheel itself to make mid-corner gear changes less cumbersome, and the refreshed GT-R will also see improved comfort by way of a retuned suspension, a new acoustic glass windshield, active noise cancelation, and new sound insolation.
The 2017 Nissan GT-R is expected to land in U.S. showrooms this summer. Check out the video below to see the latest GT-R in motion, and the press release below that for additional details.
Nissan GT-R Undergoes Significant Transformation, Armed with a Fresh New Look and More Power
NEW YORK (March 23, 2016) – Nissan unveiled the new 2017 GT-R at the New York International Auto Show today, highlighted by a fresh look inside and out, as well as major driving performance enhancements and key new features. All told, this is the most significant change to Nissan's flagship super sports car since it was introduced in 2007.
The 2017 GT-R's exterior receives a thorough makeover. The new "V-motion" grille, one of Nissan's latest design signatures, has been slightly enlarged to provide better engine cooling and now features a matte chrome finish and an updated mesh pattern. A new hood, featuring pronounced character lines flowing flawlessly from the grille, has been reinforced to enhance stability during high-speed driving. A freshly designed front spoiler lip and front bumpers with finishers situated immediately below the headlamps give the new GT-R the look of a pure-bred racecar, while generating high levels of front downforce.
The GT-R's familiar wind-cutting shape defines its profile, but the side sills have been pushed out to direct air flow around the vehicle. Styling and air flow enhancements continue in the rear, where GT-R's hallmark four-ring taillights are paired with new rear bodywork, along with functional side air vents next to the quad exhaust tips. The beltline between the lower black section and the body panel has been heightened to make the car look wider and more aggressive from the rear.
These exterior changes result in a sportier and sharper looking car – as well as an aerodynamically efficient one with more stability at high speeds, while keeping a 0.26 drag coefficient.
In the cabin is a redesigned, premium interior befitting a high-performance super sports car. The entire dashboard is new, including an instrument panel wrapped in a single, seamless piece of hand-selected Nappa leather artfully stitched with Takumi-style precision. The shape of the dashboard adopts a "horizontal flow" to deliver a sense of high stability for front seat occupants, while the line from the instrument cluster to the center console provides a distinct driver-oriented environment for the driver. The cushion layer of the instrument panel leather has been updated with a new, thinner material to reduce weight, and the front seats themselves are also lighter, thanks to a new side-support construction method that provides greater comfort and support on long drives.
The center dashboard layout is improved and simplified. Integrated navigation and audio controls reduce the number of switches from 27 in the previous car to just 11 in the 2017 model. An 8-inch capacitive touch-panel monitor replaces the 7-inch one and now features large icons on the display screen, while a new Display Command control on the carbon-fiber center console also allows easy operation.
The shift paddles are now mounted to the new steering wheel, allowing drivers to change gears in mid-turn without having to take their hands off the wheel. The paddles, paired with reengineered ventilator controls, feature improved feel and sound when engaged or adjusted.
"As the icon of Nissan's driving performance, the GT-R continues to evolve. With the signature V-motion grille, the GT-R now possesses the latest Nissan design language. Its exceptional aerodynamic performance and upgraded interior have given the GT-R a more mature character, which will continue into the future," said Mamoru Aoki, executive design director, Global Design Center, Nissan Motor Co., Ltd.
The GT-R's award-winning 3.8-liter V6 24-valve twin-turbocharged engine – each unit handcrafted by its own Takumi technician – now delivers 565 horsepower at 6800 rpm and 467 lb-ft of torque, representing an increase of 20 HP and 4 lb-ft, respectively, from last year's model.
The increases, which are the result of individual ignition-timing control of the cylinders and extra boost from the turbochargers, allow the new GT-R to possess superior acceleration in the mid- to high-ranges (3200 rpm and above). It comes mated to a thoroughly refined 6- speed dual-clutch transmission that features smoother shifts and less noise. The aggressive GT-R engine sound has never sounded better. The resonance of the new lightweight titanium exhaust system and Active Sound Enhancement (ASE) enhance the driving experience, especially during acceleration.
The GT-R has always been regarded as one of the world's best handling machines and for 2017 its cornering abilities have become even better. A more rigid body structure and new suspension allow the GT-R's tires, wrapped around new 20-inch 15-spoke forged aluminum wheels, to hold the road surface better, giving it better stability through quick lateral transitions and higher overall cornering speed.
Along with all the performance enhancements, the 2017 GT-R is the most comfortable example to date, with a new sense of elegance and civility rare in such a high-performance supercar. The new GT-R exhibits a smoother ride quality than the outgoing model, and its cabin remains much quieter at all speeds thanks to Active Noise Cancellation technology and new sound absorption materials, including an acoustic glass windshield.
"The new GT-R delivers a heart-pounding driving experience at all times, on any road, for whoever sits in the driver's seat. We have continued to push its performance boundaries to the limit – it's even more potent than before. At the same time, refinement has been added to take the driving experience to an entirely new level. We're proud to bring you what we feel is the ultimate GT-R that possesses amazing performance, newfound civility and a rich racing history," said Hiroshi Tamura, chief product specialist, GT-R, Z and NISMO, Nissan Motor Co., Ltd.
New for the 2017 GT-R are fresh colors inside and out that complement the car's sophisticated character. A "Blaze Metallic" orange color, applied with a special four stage process, has been added to the exterior paint palette. The interior of the Premium Edition, featuring semi-aniline leather, offers three different options: the newly added Rakuda Tan, as well as Amber Red and Ivory.
In select markets, the new GT-R comes with NissanConnectSM with Navigation, Mobile Apps and Services that allows users to use a smartphone to remotely lock or unlock the car doors, activate the alarm, summon emergency services or track the car if it is stolen.
The 2017 Nissan GT-R will be available this summer.