Preview: 2014 Lotus Exige V6 Cup R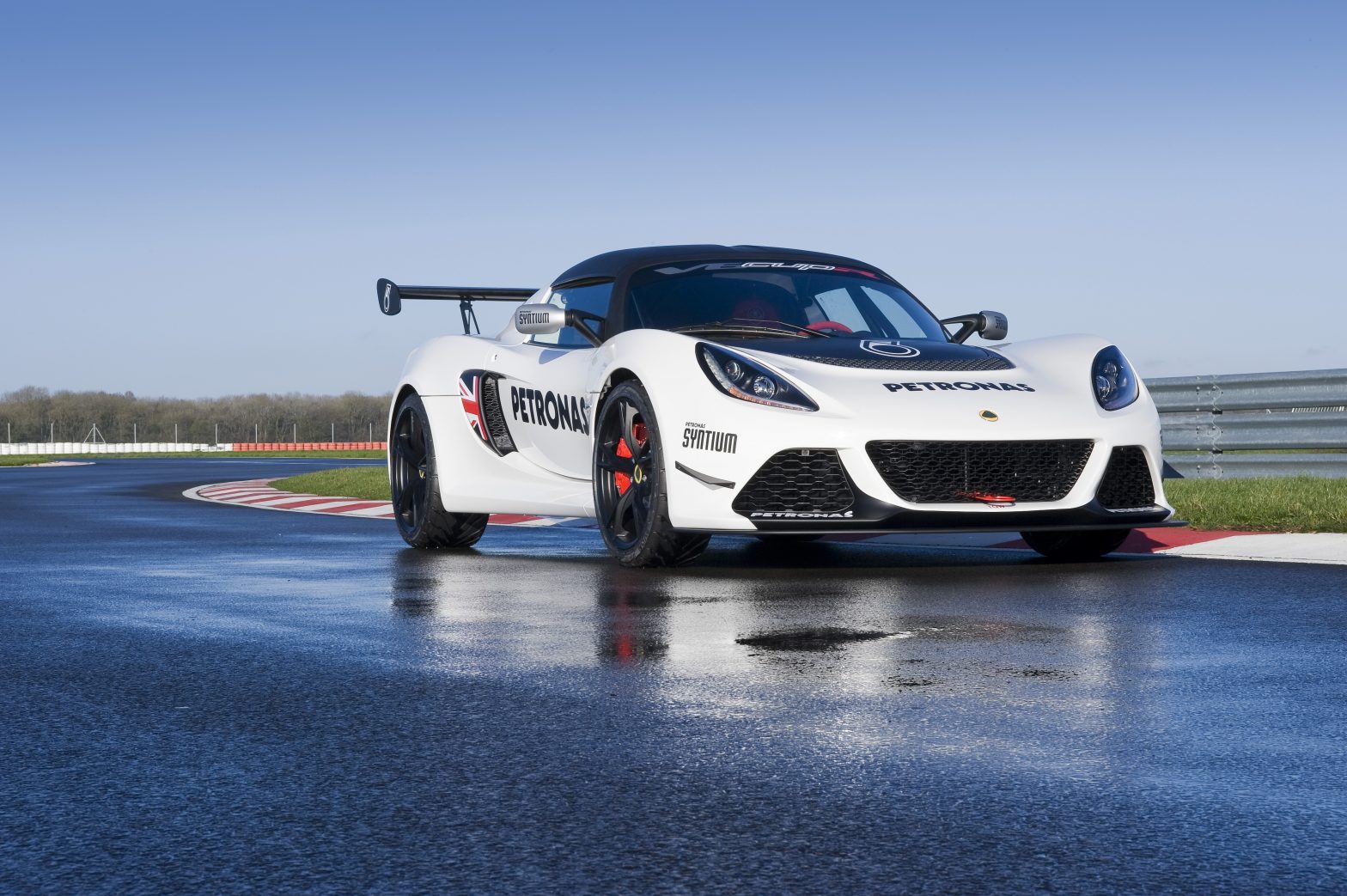 This is the Master Landing Page for the Lotus Exige V6 Cup R. From now on, as we further review this car, we will be updating this page with whatever fresh content we create. Future drive reviews, updated specifications, videos, and other relevant information will all be found right here, in one convenient spot.
SUMMARY
Lotus has announced a new track car, the Exige V6 Cup R. In addition to being an exciting new consumer model, it will be eligible for the one-make Lotus Cup race series.
The Exige V6 Cup R's supercharged 3.5-liter V-6 produces 361 horsepower and 295 pound-feet of torque. That's no small amount of thrust for a car weighing an estimated 2293 pounds. It uses a six-speed close ratio gearbox, with an optional sequential gearbox with paddle shifting. Initial numbers from Lotus suggest a 0-62 mile-per-hour time of just 3.8 seconds, with 0-100 happening in just about 7.9 seconds.
Underpinning the V6 Cup R is a double-wishbone suspension with front and rear anti-roll bars. To slow it down, the car uses AP-Racing four-piston calipers front and rear, with ventilated and cross-drilled two-piece discs
This car comes ready to race, with an FIA-approved roll cage and fire extinguisher, six-point harness, HANS-compliant racing seat, track-specification tow eyes, and removable steering wheel.
Scroll down for more information in the press release from Lotus.
Lotus Racing set to reveal its Motorsport mettle at Autosport International where visitors can win a Driving Academy experience
09 Jan
Lotus Racing, the motorsport arm of Group Lotus Plc, tips a nod to its enthusiast racing heritage with its plans to unveil two new Exige models, both set to wow race car aficionados during the 2013 Autosport International show.
With links to its award winning cousin the Exige S, the two new derivatives are set for their first public debut and will be another exclusive for the show. The cars, the Exige V6 Cup, the latest Cup version for track or road and its pure race-bred sibling the Exige V6 CupR will be unveiled on stand 2550, in Hall 20. Both new Exige race cars will make up part of a three car line-up, where the race winning Evora GT4 will also be on display as a perfect contender for race teams looking to compete in, amongst others, the newly announced SRO GT4 European Trophy. Plus, for those that visit the stand there is the opportunity to win a Driving Experience Day courtesy of the Lotus Driving Academy*.
Around the show, visitors can also get close to the championship winning Evora GTC, the car that romped to victory last season in the MSA British GT Endurance Championship under the guidance of Richard Adams and his Bullrun Team. The car will be on display courtesy of Britcar, stand 2200.
In addition, the award-winning Exige S and Evora S road cars will also be drawing the fans as they have been selected to take part in Autocar's 'Best of British' parade which can be seen at regular intervals in the Live Arena. All models are in current production at the Hethel factory and available to order.
TECHNICAL SPECIFICATION
Performance Specification
0-100 (km/h) 3.8 seconds*
0-160 (km/h) 7.9 seconds*
Max speed 274 km/h / 170 mph*
Max power 366PS @ 7200rpm
Max torque 413Nm/295 lb ft @ 5000rpm
Unladen vehicle mass 1040kg
VEHICLE SPECIFICATION
AP-Racing four-piston calipers (front and rear) with ventilated and
cross drilled 2 piece discs
Double wishbone suspension with anti-roll bars (front and rear)
Variable traction control
Aerodynamically optimised front splitter, rear diffuser and wing, canards
Sport exhaust
Tool kit
2-Way adjustable dampers
FIA approved roll-cage
FIA approved fire extinguisher
6-point race harness (Hans)
HANS compliant race drivers seat
Baffled sump
Track specification tow eyes
Removable steering wheel
Battery Isolator Switch
Lightweight quick release engine cover
Lightweight battery
Improved oil and water cooling systems
Performance brake pads
Exterior Specification
Solid paint S
Metallic paint 0
Premium paint 0
Motorsport paint 0
Satin black wheels, cast (17" front and 18" rear) S
Diamond cut wheels, cast (17" front and 18" rear) 0
Pirelli P-Zero Trofeo tyres Front: 205/45 R17 & Rear: 265/45 R18 S
Exterior Specification
Solid paint S
Metallic paint 0
Premium paint 0
Motorsport paint 0
Satin black wheels, cast
(17" front and 18" rear) S
Diamond cut wheels, cast
(17" front and 18" rear) 0
Pirelli P-Zero Trofeo tyres
Front: 205/45 R17 & Rear: 265/45 R18 S
POWERTRAIN Specification
Mid mounted, transverse 3.5 litre DOHC V6 VVT-i engine, 4 valves per
cylinder, equipped with Harrop HTV 1320 Supercharger utilising Eaton
TVS Technology
Transmission
6-speed close ratio gear box
Constant mesh helical gears and open differentials
Sequential gearbox with paddleshift (optional)
FUEL CONSUMPTION (mpg (l/100km))
Urban TBC*
Extra urban TBC*
Combined TBC*
CO2 emissions (g/km) TBC*
* Likely to change