Overview: Polaris Slingshot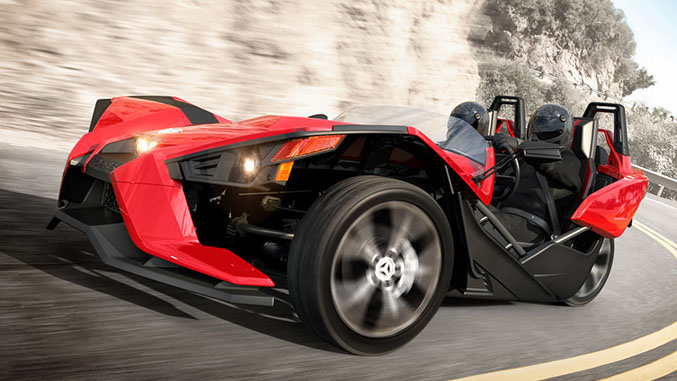 This is the overview page for the 2015 Polaris Slingshot. Rumors, news, reviews, road tests, specifications, videos, awards, and other relevant information will all be included here as they become available.
PREVIEW
Back in March we got wind of a motorcycle-meets-track-day-car project in the works from Polaris by way of a
patent filing
. Presented as something like a cross between a
Morgan Three-Wheeler
and a
KTM X-Bow
, details were pretty scarce at that point. But now Polaris has revealed the Slingshot in production form, along with the official specifications for this sporty crossbreed.
The 2.4-liter, four cylinder Ecotec motor sourced from General Motors does in fact make an appearance in the Slingshot, generating 173 horsepower and 166 pound-feet of torque, which is channeled to the back wheel by way of a carbon reinforced drive belt that's connected to a five-speed manual transmission.
In the horsepower crazed times we live in, that four cylinder's output may not sound like all that much until you consider the fact that the Slingshot weighs in at a paltry 1700 pounds. Polaris has yet to release official performance numbers, but suffice to say that the Slingshot will likely accelerate at a very brisk pace. When it comes time to bring the Polaris to a stop, the Slingshot is fitted with 11.8-inch ventilated rotors on all three corners.
Dimensionally, the Slingshot sports a 105 inch wheelbase, stands 51.9 inches tall and 77.6 inches wide, while the front track measures 69 inches and the Slingshot rides just 5 inches off the ground.
Two trim models of the Slingshot will be initially offered. The base model will start at $19,999 and will feature titanium metallic paint, 17 inch lightweight alloy wheels upfront, and an 18 inch wheel in the rear. Slingshots fitted with the SL package will start at $23,999 and include red pearl paint, larger 18 inch forged aluminum wheels upfront and a 20 inch wheel in the rear, a blade windscreen for wind protection, a 4.3" LCD screen, back-up camera, bluetooth integration, and a 6-speaker audio system. Both models will come with a two year warranty which is extendable to five years, and will be sold through Polaris, Victory and Indian dealers throughout the country.
Check out the video below to see the Slingshot in action and take a look the press release for additional details.
THE ALL-NEW POLARIS® SLINGSHOT™ HAS BEEN UNLEASHEDA REVOLUTIONARY 3-WHEEL ROADSTER THAT DELIVERS HEAD TURNING EXHILARATION
MINNEAPOLIS, MN (July 28, 2014) – Polaris® celebrated 60 years of innovation by introducing the highly anticipated Polaris Slingshot™, an awe-inspiring 3-wheel roadster that represents the future of on-road driving exhilaration. "Slingshot was designed to deliver head turning exhilaration on two dimensions," said Mike Jonikas, Vice President of Slingshot. "First is the exhilaration that you can see, hear, and feel while riding in Slingshot. Second is the exhilaration you feel when people turn their heads to stare at Slingshot's unique and exotic styling."
SLINGSHOT™ HEAD TURNING EXHILARATION
Slingshot™ is an entirely new on-road driving and riding experience. The open air cockpit of Slingshot™ hits you with a 360 degree rush of sight, sound, and smell. With side by side seating, both driver and passenger experience a front row shot of adrenaline. Its wide stance and sport-tuned suspension will make you want to charge every corner and never let off. With a low to the ground vehicle stance, you can feel the rush of pavement under your seat and in your chest. Slingshot™ is lightweight and powerful, making for heart pounding acceleration. Just punch it and you are there.
SLINGSHOT™ EXHILARATING DESIGN
Slingshot™ is powered by a 2.4 liter dual-overhead cam engine and a 5-speed manual transmission. It features a high strength steel spaceframe, a lightweight aluminum swingarm, and a carbon fiber reinforced drive belt. With a dry weight of less than 1,700 lbs., a very low center of gravity, and an engine that produces 173 horsepower, Slingshot™ delivers heart pounding acceleration and astonishing cornering power. Slingshot™ has advanced motorcycle features such as electronic stability and traction control, 3-wheel anti-lock disc brakes, LED taillights, forged aluminum roll hoops, and 3-point seat belts. Slingshot™ can also be personalized with premium accessories that are designed for your vehicle: larger tires with forged aluminum wheels, media console, windscreens, and vehicle covers.
SLINGSHOT™ TRIM LEVELS
Slingshot™ is offered in two distinct trim levels. The base Slingshot™, with a U.S. MSRP of only $19,999, features titanium metallic paint, 17 inch lightweight alloy wheels upfront, and an 18 inch wheel in the rear. The premium model called Slingshot™ SL, with a U.S. MSRP of only $23,999, features red pearl paint, larger 18 inch forged aluminum wheels upfront and a 20 inch wheel in the rear, and a blade windscreen for wind protection. It also features our media console with a 4.3" LCD screen, back-up camera, Bluetooth® integration, and a 6-speaker audio system. Both trim models will be available this fall at Polaris Slingshot™ dealerships across the United States and Canada. Learn more at www.PolarisSlingshot.com.
NOTE: Slingshot™ is a 3-wheeled motorcycle. It is not an automobile, it does not have airbags, and it does not meet automotive safety standards. Three-wheel vehicles may handle differently than other vehicles, especially in wet conditions. Always wear helmets and fasten seat belts. Driver may need a valid motorcycle endorsement. Don't drink and drive.
ABOUT POLARIS® INDUSTRIES
Polaris is a recognized leader in the powersports industry with annual 2013 sales of $3.8 billion. Polaris designs, engineers, manufactures and markets innovative, high quality off-road vehicles, including all-terrain vehicles (ATVs) and the Polaris RANGER® and RZR® side-by-side vehicles, snowmobiles, motorcycles and on-road electric/hybrid powered vehicles.
Polaris is among the global sales leaders for both snowmobiles and off-road vehicles and has established a presence in the heavyweight cruiser and touring motorcycle market with the Victory and Indian Motorcycle brands. Additionally, Polaris continues to invest in the global on-road small electric/hybrid powered vehicle industry with Global Electric Motorcars (GEM), Goupil Industrie SA, Aixam Mega S.A.S., and internally developed vehicles. Polaris enhances the riding experience with a complete line of Polaris Engineered parts, accessories and apparel, Klim branded apparel and ORV accessories under the Kolpin and Cycle Country brands.
Polaris Industries Inc. trades on the New York Stock Exchange under the symbol "PII", and the Company is included in the S&P Mid-Cap 400 stock price index.
Information about the complete line of Polaris products, apparel and vehicle accessories are available from authorized Polaris dealers or anytime at www.polaris.com.