My Thanksgiving: 2012 Mazda CX-9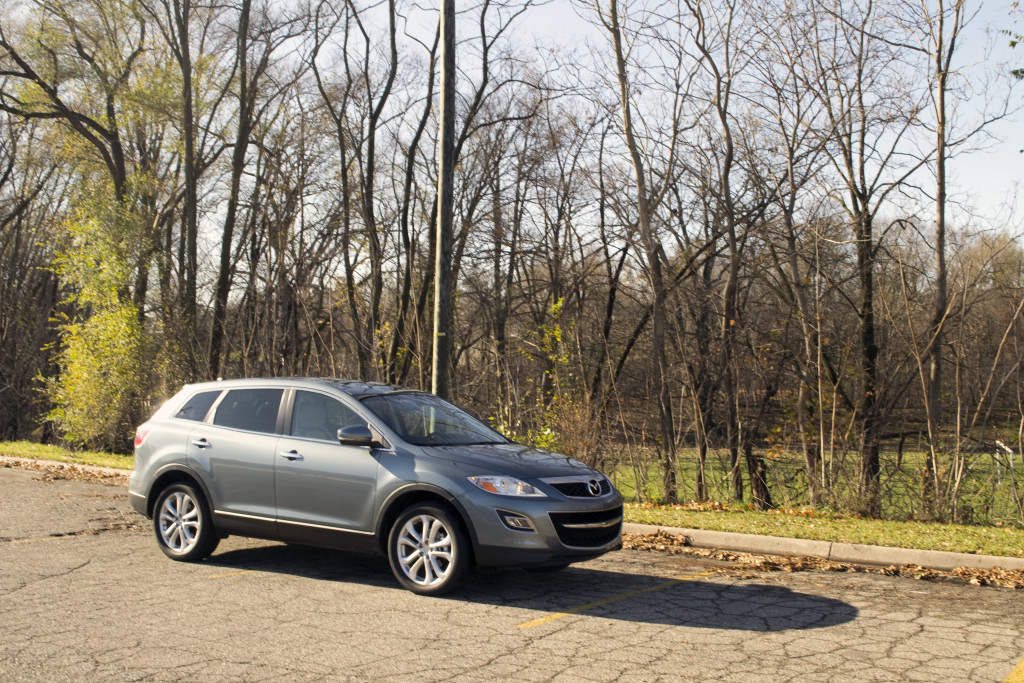 Before our long holiday weekend full of driving and eating, we put up an Ask It post for readers to ask about the cars we'd each be taking for Thanksgiving. Understandably, people were busy catching up with relatives, eating delicious meals, watching football, and hopefully relaxing instead of asking us what we think of the vehicles' seats or audio systems. So, while we're digesting all the information we've gathered over the weekend, we're putting together our notes into these small reviews. You can still feel free to ask us more questions at the original Ask It post, and we'll answer while the recent drives are still fresh in our minds.
The Mazda CX-9 is a vehicle I'm very familiar with, and have championed over most of its competition. I like it because it doesn't feel like a big, seven-passenger vehicle, instead feeling far more nimble than it has any right to be.
During my time with this biggest of Mazdas, I made a short road trip from my Rochester Hills home to my girlfriend's family in the small town of Haslett outside of Lansing. I also transported a desk, and picked up several friends in various states of intoxication from the Palace of Auburn Hills, where Jay-Z and Kanye West were playing. I also put in more than a few miles flinging the CX-9 around the urban jungle on miscellaneous errands, and managed to eat a full turkey dinner (with all the trimmings) in the back seat. Yes, it was a busy weekend.
The trip from Rochester to Haslett was my big driving adventure for this long weekend, and it's exactly the sort of driving the CX-9 relishes. The smooth-riding Mazda handled long jaunts down the interstate easily. It soaked up bumps well enough, and the ride wasn't disruptive when the road wasn't racetrack quality. At the same time, the CX-9 can be flung into a corner and feel quite car-like while doing it. Yes, there was body roll and suspension movement, but considering the mass that was being shifted through the turns, the Mazda came across well. In fact, if I'm trying to turn someone from an older, body-on-frame SUV, the Mazda is one of the first vehicles I'll recommend for them, as its ride is superior to traditional SUVs.
As I mentioned earlier, I took full advantage of the CX-9's utility during my time with it. Folding down the third row is a breeze, as is sliding the second row forward. Unfortunately, you can't fold the second row flat, limiting what could be a very large trunk space. Still, I had no issues transporting a desk frame and its assorted pieces. The CX-9 is also quite comfortable for the inebriated. As I mentioned, I picked up some friends from a concert using the big Mazda. The fact that, even in varying stages of sobriety, they were able to figure out how to access the third row is proof-positive that Mazda built an intuitive seating system.
Power comes from a 273-horsepower, 3.7-liter V-6. It's supposed to net 24 miles per gallon, but I had a hard time hitting that number, even on an extended freeway run. The motor does sound good for a big CUV, but it's hardly an engine note to fall in love with. Ignoring the engine note, the CX-9 is still fairly quick for its size. I had no issue making passes on the freeway, and the Mazda easily scampered away from a standstill.
I do feel like the CX-9 is starting to show its age though. Many of the materials in the cabin don't quite feel up to snuff nowadays, particularly the dash and center stack. The navigation and radio controls also look and feel outdated. Finally, there's a decided lack of optional tech-friendly equipment. The CX-9 still doesn't have features like a USB input (although it does have Bluetooth audio that works well enough) or air-conditioned seats.
Despite its age, the CX-9's utility and driving character make it a fine choice for those that need utility but still value driving pleasure. If this sounds like you, then you should get down to your local Mazda dealership.
—Brandon Turkus, Test Fleet Manager