My Thanksgiving: 2012 Infiniti FX35 AWD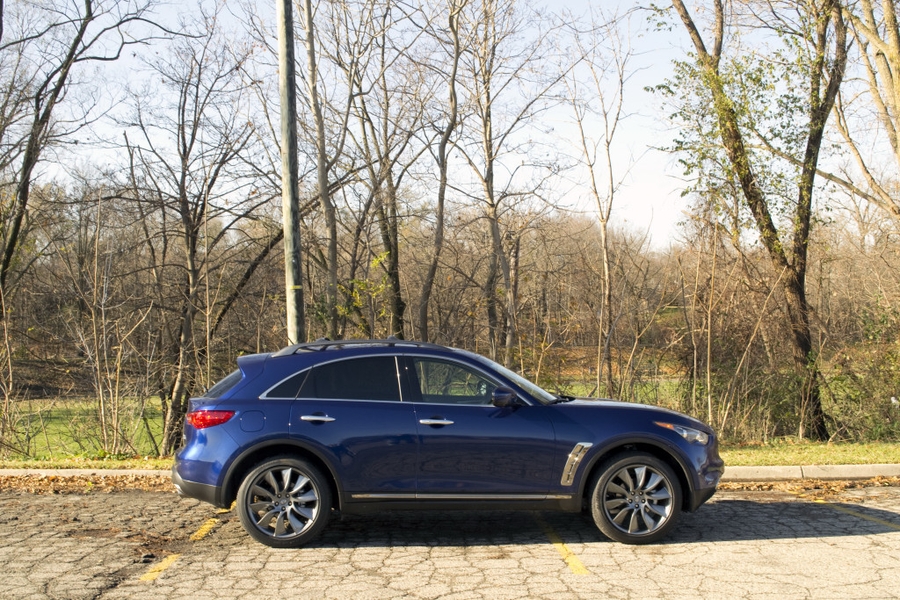 Before our long holiday weekend full of driving and eating, we put up an
Ask It
post for readers to ask about the cars we'd each be taking for Thanksgiving. Understandably, people were busy catching up with relatives, eating delicious meals, watching football, and hopefully relaxing instead of asking us what we think of the vehicles' seats or audio systems. So, while we're digesting all the information we've gathered over the weekend, we're putting together our notes into these small reviews. You can still feel free to
ask us more questions
at the original Ask It post, and we'll answer while the recent drives are still fresh in our minds.
I had a busy weekend with the Infiniti FX, first with shuttling my wife and myself from Ann Arbor to Detroit, then from Detroit to East Lansing, then from there back to Ann Arbor. Picking up leftovers at each stop along the way. Later in the weekend, the FX served to run errands, particularly bringing boxes of Christmas decorations between my home and my
wife's store
, as we got it ready for holiday shoppers. I even had some time to myself to drive the car as I pleased, though mostly in the dark, sloppy weather we typically enjoy this time of year.
Power delivery in the FX35 was strong enough, but there was a lag between hitting the gas pedal and anything happening, especially when there's downshifting involved. It was a little better in manual mode, but I could still count a beat or two before the engine responded. It was a little frustrating when trying to make quick maneuvers to pass or merge. Otherwise, acceleration was smooth, and the engine pulls fairly hard (honestly could use a bit more shove) without being jerky. Having the power going to all four wheels helped it feel confident in its grip and stance when surging forward, too.
On the highway, the FX35 cruised happily along at high speeds, tracking straight and true for the many straight, fast miles we traversed. It stayed pretty quiet while going fast, too.
I really liked the ride in this car. It's not as plush as you'd expect, and my wife even got a little carsick, because this thing traces the undulations in the road really well. As a driver, it felt communicative and planted—not floaty or wobbly. If you're looking for something high-lux and isolated, this is not going to be the crossover for you. There's simply too much movement transferred into the cabin. It's helpful, though, for someone who is going to be driving the car more enthusiastically, as the driver has a better sense of every move the FX is making.
There really is a lot of room in this car. I was able to fit several large boxes in the back without having to put the rear seats down. This would be a great car for going Up North with the wife, dogs, and a week's worth of luggage. The power liftgate got a lot of use, too, with my arms full of cargo at various times throughout the weekend.
And, beyond simply having room for people and things, passengers will find a really nicely appointed cabin. Materials are really good quality, and the seats are supportive and comfortable. Everything is laid out attractively, with a fairly simple design—nothing too bold. The touchscreen and its buttons do seem a bit hard to reach from the driver's seat, but that also helps to make them available to the passenger, which is nice when you don't want to be distracted while driving. Still I'd rather have the buttons come to hand more easily. Other controls, though, were easy to spot and use. In all, the interior experience is very rich, like eating dark chocolate in the hot tub.
Finally, the FX got a lot of looks. I know it looks good and all, but I was shocked with the frequency of heads turning, even when it was just parked on the side of the street. Despite all the rubbernecking, though, no strangers came up to talk about it, which is fine with me.
—John Beltz Snyder, Production Editor