My Thanksgiving: 2012 BMW 650i Convertible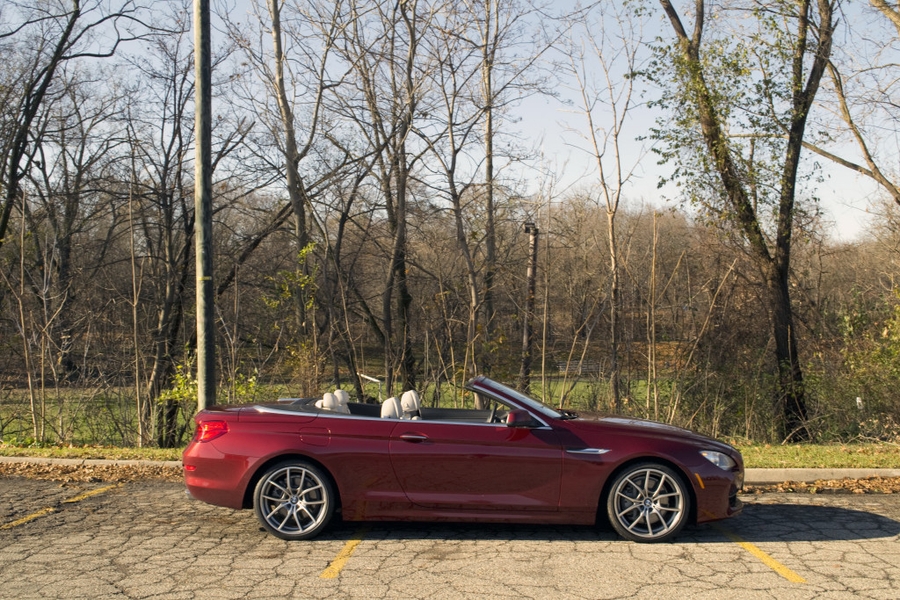 Before our long holiday weekend full of driving and eating, we put up an Ask It post for readers to ask about the cars we'd each be taking for Thanksgiving. Understandably, people were busy catching up with relatives, eating delicious meals, watching football, and hopefully relaxing instead of asking us what we think of the vehicles' seats or audio systems. So, while we're digesting all the information we've gathered over the weekend, we're putting together our notes into these small reviews. You can still feel free to ask us more questions at the original Ask It post, and we'll answer while the recent drives are still fresh in our minds.
Despite being a pretty bad long weekend for convertible driving—Michigan offered up a very par-for-the-course November compliment of damp, cold, cloudy days—my Thanksgiving drive did serve as a fine counterpoint experience in the 650i convertible. When I drove the car for the
first go-round
, it was nothing but top-down and sunny-weather driving through the balmy Mexican countryside. That's nice and all, but it certainly didn't give me much of a frame of reference for cold-weather driving in the new 6er, nor really for a lot of top-up stuff.
Even with the rain, my Thursday-Sunday weekend did offer a few clear patches for putting the top down, even though the temperature was hovering in the 40s. The good news here is that, true to the formula of a lot of high-end German convertibles, the 6-Series offers excellent wind and cold protection for adventuresome drivers. For starters, the seating position finds one well below the top of the windscreen at its lowest point (even for really tall guys like me), meaning I didn't have any issue with buffeting on the top part of my head. With the side windows down, I did get some lateral action, but not much by convertible standards, and raising the driver/passenger windows eliminated this entirely.
Not terribly surprising for a six-figure car, I suppose, but the audio system had no issues with running out of volume with the top down, even at freeway speeds. I can't wait to get a 6er to our Austin office for a
Car Audio review
.
With the wind no detriment to comfort, and a strong HVAC system working with toasty seat heaters, I actually had to turn all the warming elements down at times to stay comfortable driving in the open, in 45-degree weather. Great stuff for those interested in posh winter driving, even if that means cool California nights, instead of snowy Michigan winter days.
Top-up, the 650i was snug, and quiet, and refined, just not quite to the level you'd hope for with a standard coupe. Some would argue for a retractable hardtop for a car at this price point, and I can see the logic, but from a practical standpoint (and considering weight), there doesn't seem to be a drawback to the fabric roof here.
All in, the Bimmer was a fantastic ride home for the holidays. I noticed plenty of eyeballs on the car as I drove, though not quite so many as you'd get in other $100,000 cars. I imagine that the typical 650i convertible buyer is going more for subtle than splashy, anyway.
—Seyth Miersma, Editor-In-Chief