Gear Spotlight: Sparco EVO QRT And EVO II QRT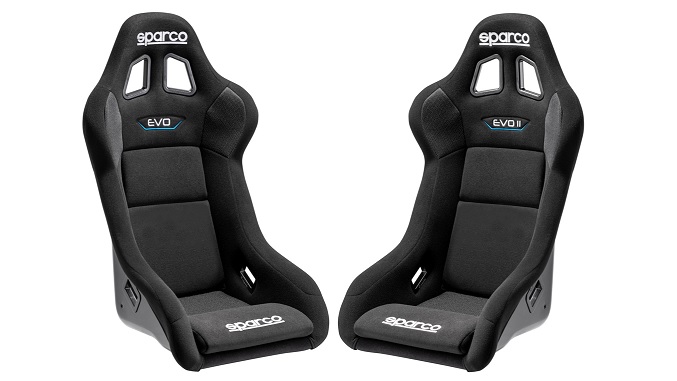 The Sparco EVO QRT and EVO II QRT are FIA-rated and based on the popular previous-generation EVO/EVO II/EVO II US seat, but with a couple of major improvements to better accommodate more drivers, save weight, and enhance comfort.
One remark about the old EVO that we would hear from customers is it was a bit on the heavy side. Thanks to Sparco's new QRT Technology, there is an average weight savings of 30% when compared to standard fiberglass technology, and it's definitely noticeable when you pick one up. It definitely gives carbon fiber seats a run for their money. QRT seats also have an unparalleled mechanical strength-to-weight ratio for fiberglass composite racing seats.
The EVO QRT has also been updated from the previous EVO with a reduced shoulder bolster dimension that allows fitment into smaller cockpits but can still accommodate a medium-size driver. Also, the shoulder harness belt openings have been raised to accommodate a taller driver. The EVO QRT series of seats feature the most back angle rake of all Sparco seats for a very comfortable driving position.
The Evo II QRT has re-engineered seat proportions which provide greater ergonomics. The result is a seat that is both taller and slightly wider than the EVO for taller drivers. In our personal experience a lot of taller drivers have found it to be quite comfortable, especially when compared to the narrower shoulders on the Sparco QRT-R.
We definitely recommend the EVO QRT and EVO II QRT to anyone looking for a solid, non-halo fixed-back racing seat. Check out more on the seats, particularly their measurements, over in our store, and feel free to call us with any questions regarding fitment. They fit in a lot of cars, though ensure all proper measurements have been taken before installing one in yours.
Feel free to shoot us an email at [email protected], or call us at 512-994-0656. We also offer installation at our Austin location!