Gear Review: GoPuck 5X Rapid Charger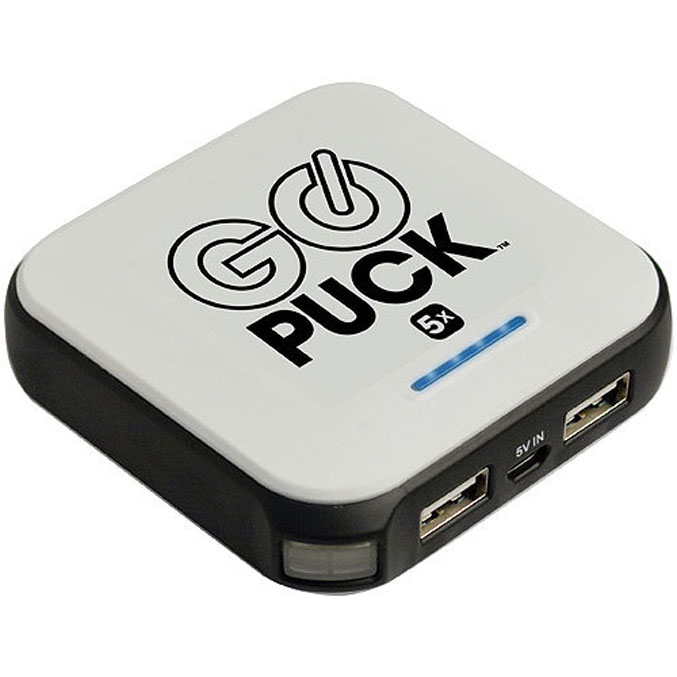 What is it?
The
GoPuck
(
P
ortable
U
SB
C
harging
K
it) is a lightweight, durable rapid charging battery pack, designed to provide quick charging capability for a multitude of devices with USB-derived charge ports. With its 6600 mAh internal battery pack, the GoPuck is capable of fully recharging an iPhone 5S up to 4 times on a single GoPuck charge. Equipped with two USB charging ports (one Standard and the other Rapid), you can recharge your phone at speeds which rival or even exceed the charge time performance of having the device plugged directly into a wall socket.
Who is it for?
If you travel frequently or you regularly find yourself in situations where you do not have access to wall sockets for an extended amount of time, the GoPuck can be a complete game changer. For racers, outdoorsman, and anyone who works or plays "on location" for extended amounts of time, the GoPuck offers the ability to essentially stop worrying about battery life for portable devices altogether. Using the optional Active Mount, you can also hook the GoPuck up to a GoPro camera (or any camera that utilizes USB charging and a universal mount) and dramatically increase your ability to create more footage without interrupting the action to recharge your devices.
Things We Like
As the name would suggest, charging with the GoPuck Rapid Charger is expedient. Using an iPhone 5 as a test mule and charging it through the "Rapid" USB port on the GoPuck, the phone charged even faster than it typically would plugged into a wall outlet using the Apple AC adaptor. Keep in mind that the charging time will vary depending on what kind of device is being charged and how much the device is being used while in the process of charging. GoPuck recommends putting the device in question into airplane mode while recharging it, if possible, to both maximize the amount of charging capacity the GoPuck will be capable of and to minimize the amount of time a recharge will take of the device needing to be recharged.
We like the fact that the GoPuck is compact, lightweight and features a rubberized external shell that's clearly designed to take some abuse. It also features an LED indicator that lets you know how much juice is left in the GoPuck for recharging duty. Additionally, the GoPuck comes with a
multitude of charging tips
. Essentially anything that uses mini USB, micro USB, Blackberry, Sony PSP, Sony Ericsson, Nokia, Apple 30-pin, or LG-style USB charging tips is covered here, and that also includes tablet-style devices, which often require more juice that most USB ports are capable of providing.
Additionally, we also appreciated the fact that the GoPuck supports the simultaneous recharging of two separate devices through each of its USB charging ports, and will also allow for "pass-through" charging while the GoPuck itself is being recharged as well, which can also be done through its micro USB charging port.
It's clear that the designers of the GoPuck had active customers in mind when they designed this, as both durability and flexibility in terms of different uses and stresses it might need to accommodate all seem to have been taken into consideration. It is ideally designed for the demands of situations like track days, extended hiking trips, and general outdoor activity that requires a backup power source.
Things We Didn't Like
As versatile as the GoPuck is with the various charging tips that are included, it lacks the one we actually really hoped to find – the Apple Lightning connector. It's hard to fault GoPuck too much for this, as the Lightning connector is a fairly new technology, but at the same time, it's also becoming fairly popular amongst iPhone users, so its omission is a little bit surprising in a kit of this quality.
GoPuck tells us that a Lightning adaptor is on its way for the latest GoPuck kits, but in the meantime, simply plugging an Apple Lightning cable into the GoPuck will accomplish the same thing, so the level of inconvenience is fairly minimal anyway.
Bottom Line
If you are a person who is constantly finding themselves with a dead phone, tablet, portable gaming device, camera, or other USB device, the GoPuck will likely revolutionize your digital life. Small enough to be carried in a pocket, and completely forgettable in a bag, the GoPuck brings with it enough juice to literally keep a party going without skipping a beat. If you're the type who uses GoPro or similar cameras in outdoor situations for extended amounts of time, with a
GoPuck
mounted to the camera using the
Active Mount
,
you
will likely run out of steam before the camera does. Well thought out and ready for seriously demanding duty, this is the charging pack we would want to have in a mission-critical situation. Just don't forget to bring your Lighting cable, Apple fans.