Fuel-Less Fun Forges New Feud: Porsche Taycan Vs. Tesla Model 3 Performance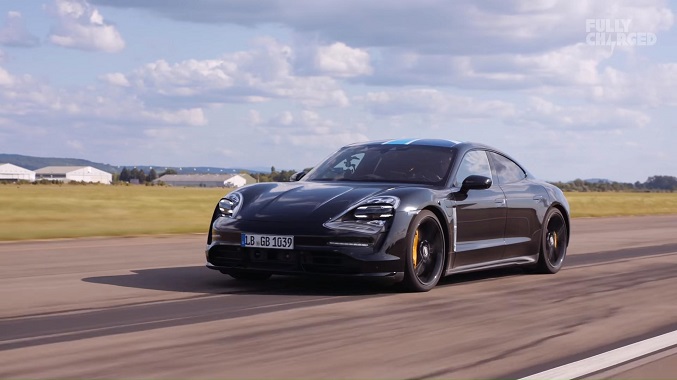 Image: Fully Charged
We've all heard about Teslas being able to achieve mind-blowing launches in Ludicrous Mode thanks to their ground-pounding (or rather, ground-whirring?) torque figures. Porsche has come out and said that their new EV, the Taycan, can do these launches repeatedly, and as many as 30 of them in a row (this can't be good for a driver's internal organs).
This was first brought to our attention a few days ago in an article on Electrek, where they link to the following video of Fifth Gear presenter and Smith And Sniff co-host Jonny Smith on the Fully Charged YouTube channel doing a little demo with die Stuttgarter Stromlimousine:
Sure enough, just yesterday, a Tesla Model 3 Performance owner posted a video claiming he could do 31 consecutive launches with his beloved Bay Area steed, which also came across our desk via Eletrek:
This is all fun and interesting, though while the Porsche jumped to 124 mph in each of its launches, the Model 3 was only unleashed up to 60 mph. There's a bit of data discrepancy there as these are vastly different speeds. Still, its fun to check out both videos and then follow up with a bit of research into each car's development and figures.
What are your thoughts on the new Taycan vs. the Model 3 Performance? Will the pride of the San Jose area and the pride of Stuttgart be well-matched rivals, or is this feud as mis-aligned as an early Model S' panels?