Driven: We Drive the 2009 Acura TL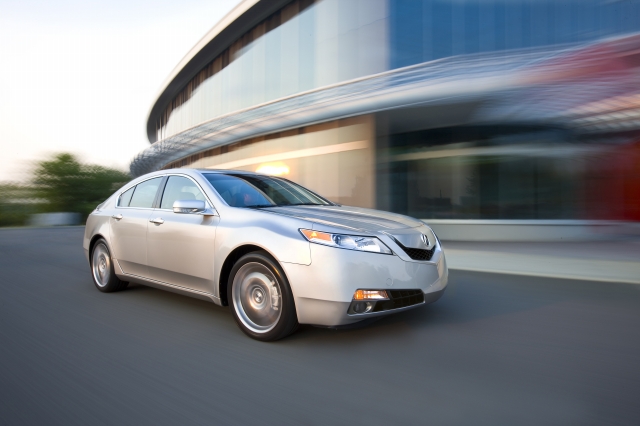 Turns out we didn't have to wait very long to post our full review of the 2009 Acura TL, as a certain trigger-happy site has gone ahead with publishing theirs. Never ones to be last to the party, you'll find our take below.
—Danbury, Connecticut
Before we had even spent one minute behind the wheel of Acura's new-for-2009 TL sedan, we could already pick out the feature that will ultimately divide shoppers into potential buyers and those who will choose to look elsewhere: the in-your-face grille.
Seen in similar trim on its MDX and RDX crossovers and forthcoming RL sedan, the TL sports a prodigious and impossible-to-miss punim. The shield-shaped item is actually rendered in a rather hip satin chrome finish, but is so ostentatious that to call it "polarizing" would be a bit of a soft-sell. Acura claims that it would rather sell cars that are distinctive and recognizable than those that blend into the woodwork, but the fact of the matter is that the grille will be the first hurdle most buyers will have to overcome before the car is considered at all.
That large issue dealt with, the TL is actually a pretty shapely vehicle. Acura calls its design language "Motion Surface," and the artfully bent body panels do a fine job of conveying a fluid sense of movement from most angles. The sharp and interesting lines help to set the car apart from its premium sedan competition, and blend seamlessly with an interior that is both forward-thinking and quite high tech.
Acura has gone to considerable effort to create a car that works very well for the needs of the traditional sports sedan buyer, but in rather untraditional ways. This is not a BMW 3-series, nor is it intended to be. BMW's fabled middle-child has been so consistently good, for such a long period of time that people in general (and automotive journalists in particular) sometimes lose sight of the fact that there are other ways to build a sporting near-luxury sedan. Pleasant ways.
For its part Acura has taken two very distinct routes to get to its sedan done, with a pair of trim levels that might as well be different vehicles. The standard TL is the front-wheel-drive version of the car, with a slightly less powerful engine. Trim number two is the TL's first application of Acura's Super Handling All-Wheel Drive (SH-AWD), coming equipped with a higher specification of overall interior fit-and-finish as well. Both cars are good to drive, but we'll go ahead and spill the beans right now—there's no question that the SH-AWD is the one we would buy.
In Super Handling All-Wheel-Drive spec, the TL had far more grip than we were able to fully explore on the excellent, winding, and sometimes fast roads we found running through pastoral New York and Connecticut. Even on the speediest of these tree-lined sweepers, there was no shaking the Acura's hold on the road despite our best efforts to fling the car into corners as ruthlessly as possible. This AWD system made its debut in 2005 on the RL, impressing with its ability to split torque as needed not only between the front and rear axles, but also between left and right wheels.
That sophisticated application of power has obvious advantages on the road, but it was also behind a slightly dangerous game we found ourselves playing while heading into attractive corners. Acura provides a display which shows exactly how much of the torque load is being diverted to any given wheel at a moment in time. The torque registers visually by lighting up a series of bars (not unlike those that a cell phone uses to convey signal power information) next to a diagram of the four wheels, meaning that the harder you push the TL into a bend, the more bars you are rewarded with. After an afternoon filled with such hijinks, some of the Acura brass was left wondering aloud how the addicting display had made it past the legal department.
Said display joins a wealth of additional technology inside the TL's cabin, most of which is accessible through a well-design (if button-heavy) central control binnacle. Luckily the vast amount of switchgear is nicely segmented by purpose, allowing even a TL novice to delineate HVAC controls from those that operate the audio system or others. Acura has also upgraded its already good voice command system, installing a pair of directional microphones that allow one to cycle through digital functions with ease.
The 2009 TL will be made available with two engines to start, a 3.5-liter V-6 with 280 horsepower for the front-drive base car, and a 3.7-liter, 305-horsepower V-6 for the SH-AWD. Both powerplants are effective and appropriate in their respective engine bays—and equally well-presented with Acura's unique "shadow box" engine surround—but the larger six found in the SH car is clearly the top pick. The 3.7-liter is obviously more powerful, but it's also equally clean with its ULEV status, only marginally less efficient (17/24 miles per gallon rating from the EPA versus 18/26 for the smaller 3.5), and sounds worlds better through a freer exhaust system.
The base six-cylinder also suffers from a lack of the same sort of synergy enjoyed by the SH-AWD and its motivator. The standard TL's engine feels just a sliver underpowered when aggressively accelerating from a standstill, and yet seems to overwhelm the front-drive chassis when really pushed in the bends. This dual personality doesn't completely show its head unless the car is being asked into the upper quarter of its performance envelope, though, and is doubtlessly the result of the TL being a bit on the porky side while trying to get away with front-driven wheels only.
It would be wrong to leave you with the implication that the base TL is in anyway a bad car, as it certainly is not. The base TL will offer most of the style, performance, and technology that we found so compelling in the SH-AWD, and at a price closer to the bottom of the speculative $34,000 to $42,000 range we were given by Acura. But as a truly interesting alternative to the best sports sedans on sale today—and we mean all of them—the TL SH-AWD is head, shoulders, and even a nose ahead.