Driven: Ford's 5.0-Liter V-8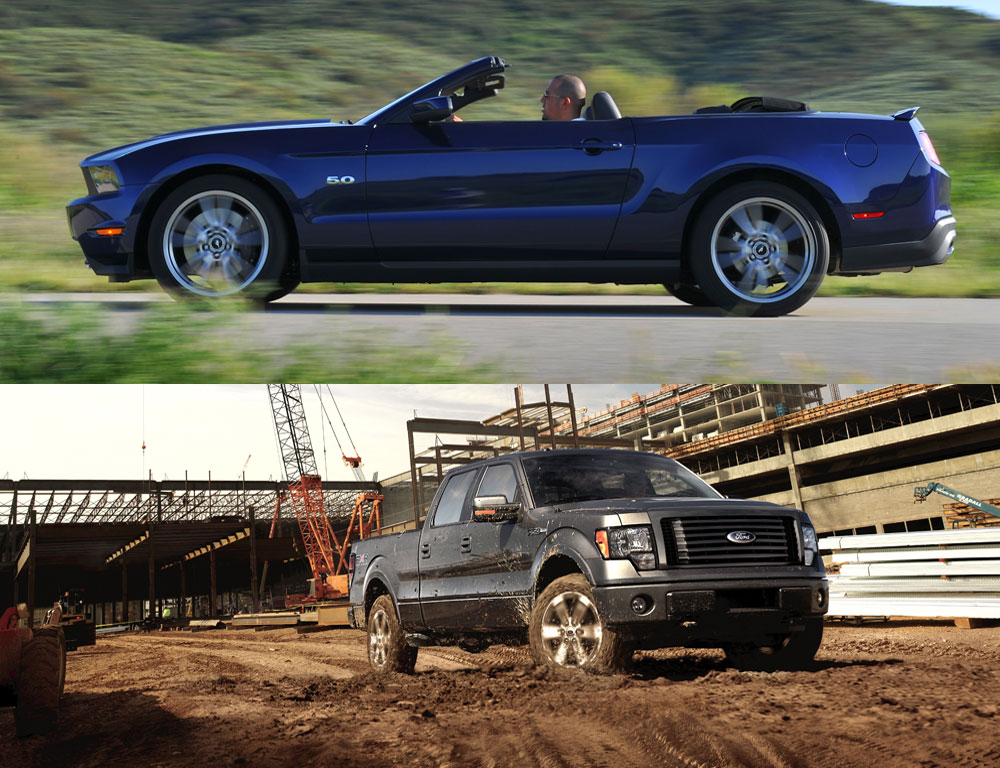 Occasionally, we have quirks in our vehicle loan schedule that, while giving our Fleet Manager (yours truly) gray hairs, result in some really awesome testing situations. Such was the case a few weeks back, when we had one-week loans in Ford's F-150 and Mustang GT. While these two cars are about as radically different as possible, both share the same beating heart: an awesome 5.0-liter V-8.
In the case of the Mustang, the 5.0 generates 412 horsepower and 390 pound-feet of torque. All that thrust comes on at 6500 rpm and 4250 rpm respectively, with the redline sitting at 7000 rpm. The F-150, on the other hand, produces 360 horsepower and 380 pound-feet of torque. Peak horsepower comes on at a lower 5500 rpm, while the torque peak happens at an identical 4250 rpm.
In terms of mechanical differences, there are a few notable ones. Many of the F-150's internals are strengthened to handle the stresses of towing, including the block, cylinder heads, crank, and oil cooler. Retuned camshafts, a composite intake manifold, and a lower compression ratio serve to increase low-end torque while reducing knock.
While the mechanical differences may seem subtle, the characters of these two engines couldn't be any different. The Mustang, befitting of a performance car, revved far more freely, charging towards its 7000-rpm redline with abandon. It seemed happiest in the middle of the rev range, where it could easily throw you back in your seat as it approached its power peak.
The F-150, on the other hand, was all about taking off from a standstill. The low end of the 5.0 is rich in torque, but it seemed to taper off rather abruptly north of the torque peak. Despite the F-150's lower horsepower numbers, we found the acceleration from our big blue truck to be surprisingly brisk.
While the exhaust note of the Mustang was classic, deep, burly muscle car, it tended to sound a bit peaky in the higher part of the rev range. The F-150, though, sounded best north of 3500 rpm, with a harder-charging sound as we accelerated up the rev range. We know that Ford pipes exhaust noise into the cabin of the Mustang, increasing the acoustic experience of acceleration. But, after our drive of the F-150, we wouldn't be surprised to find out if the same thing was going on.
Despite serving hugely different purposes, the 5.0 felt equally at home regardless of vehicle. We enjoyed the muscle car goodness on offer with the Mustang, but at the end of the day, it was the F-150 that proved to be the biggest surprise. It delivered a sporting character that we wouldn't have expected from a truck, but should have expected from a 5.0.