Driven: BMW i3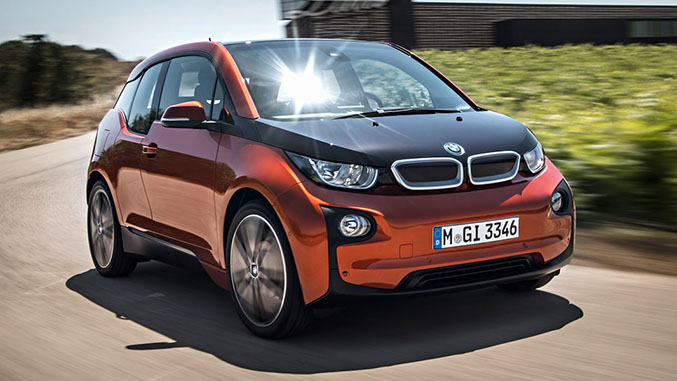 We are in the midst of a season of somewhat confusing electric vehicle launches. The confusion stems from the way these recent and upcoming EVs challenge conventional thinking about the value proposition for new cars.
Take the BMW i3. It is a $45,000 sub-compact EV. That means the i3 is a $45,000 car that is smaller than a Nissan Versa Note, which is a $15,000 car. The i3 isn't particularly fast, going from 0-60 in 7 seconds. Like most EVs, it is range-challenged, with BMW quoting range from 70 to 110 miles on a full charge, depending on driving style and conditions. And, from the perspective of automotive tradition, it looks weird.
So, what's the deal? If all you want to understand is why cars like this exist in the US, you need look no further than the current EPA regulations that apply through 2016 and the next round that apply through 2025. Basically, carmakers have to devise ways to deliver increasing fuel mileage (mid-30 mpg averages for cars) in an environment of slowly rising fuel prices that are not much of a deterrent to demand for large, comfortable and thirsty vehicles.
Some automakers are creating special super-high mileage cars that can help their EPA averages. These cars also allow the OEMs to get experience with the technologies needed for higher efficiency. The BMW i3 is such a car.
Of course, someone has to buy these cars – it isn't enough for the automakers to just produce them. So, why would anyone buy a car like the i3?
After a test drive in an i3, we think there are several reasons. First of all, EVs like the i3 are fun to drive, especially in cities. Off the line acceleration is very snappy and because the car doesn't have a torque converter or gears to shift, throttle response is immediate at any normal speed. Steering on the i3 is pleasantly quick, and when you combine that with decent roll control for a tall car, the i3 feels nimble and sporty. Because the car is taller than most, with an upright driving position, you see a little better than you do in normal sedans. The visibility through the ample glass is quite good and the size of the car increases your confidence in the cut-and-thrust of city driving.
You could get this driving position, or an even higher one, in a small SUV. Which brings us to our second virtue of the i3. It isn't an SUV. If you are environmentally sensitive, an SUV is just the wrong kind of car, like steak is the wrong food to serve at a vegetarian picnic. But the i3 has a related virtue, which is that it is a BMW. So while it is small and efficient, it obviously isn't an economy car, with the resulting impact on one's social life that bottom-feeding might have.
We think the styling of the car reinforces the statement that the i3 makes. If you come from the school that thinks the Aston-Martin Vanquish or Bentley Continental are good-looking cars, the i3 may seem odd. But if you come from the camp that thinks that trains are superior to cars, then you'd like a car that doesn't look like a car and you end up with the i3 or something like it. The fabrics and the wood inside the i3 reinforce this positioning, with a somewhat more residential than automotive feel.
The i3 is also a small car with impressively good packaging. The rear seat, thanks to the tall hip-point and lack of a b pillar, is pretty easy to get into. And there is ample headroom and surprising legroom for a car barely longer than a Mini Cooper. The rear seats fold flat, revealing a very useful 12 cubic foot storage area (again, that 62" roof height helps). If you are a city-dweller, particularly one who doesn't revere cars, the small size is a boon, but who wants to give up passenger or storage capacity? With the i3, you can, to a degree, have it all. It isn't a Suburban, certainly, but for singles it strikes a nice balance.
For the city person, the range may not be a problem. But if it is, BMW offers a range-extender that increases range to around 170 miles (roughly double). This consists of the 650cc two-cylinder gasoline engine (BMW does have a motorcycle division, after all) with a 2 gallon gas tank, running a generator. Like the Chevrolet Volt, you can "recharge" the i3 by stopping at a gas station.
So, there you have it: environmentally correct, fun to drive, small but useful, stylish in a particular way, with an acceptable logo on the hood. It is hard to name another car that does all that for less. A few thousand people, or perhaps more, might buy that.