Driven: Ariel Atom V8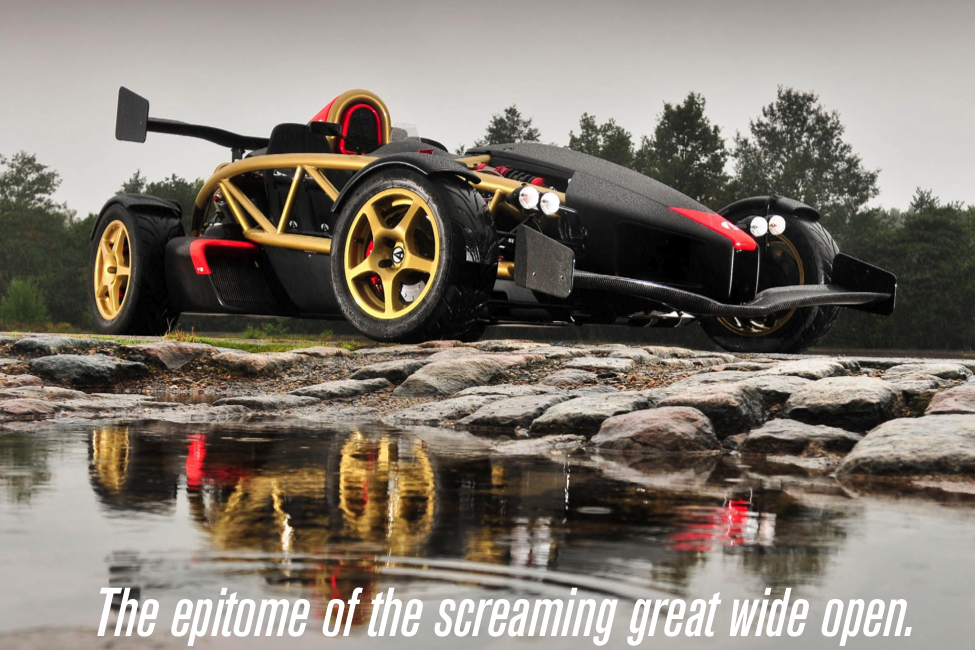 We get so accustomed to being shielded from the elements when we test any extreme high-performance car that driving something like the 296-horsepower Ariel Atom Gen-3 is akin to being strapped into an X-Games rollercoaster for an hour. And then there's the soon-to-drop 469-horse-power Ariel Atom V8, which seemingly defies comparisons—and which we just had for a day all to ourselves at the track over in that country that has a queen and uses some bastardized form of the American language.
Our day with the effervescent mega-Atom was a grey one, but nothing could dull our spirits in this sensational land dart. And in a few dry patches, the featherweight absolutely devoured the tarmac of the 2.2-mile circuit at Chobham, southwest of London, striving always to show us what it is capable of. That said, even in the wet the Atom V8 is a monstrous joy at the old game of point-and-go.
With a gross curb weight of just 1433 pounds with all fluids flowing and one of us aboard, the significance of 469 horsepower on tap at the 10,500-rpm redline begins to clarify. Torque is 268 pound-feet at 7750 rpm. You simply know it's going to take a few laps to get into the rhythm of this parallel universe. The Atom V8 has a power-per-ton ratio close to that of the 765-horsepower per ton of today's GP2 series single-seat racers, greater than that of a Ferrari Enzo, and even beyond that of the 1001-horsepower Bugatti Veyron. But the latter two have roofs and body panels and a whole assortment of other day-to-day doo-dads.
A few laps in, the exposure to the elements becomes purely exhilarating as we search eagerly for the five-figure redline. Fastest speed on this day was 145 miles per hour along the Chobham circuit's longest straight (of the 170 mph allowed in this, the Road setup for the car) and that just barely into fifth gear of the six-speed, paddle-shifted Sadev sequential competition gearbox. The shifts themselves happen faster and smoother than ticks of a stopwatch—40-millisecond upshifts and 50-millisecond downshifts.
The reflexes of the Atom V8 are incomparable to anything else allowed on the road. The steering rack—which can be easily mounted on the left or the right since the main shaft is in plain sight and attaches to the axle at the direct center—provides a lock-to-lock of just 1.7 turns. The closest we can come to this big bad go-kart sensation is the Lotus 2-Eleven that also offers a road tune. But the Lotus really can't even come close to the naturally aspirated, 3.0-liter, 75-degree H1 V-8 engine (supplied by Hartley Enterprises in southeastern Wisconsin), once all is said and done. And any Caterham, apart from the two-seat Levante with a 500-plus-horsepower Russell Savory Performance RST-V8 that gets supercharged, is going to have a heck of a time keeping within eyeshot.
Originally, the plan was to load the engine bay with an even more compact 2.4-liter super- charged RST-V-8 from RS Performance, but the Ariel technicians tell us that you basically had to start out—especially on the street—in second gear to avoid spinouts and/or burnouts at every turn.
This would not do at all. There was only one moment in particular coming onto the circuit's main straight where we opened the throttle in third gear a little too soon over the sweaty pavement and occasional chestnut purée, and oversteer ensued. We counter-steered quickly and stayed light on the throttle, and everything righted itself immediately. And then we were back on it. No telling what would have happened with the 493-horsepower/284-pound-feet/200-mph Race version of the Atom V8.
The road tires—Toyo Proxes R888 205/50 ZR15 (86W) front, and 245/45 ZR16 (94W) rear—stuck close plenty well all day, with very limited traction control intervention happening. And in the dry, you can switch off traction control altogether. Yee-haw!
A new touch is the five-point seatbelts (suitably logo-ed, of course) which kept us socked into the fiberglass two-seat molded form. From here, the sound of the laterally rear-mounted, compact V-8 through the race-ready, ceramic-coated exhaust gives us the feeling that one of the engine mounting points must be the base of our spine. Responses of the powertrain and drivetrain both are that brain-synapse quick. A 2.3-second time to accelerate from 0 to 60 mph tells no lies. And make that 5.4 seconds to 100 mph.
After a whole series of thoroughly intoxicating and blindingly quick 2.2-mile laps—and this in the damp—we were purely envious of the 25 lucky owners-to-be once deliveries begin of the Atom V8 in early 2011. Not only do they get a specially gold powder-coated cagey racer, but they get a thrill ride without compare at this level of engineering commitment and joy addiction. There are just two Atom V8s of the 25 which have yet to be pre-sold at roughly $190,000, so get on it!
Between mastering the launch into first gear and then indulging in the over-2500-rpm clutchless upshifts and downshifts that are possible and encouraged, it takes nearly no time at all to crack a broad smile. On most of our laps—at least those in which we executed the line between and through curves correctly—we never even touched the outstanding Alcon competition brakes.
The racing pushrod suspension system uses three-way adjustable dampers and four-setting adjustable springs. Also, the normally optional (on the supercharged four-cylinder Atom 3) front and rear carbon fiber airfoils are standard here. That front foil is adjustable within a 12-degree range, and the rear within a 16-degree range. You know when Formula car drivers spout on about the various downforce levels needed for a specific track? Driving the Atom V8, you suddenly understand all of that, and how delicate a science it becomes at these speeds and this lightness. After the Atom V8, we need an adjustment to our expectations of a high-performance car.
Getting in a cocoon-like SLS AMG Mercedes and hitting the track is thrilling, to be sure, but doing the same in this absolutely visceral rocket pod is an entirely new matter. Equipping yourself with a proper full-face helmet is our only significant piece of advice with regards to compensating for the swiftly passing outside world of the Atom V8 experience.
Soon after our drive in 2007 of the American-built (and adapted for higher torque output) version of the Ariel Atom Gen 2 that used a then-supercharged 205-horsepower and 210-pound-feet, 2.0-liter four-cylinder borrowed from the Chevy Cobalt SS and Saturn Ion Red Line, the builders in Oregon, Brammo Motorsports, ceased this activity to focus on their high-performance electric motorcycle projects. Since the start of 2008, the contract to build Atoms in North America has been with TMI AutoTech in Virginia. TMI started immediately building the latest Atom 3 with a 2.0-liter supercharged Honda engine from the Civic Type R sold overseas. TMI will also handle any Atom V8 deliveries and service Stateside, though all V8's will be UK-built. This is the epitome of the screaming great wide open in every sense.