Driven: 2019 Hyundai Veloster N — The Perfect FWD All-Rounder For Enthusiasts?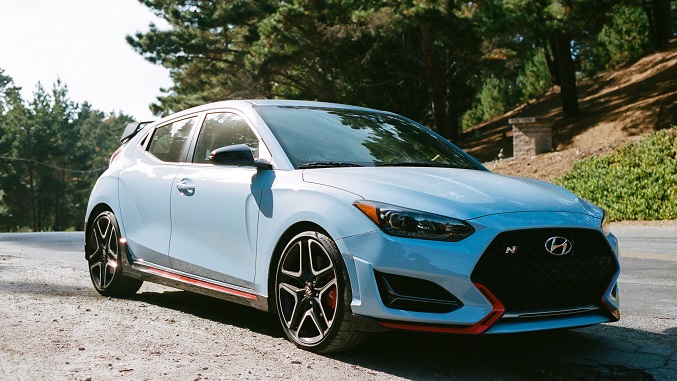 They say the "N" in the new Hyundai Veloster N is to signify the first letter in Hyundai's two performance R&D facilities: Namyang and the Nürburgring (that's right, they've set up shop just down the street from the legendary German circuit). Or wait, is it the next letter after "M"; signifying that Albert Biermann, N Division's president, started a new chapter with Hyundai after his successful tenure at BMW's M Division? Or, is it because the N as a logo looks like a section of racetrack?
The newly-introduced to the US market "N" is actually rooted in two of the three: signifying Namyang and the Nürburgring, as well as a shape that's inspired by the curves of a racetrack. The latter is quite fitting; if there's one quick, simple way to describe driving the 2019 Hyundai Veloster N, it's that this powerful little hot hatch would be an absolute blast through such a section of track.
The 2019 Veloster N starts at $26,900 with the optional Performance Package tacking on an additional $2,100. The model we tested was spec'd exactly this way; we strongly recommend that anyone interested in one should opt for it this way. This includes 19" wheels, 235/35/19 Pirelli P Zeros, 25 more horsepower, Hyundai's N Corner Carving Differential (their electronically controlled, mechanical limited-slip differential), a variable exhaust system, and huge 13.6-inch front and 12.4-inch rear brake rotors. The amount of value in the slightly-above-two-grand additional price tag is quite immense; enthusiasts would be hard pressed to mimic this in the aftermarket for cheaper, and in no way mess with Hyundai's legendary 100,000 mile warranty.
Thanks to Hyundai we had an entire week with an N in gorgeous Performance Blue, which included a 700-mile weekend trip from Long Beach to Monterey, California and back. We know we're the last on the block to review it, but why not have the WR take on it? Here's why after nearly 1,000 miles inside of 6 days, it does a great job at checking all of the fun-to-drive boxes.
The Engine: More Than Just Fun Power, Fun Delivery As Well
Being a turbocharged hot hatch, the Veloster's powerband ought to be covered first, because there are a lot of good things to talk about. The engine under the hood is Hyundai's Theta 2.0 T-GDi 4-cylinder, and is sourced from other fast vehicles in the South Korean manufacturer's fleet: the i30N (currently only offered abroad), Genesis G70, and Kia Stinger. Equipped with a twin-scroll turbocharger, it's a lively one: there's as much 275 horsepower and 260 lb. feet of torque at the right foot's disposal, and pretty low on the tachometer. The N has plenty of power to swiftly pull its large, 3090 4-door-hatch-self off the line; some sources have reported a flat 6 seconds to reach 60 MPH, though right under 7 seconds is quite attainable on any on-ramp without thrashing the drivetrain.
We're happy to report that the power comes on like a traditional turbo engine. There is a noticeable shove when the revs climb above 3,000 RPM, and while torque peaks around 4,000, it continues to pull really well until redline. In recent years, it seems as though manufacturers have been putting a lot of emphasis on V-8-like power curves with their small, turbo 4-cylinder engines, particularly in the Fiesta ST and VW GTI. This isn't necessarily a bad thing, but turbo power is often more fun when there's spooling involved; feeling the torque push your shoulders back as the revs quickly jump always induces a large smile in the N.
There are 5 different modes to quickly switch between in the N, but a bit more on those later. The variable exhaust system changes according to which mode the car is in: Normal, Sport, Eco, N, or N Custom. Normal and Eco are understandably the quietest and have the least amount of burbling, Sport is a nice middle-ground, N is a bit more aggressive, and N Custom can be customized to be any of the former. The speaker-magnified, baritone growl in Sport and N modes is absolutely excellent for a modern, factory performance car. Naturally, being WindingRoad.com, we kept it in these modes the most.
Tthat's correct, burbling occurs in the exhaust and we really get a kick out of it. Depending on the aggression of the mode, the exhaust will burble, crackle, pop, or bang, or all four, in between shifts and when you lift off the throttle. It is quite similar to systems found in high-end sports cars like the Jaguar F-Type, except this is a hot hatch that retails for far less. Just like higher-priced sports cars, the ability to quiet it down or open it up is just a push of a button at any RPM or speed. This is handy for livening up one's commute home with some loud pops and crackles, then toning it down so your neighborhood can enjoy a peaceful evening after work. Unless it's a neighborhood where people don't say good morning back – then keep it in loud mode.
The burbles and crackles aren't just a fun, giggle-inducing party trick, either: it's actually a form of anti-lag in N mode as well. This TCR racecar-sounding afterburn is achieved by retarding ignition timing; by having the air/fuel mixture ignite after top dead center when the throttle lifts, it keeps the turbo spinning. Then, once the next gear is selected and the right pedal is shoved, power comes on faster. It almost feels like a mild boost-by-gear tune – again, strong marks for Hyundai investing this kind of development in the fun to drive as category. We're wondering if injecting unburnt fuel into the combustion chamber will also help reduce carbon buildup, a common trait among direct injection engines – only time will tell.
In case the exhaust's aural sensation isn't enough to expand one's pupils, there are also nicely placed lights in the dash between the speedometer and tachometer to indicate the revs climbing to redline, which flash when the next gear is selected. This is a nice touch that adds to the whole experience.
To dive a bit deeper into the various modes, several other characteristics change quite a bit depending on which one the Veloster N is in. This immensely adds to its versatility in being an awesome daily driver, highway cruiser, canyon carver, and track day beast. Drivers can go from a soft and fairly benign highway cruiser to TCR racer-wannabe with just three taps of the checkered flag button on the steering wheel. Things like the differential, suspension, exhaust tone, throttle sharpness, and steering weight can all be changed so quickly, and when N Custom is selected, drivers can find their perfect blend of it all. It's even possible to crank everything up to taught, angry little racecar, and also kill traction control and brake assist for a more analogue-feeling experience.
Fuel mileage was very good for a high-strung, 3050-or-so lb. hatchback. We saw similar numbers to the published 22 miles per gallon in city driving, 28 on the highway, and 25 in mixed driving. Though since its so fun to drive, it can be awfully hard to reach that 25 MPG in mixed driving. With an open, nearly-empty highway in front of us, we were able to actually exceed 28 MPG while cruising in 6th gear and the cruise control set around 70 MPH. The torque band was also the gift that kept on giving; it had enough acceleration in 6th to get around lumbering semi trucks with ease.
Suspension And Handling
When Sport and N modes are selected the ride and handling are quite good. Even when set to fully stiff in N Custom, we'd liken the ride to any FWD hatchback with a set of nicely-setup, stiff coilovers; it stays glued down, and a lot of tarmac's surface is translated to the driver, but the sharp imperfections are ironed out nicely. In Eco and Normal it rides soft-yet-mildly-sporty, like a VW Golf or Mazda3. In Sport it's more GTI-like, and in N like a GTI with good coilovers. N is not for the faint of heart (or perturbed significant others in the passenger seat) on bumpy streets, but enthusiasts will certainly appreciate it.
Handling is improved further with revised sway bars. The Veloster N receives a thicker rear sway bar in the rear, and thinner front sway bar in the front over lower-tier models; a classic hatchback tuning formula when stiffer dampers and springs are mounted up. The suspension is full multilink in the rear and MacPherson in the front; further contributing to the N's excellent grip, great ride, and higher-speed stability. Body roll is virtually non-existent in N Mode, at least we did not have the chance to seek it out. Its existence is possible, but probably only while sailing along at track-only cornering speeds; memories of Buttonwillow's Riverside come to mind, as do Turns Nine and Ten at Laguna Seca.
The Performance Package includes a nice-looking set of 19" wheels with 235/35R19 Pirelli P-Zero tires, which were specifically developed for the N. They provide excellent grip in all forms of street driving in Southern California, have a stiffer-than-average sidewall being a Max Performance Summer, around 220 treadwear tire, and don't make much noise. Though, this could be due to the Veloster's well-insulated cabin. Like we stated above, the suspension can be tuned pretty extensively, but unfortunately that does not mask the very-thin-sidewall'd tires crashing over separations and other imperfections in the road.
There were definitely some hair raising moments driving through Los Angeles' and Long Beach's rougher streets on the Pirellis, but luckily we didn't bend any wheels or blow out any sidewalls. These tiny moments of panic come with the territory of today's trend of rubber band-like tires, so it isn't necessarily Hyundai's fault. However, if given the choice, we would've opted for 18" wheels and slightly more sidewall like those equipped on the non-Performance Package N for a bit more insurance and a tad better ride quality. Extra caution also must be taken while parallel-parking; there is no margin for error when the edge of the wheel is nearing the curb, though the N's excellent backup camera provides some relief.
Being Winding Road, a nice set of lighter-weight aftermarket wheels wrapped in tires with a bit more sidewall and a sub-200 treadwear rating would be our first investment. Not just to improve upon the car's already excellent grip, but to also get all of the engine's 260 lb. feet of torque to the wheels more efficiently, and be a sigh of relief over sun-, Prius-, and semi-truck-thrashed LA streets.
Gearbox, Differential, And Brakes
Sending power to the front wheels is done thankfully via a 6-speed manual transaxle. It's good to see Hyundai doing its part to keep manuals on the road for enthusiasts. Dual clutches are fun and fast, but three pedals are always better than two. The shifter is good: not too vague, good weight, is sprung well, and the throw is on-par with other performance vehicles from the factory. There isn't much real estate in between the gears, either. It doesn't feel very notchy, which occasionally led to some rooting around while downshifting from 5th to 4th gear, but as we got more used to it that went away. The N is also equipped with auto rev-matching, making spirited downshifts a bit easier. This is easily defeat-able with its own dedicated button on the steering wheel, but we chose to leave it on because it's actually quite good.
We're not sure if this has to do with auto rev-match, or just the way the ECU is tuned, but coming off the clutch in 1st gear in traffic, without using the gas, is exceptionally easy. On our own cars we have to be very tender with the clutch if we're going to slug along in traffic without the gas pedal. But it's actually quite easy to do with the N, which makes it quite possibly the best manual car to have if you spend a lot of time in traffic. We sure do here in Southern California.
Operating the clutch was not the N's strong suit. The take-up is awkward, there is quite a lot of travel, and the spring is very strong. It took a while to get used to where the take-up point is, though with quite a bit of driving around we did much better at accomplishing smooth clutch- and gas-pedal exchanges. Though, like other aspects of the N, this isn't necessarily a bad thing as all manufacturers are at least a tad different than eachother in this department. We're used to lighter, shorter-travel Mazda clutches, and this was more German performance car-like; perhaps thanks again to Biermann engineering.
To get bit more specific about the drivetrain, the Veloster's electronically controlled limited-slip differential (the N Corner Carving Differential) does wonders for grip and, well, carving through corners. Whether the aim is to get up to speed quickly from a stop light, or pull the car out of a tight corner on a spirited drive, it puts the power down nicely and torque steer is almost entirely dialed out. Albert Biermann has been quoted by several outlets saying engineers could've cleaned all of the torque steer up, but its just a tad less fun that way. We agree: it reminds the driver that this thing is a torque monster. While taking long, slight off-camber lefts at speed, the N's nose stays pointed where you want it to be under acceleration. It's pretty easy to upset the front end and induce a little power understeer with a jab of the throttle, but only if that's the goal. Yet another fun way to make use of all 260 lb. feet of torque. Though when driven with a bit more precision understeer is almost entirely eliminated. Someday, we'd love to find out how that translates to the track.
We'd have no doubt it would brake quite well on track, too. With the Performance Package-equipped 13.6-inch front and 12.4-inch rear rotors and performance brake pads, the N had excellent braking power on the street in spirited driving with very good pedal modulation. At first they seem a bit grabby, but they're easy to get used to. Brake assist is also a default setting that can be turned off in N Custom, though we didn't notice much difference between it being turned on or off. Aesthetically, the brakes with their red calipers look great with the 19" alloys, and fill out the wheel well quite nicely.
Interior And Ergonomics
Interior-wise the dimensions are good for a hatchback. There is plenty of leg room for even the lankiest of drivers, the steering wheel moves up and down and is telescopic, and has an absolutely excellent feel for a factory wheel. The shifter is in a good position, and the cockpit just feels like a nice place to sit in. It's slightly more cavernous which we dig, and the door sill is at a good height with a substantial door card, making it an excellent sunny day Pacific Coast Highway cruiser. One gripe we had, is we weren't able to lower the driver seat much. The passenger seat was able to drop down quite a bit, but for drivers who are around 6'3" with long legs and a long torso, the line of sight through the windshield was a bit high. The N has plenty of headroom, but due to the way the roof meets the top of the windshield at an angle, tall folks of a similar build might have to lower their heads a bit more than usual to peer up at traffic lights and signage. Though, visibility in general was good, with the standard downsides of modern hatchbacks present: huge a- and c-pillars. A lot of modern compact cars have longer hoods to comply with modern safety regulations, and the N is no exception. Though, the way the hood tapers down on the N is great; it improves visibility, knowing it's dimensions while parallel arking, and of course its looks.
Backseat room was fair; it would be hard to fit 2 tall adults in the back comfortably, but then again its tough in almost any hot hatch that isn't a true 5-door. That's right: like the previous-gen Veloster, this is a 4-door hatchback with one driver's side door, 2 passenger-side doors, and the hatch. We think this is brilliant; any tall driver who loathes having to exit the vehicle to let passengers in the back can simply say "go in on the other side there's a whole door for you." The design language helps hide the 3rd door well, too; it photographs nicely from any angle thanks to the door handle being hidden up in the c-pillar.
Trunk space is very good as well, on-par with today's compact hatch market. With just about 20 cubic feet available with the rear seats up and as much as 44.5 cubic feet with them down, that timeless benefit of hauling versatility with hatchbacks is not lost on the Veloster. The standard cargo space is big enough without dropping the rear seats for two adults with a tendancy to over-pack for a weekend getaway. While we didn't get the opportunity to haul anything with the seats down, we have no doubt that a carefully-packed set of 18" wheels and tires for the track would fit without much issue. The only downside would be tossing them in and hoisting them out: the hatch opening is a bit narrower than the cargo area, so un-protected contents would scratch and mark up the trim pretty significantly. And provide an upper body workout that would make your crossfit-loving friends jealous.
Almost all of the materials inside the Veloster N are on-par for it's price range, though some are a step up over the competition. The seats are excellent; they provide good bolstering, easy ingress and egress, and the best one can get this side of an OEM Recaro. The dash materials are smartly designed in that every surface occupants will touch the most feels substantial, not light and cheap-feeling plastics. The door sills are a harder plastic, as is the top of the dash, everything else feels good, especially the shifter and center console. The swanky blue seatbelts that match the body color are a really nice touch as well!
The door handles are surprisingly quite nice both inside and out. It makes us wonder if Albert Biermann, despite being on the performance-end of development, opened and closed the doors during development at the 'Ring, and promptly demanded they mimic those of a BMW M3. The doors have a nice, substantial thud when you close them, too, which is a far cry from what we often experience in both standard hatchbacks and mild performance cars.
The N's infotainment and HVAC systems are a massive step above the standard hatchbacks as well. We can be luddites when it comes to modern stereo, sat nav, and HVAC controls, but those in the Veloster in no way became frustrating. Occasionally the screens would lag slightly when moving between Apple CarPlay and the radio, but not to the point of impatient, aggressive taps on the screen and pejoratives. In fact, the screen was much quicker to use and sensitive to the touch than other infotainment systems we've used before, and thankfully a lot of crucial controls are still actuated by good ol' fashion knob and button.
A Solid Thumb's Up
Driving the Veloster N is a comprehensive, all-around fun experience; we'd recommend any enthusiast consider one when they're shopping for their next daily, weekender, track car, or something that's all of the above. It can go from a toned-down, comfortable, and jovial-sounding daily cruiser in Eco mode, then with a couple taps of a button on the steering wheel, become a taught, angry, corner-devouring, ready-to-lunge-off-the-line little beast. Even in the more normie-friendly modes, you don't forget that it's designed to be a fun car, too, thanks to its seating position, steering and shifter inputs, and very faint burble in the exhaust. Hyundai did an excellent job and it's no surprise that other reviewers have given the N similar praise. We're itching to find out what a good alignment, stickier tires, and a few sessions on one of our favorite tracks would be like; most likely sublime.
Check out our POV video!