Driven: 2016 Cadillac ATS-V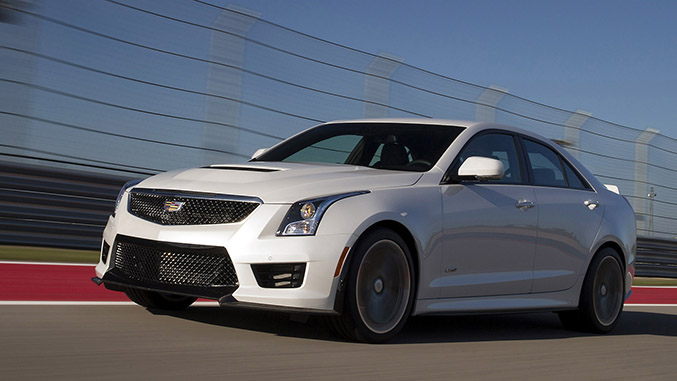 GM's luxury brand has made it a cornerstone of their mission as a company to beat the Europeans at their own game, and those marching orders continue with their latest V-Series offering. The segment is a hotly contested one filled with worthy contenders – from Audi we've got the RS5, Mercedes-AMG has the new C63, and BMW, the company that defined this segment in the first place, has a new M3/M4.
But Cadillac hasn't been one to back down from a challenge, and the last full-blooded V-series vehicle in their roster, the second generation CTS-V, proved that the company was a force to be reckoned with when the car broke the 8 minute barrier around the Nurburgring and captured the production sedan lap record from the Germans upon its release in 2008. And despite being down nearly 100 horsepower from that car, Cadillac says the ATS-V is faster around the track – a lot faster. So we headed out to Willow Springs International Raceway to find out for ourselves.
What's the idea behind the Cadillac ATS-V?
When we drove the standard ATS sedan and coupe last year we found a lot to like about Cadillac's new smaller, nimbler platform, one which clearly showed a lot of attention to detail in terms of driving dynamics, but from a packaging standpoint, leaned more heavily on the luxury side of the equation than sport in comparison to other cars in its competitive set, and we looked forward to seeing how the car would perform after Cadillac's V-Series engineers had their way with it.
+ WR TV POV Test Drive – 2016 Cadillac ATS-V Coupe 6MT
The results are subtle in some ways, and utterly transformative in others. In terms of the latter, the ATS-V now sports a twin turbocharged, direct injected V6 that belts out 464 horsepower and 445 pound-feet of torque, up a whopping 262 horsepower and 173 pound-feet from that of a base four cylinder ATS. Helping reign in all that newfound grunt is a set a six-piston Brembo brakes up front and four-piston units in back, while a heavily revised suspension that features third-generation Magnetic Ride Control helps keep the car planted in the corners.
This, combined with structural reinforcements that increase rigidity by 25 percent, bolstered aero, grippier rubber and a host of advanced performance technologies derived from the Corvette and Camaro programs equates to a comprehensive package that's just as comfortable dispatching Turn 5 at Big Willow as it is pulling up to the valet at Spago.
How does the drivetrain perform?
We've sampled similar iterations of Cadillac's 3.6-liter twin turbocharged V6 in both the CTS Vsport and XTS Vsport, and while the mill provided admirable power in each, both pale in comparison to this latest version of the power plant. Sonically it's still unlikely to win any awards, particularly at low RPMs, but it certainly does not lack for guts.
Cadillac says they wanted to make the ATS-V the quickest car in its segment, and while it's not an obvious blow-out in comparison to cars like the more powerful Mercedes-AMG C63 S, this motor definitely hauls the mail, as it's capable of getting the ATS-V from 0-60 mph in 3.8 seconds on its way to a top speed of 189 miles per hour, figures which put the ATS-V door-to-door, if not slightly ahead of the Audi, Mercedes-AMG, and BMW in a sprint.
Assisting the ATS-V in that performance is the inclusion of launch control, which we found significantly more effective in the 8-speed automatic equipped ATS-V than in models equipped with the six-speed manual gearbox. Additionally, while we noticed some turbo lag in the CTS Vsport's V6 when taking off from idle, the ATS-V's revised version of that motor seems to build up boost quicker and lower in the rev range, making the power delivery feel more urgent and linear, especially out on the track.
Similar to its performance in both the CTS Vsport and the new Corvette Z06, GM's 8-speed provides quick shifts and rarely argues when given manual commands from the paddles. But, also similar to its performance in those other vehicles, it still loses a step or two in terms of responsiveness to dual-clutch units like those found in the M4 and RS5. Ultimately though, this gearbox makes up for any performance shortcomings it may have with its substantially better behavior around town, as this traditional automatic is not burdened by the sporadic stop-and-go clunkiness that's inherent to many DCTs.
We were a bit surprised to discover that Cadillac engineers opted to use a six-speed manual transmission in the ATS-V rather than pulling the seven-speed gearbox from the Corvette, but regardless of rationale, the three pedal setup proved to be an excellent performer – particularly on the road course. The ATS-V includes several technologies we found especially useful here, and while purists might scoff at the notion, there's little doubt in our minds that they yielded faster laps for us.
Active rev matching, again derived from the Corvette, proved to maintain stability in braking zones around Big Willow far better than we could manage on our own, and the ATS-V's no-lift upshifting – once we got accustomed to it – meant that there was never a situation where pulling a gear caused the car to get unsettled, whether we were rapidly picking up speed or scrubbing it off.
How does the ATS-V handle?
Along with third generation Magnetic Ride Control, the ATS-V features GM's sophisticated Performance Traction Management system, a stability and traction control system used to great effect in the C7 Corvette and Camaro Z/28. It also gains an electronic differential like the Corvette's as well as a similar ZF-tuned electronically assisted power steering system as well, which offers varying levels of steering weight based on the driving mode selected.
While they're not as customizable as they are in the Corvette, the ATS-V's four modes (Tour, Sport, Race and Snow/Ice) all feel distinctly different from one another through combination of suspension stiffness, steering weight, exhaust volume, and software thresholds. Coupled with the five stability control stages offered with the PTM system, fine-tuning the ATS-V's behavior to suit your driving style and experience is nuanced enough to find a combination that makes the car fun to drive hard without having to completely ditch all the fallbacks should you suddenly need their help.
Cadillac assured us that no matter how hard we tried, we wouldn't be able to kill the ATS-V's Brembo brakes. Perhaps hedging their bets slightly (as all manufacturers do) we were allotted 4 laps at a time, but despite the near 100-degree temperatures at the track and Big Willow's proclivity for being especially tough on braking systems, we could not find fault with them throughout our testing. Pedal feel was linear and stopping power proved to be excellent, both at the start of the day and at the end.
How are the design, materials and fit when you see the car in person?
Much like its German counterparts, the Cadillac opts for subtly over bravado in terms of aesthetics for the V-Series treatment. That's not to say that the ATS-V is boring to look at, with its quad-tipped exhaust, functional aero pieces that reduces high speed lift and forged 18 inch alloys, but the overall theme is still fairly understated.
Inside, distinguishing the ATS-V from a standard ATS becomes even more difficult. Aside from some carbon fiber trim pieces there really isn't a whole lot to separate the V-Series model from the standard car, though it should be said that the optional Recaro buckets, which feature adjustable side and leg bolstering, are both comfortable and effective on the track, and go a long way toward making the ATS-V's interior look and feel the part.
Anything else?
It might be easy to think of the ATS-V as a potential also-ran in a segment filled with some truly remarkable cars. Truth be told, the ATS-V is one of the few modern turbocharged street cars we've driven in recent memory that we just wanted to continue lapping until it ran out of fuel. The car feels extremely well sorted and gives you confidence behind the wheel. The ATS-V feels like a complete vision for the model rather than some go-fast bits pulled from the parts bin to provide some showroom eye candy.
Well balanced with a ton of grip, a great chassis, even better suspension, massive brakes (which are standard), a healthy drivetrain and some of the most advanced performance technologies we've sampled in the segment, the ATS-V is very much a contender for the crown. While it may lack some of the pomp and circumstance that seem almost obligatory in the segment, if you're looking for an engaging driving experience above all else, the Germans have something to worry about here with this latest V-Series Cadillac.
2016 Cadillac ATS-V
Price: $61,460 (base) / $73,730 (as tested)
Engine: Twin-turbocharged 3.6-liter V6
Output: 464 HP / 445 LB-FT
0-60 MPH: 3.8 seconds
Fuel Economy: 16 city / 24 hwy (auto)